If you were asked to decide between the 1980s NFL and 1990s NFL, which would you choose?  This week's guest wrote a book about each decade, and to his surprise, he ended up choosing the one he did not think he would at the outset of the ventures. 
Note – As an Amazon associate I earn from qualifying purchases
More Posts With Authors of NFL History
Carlisle Indian School Football The Carlisle Indian Industrial School football...
Read More
When Football Was Football Summary Each episode takes the listener...
Read More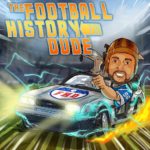 Joe Ziemba joined the show to talk about his book...
Read More