I'm a huge Detroit Lions fan.  This is no secret, nor do I try to hide it during my interviews each week.  In fact, it's probably fair to say I bring up my fandom for the Detroit Lions pretty much every week on the show.  So, when I get a chance to talk to Dave Birkett of the Detroit Free Press, I take it.  Let's just say he has one of my dream jobs, covering my Detroit Lions.
In this interview, we discussed many angles of  football, focusing on his career and contributions as a Hall of Fame Voter.  Here are some of the topics we discussed:
His trip and writing a story about climbing Mt. Kilimanjaro
Presenting MEGATRON for nomination for the Pro Football Hall of Fame
The first time I had press passes to the Hall of Fame
What Matt Stafford would need to do to be eligible for Hall of Fame worthiness
Should Ken Riley be in the Hall?
The 1957′ Lions Championship (see here for it all)
Where he's taking the DeLorean
And much more…
Dave Birkett and More Link To His Work
Dave Birkett is a three-time Michigan Sportswriter of the Year winner.  He has worked for Detroit Free Press since August of 2010 and is a Pro Football Hall of Fame Voter.  Learn more here on his FREEP bio.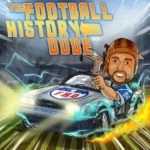 This time I take the DeLorean to many timelines in...
Read More