When you think of unbreakable NFL records, what comes to mind?  Does the name Ernie Nevers come to mind for you?  Have you ever heard of that name?  Perhaps you first heard of the name on Christmas Day of 2020 when Alvin Kamara tied his rushing touchdown record.  But the thing is, he still didn't score as many points as Ernie Nevers, a record still held today.
Ernie Nevers was a member of the inaugural Pro Football Hall of Fame Class of 1963.  He was one of the greatest football players of the 20s and 30s.  There were many memorable moments of Nevers' career, but none of them were as impressive as the game he had on November 28, 1929, against the Chicago Bears.
Nevers, the Chicago Cardinal fullback, romped the Bears for 6 touchdowns and 4 extra points, totaling a whopping 40 individual points.  This record has stood the test of time as the oldest individual NFL record, and it's entirely possible it will never be broken.  Below are 2  episodes covering Never's career.  The Football History Dude covers an overview of his career and When Football Was Football takes an in-depth approach to the record-breaking game.
See below for the full Ernie Nevers story.
The Football History Dude - Ernie Nevers Overview
When Football Was Football - Ernie Nevers Record
Ernie Nevers Introduction
Ernest Alonzo Nevers was born on June 11, 1903, in Willow River, Minnesota.  He was a standout player at Stanford University, known as the All-American Rose Bowl hero of 1925.  Although Nevers had success on the gridiron, he actually signed pro baseball and basketball contracts out of college.  Luckily for the NFL, these careers did not last that long.  However, he did give up 2 home runs to Babe Ruth during his historic 60-homer season of 1927.
Nevers was a "rookie" in 1926 for the Duluth Eskimos.  During this season, the team famously played 29 total games, 28 of them on the road.  That's insane.  The more insane part of this season?  Nevers reportedly played 1714 of the 1740 possible minutes for the Duluth Eskimos that year.  He missed the 1928 season due to injuries, but then returned in triumphant fashion for the 1929 season with the Chicago Cardinals.  This is where the episode of When Football Was Football takes over.
Ernie's Big Game: November 28, 1929
Note – this is the script from When Football Was Football podcast.
It seems odd that in the ultra-competitive world of pro football, one individual record has stood the test of time and has not been broken in almost 91 years! A few attempts have come close, but unless something quite unusual occurs in the future, it is highly unlikely that this record will ever be broken.
Now that's a fairly strong statement but think about it: in the thousands of NFL games played since 1929, no one has ever equaled or surpassed the 40 points that Ernie Nevers of the Chicago Cardinals scored in one game on November 28, 1929. Nevers tallied a record six touchdowns, all by rushing, and kicked four extra points to compile those lofty 40 points.
We do know that both Gale Sayers of the Bears and Dub Jones of the Cleveland Browns each scored six touchdowns in a single game since Nevers did so in 1929. Dub Jones was the first to catch Nevers when he scored six TDs on November 25, 1951 as the Browns knocked off the Bears 42-21. Jones accumulated his touchdowns on four rushes and two pass receptions from quarterback Otto Graham.
Fourteen years later, on December 12, 1965, the great "Kansas Comet" Gale Sayers haunted the 49ers with his six scores during the Bears' 61-20 drubbing of San Francisco. Sayers scored four of his scores on the ground, added another via a pass reception, and finished off his day with an 85-yard punt return.
And that was the last time that anyone in the NFL managed to equal the total of six touchdowns by Ernie Nevers, although his six rushing TDs, along with his 40 points, both remain as the NFL standards.
And, before we forget, who was the one person on hand for all three of those six touchdown scoring binges? You guessed correctly: it was Bears coach George Halas! Sometimes we forget just how long Halas was in the league…
But before we get into the specifics of Ernie's big day, we'll take a quick look at his overall career and then try to determine what inspired Nevers to gobble up the Bears so convincingly in that Thanksgiving Day contest so long ago.
Get Your Sayers and Nevers Gear on Amazon
Ernie Nevers Before the NFL
Nevers first reached national acclaim as an All-American fullback at Stanford in 1925 under Coach Pop Warner, who had also coached the legendary Jim Thorpe at Carlisle. When comparing the two talented backfield men, Warner stated: "The best athlete I ever coached was not Jim Thorpe," said Warner.
"It was Ernie Nevers. He was the greatest player the game has ever seen." The San Francisco Examiner later reported that the humble Nevers was uncomfortable with that comparison and simply explained that "Jim Thorpe could do everything."
Nevers did, however, admit that his work ethic might have had something to do with his gridiron success as he recounted his transition from lineman to backfield stud: "Well, I'll give myself this much. I had unlimited energy…
Oh, I had to work. I was so lousy when I was in high school, they stuck me in the pit with the tackling dummy. I was too slow for the backfield. So, I was a lineman. It wasn't until I got to Stanford that I was a fullback."
After high school, Nevers was all set to enroll at the University of California, but late in the process, he decided to attend Stanford. As Nevers recalled: "If I had gone to Cal I would have stayed a lineman and nobody would have given me a chance. I was a terrible tackle. I did much better as a fullback!"
His most famous collegiate outing was likely in the 1925 Rose Bowl against powerful Notre Dame with its Four Horsemen. In all honesty, Nevers probably should not have been on the field to face the Irish since he had broken both ankles and missed most of the regular season.
But he came back with both legs taped from the foot to the knee and played all 60 minutes in the loss to Knute Rockne's club. His 114 yards topped all rushers.
Nevers with the Chicago Cardinals
After achieving All-American status at Stanford, the talented Nevers was both a pitcher for the major league St. Louis Browns and a fullback for the Duluth Eskimos of the NFL in 1926 and 1927. He apparently retired as a football player in 1928 and became an assistant football coach back at Stanford before signing a contract with the Chicago Cardinals on July 30, 1929.
Nevers was considered an "Iron Man" in college based on his refusal to rest during games. He was no different during his three-year stint with the Cardinals. For example, once during an exhibition game, Nevers demonstrated that he competed no differently whether it was an exhibition contest or a battle for the NFL championship. What few realize is that Nevers rarely left the field even during practice games.
He always expected to play the full 60 minutes on both offense and defense. During that exhibition game, the Cardinals (also coached by Nevers) were safely ahead 33-6 late in the fourth quarter when a substitute for the Cardinals raced onto the field and reported to the referee and said: "I'm playing right end, the end goes to fullback and Nevers goes out."
Upon overhearing this information, Nevers rushed up to the official and shouted: "Who in the hell says Nevers is going out? Get this straight: I'm running this team and not these guys on the bench. I'm not taking myself out until the game's in the bag!"
One could not blame him…After all, the Cards were only up by 27 at the time and there was still over four minutes left in the game! That was the competitive nature of Ernie Nevers!
NFL's Oldest Individual Record
But back to Ernie's big day…As the Cardinals (4-5-1) prepared to host the Bears (4-6-1) for the annual Thanksgiving Day encounter between the two fierce rivals on November 28, 1929, championship hopes for both squads had long been extinguished. Instead, the Chicago Tribune noted: "As usual, percentages, defeats and victories are forgotten.
It'll be Red Grange versus Ernie Nevers, and north side against south side." Nevers was still upset over a scoreless tie between the teams earlier that year and stated after the game: "I told my players, the next time we meet the Bears, we'll beat the hell out of 'em.
I knew we could. I just knew it!" Just four days before, Nevers had scored all of the Cardinals points in a 19-0 win over the Dayton Triangles, but he was obviously ready for the Bears despite the short rest.
However, if the thought of facing the arch-rival Bears was not enough incentive for Nevers, a nation-wide wire story broke that same morning (November 28) that savagely ripped Nevers and other NFL backfield stars. Writer Davis S. Walsh claimed that none of the former college stars now playing in the pro circuit, except for Benny Friedman of the Giants, had matched their collegiate heroics. As Davis moaned:
I mean that the riot of the campus, the lad who sets the world agog with his deeds for the dear old school, generally turns out to be just another football player once he finds himself in the unromantic atmosphere of the professional game. There are few exceptions to this rule.
Walsh then proceeded to bash Red Grange, Wildcat Wilson, and even Jim Thorpe, and was extremely diligent in his mockery of Nevers, chiding:
Ernie Nevers afforded an even more poignant example of post-college retrogression. In fact, I doubt whether he even stood out too boldly as the individual star of his team.
While we're not sure what Mr. Walsh was tasting when he wrote this drivel, Nevers most certainly must have seen, or heard about, the scathing article. With sportswriter Walsh nowhere in sight, Nevers would need to target the Bears' defense for his immediate retribution!
Under snowy, wet conditions, a sparse crowd of 8,000 at Comiskey Park watched as Nevers scored a pair of touchdowns in the first quarter (adding an extra point as well) to boost the Cardinals to an early 13-0 lead. The solid Cards' front line buoyed by Duke Slater,
Herb Blumer, and Walt Kiesling blasted huge holes in the Bears' defense, enabling Nevers to tally another TD from six yards out (and adding the extra point) in the second stanza to move the Cards ahead 20-0 at the half. Reporter Wilfrid Smith commented on the fierce line play: "The Cardinals line was the foundation on which these ball carriers built their successes. And it played no favorites. From end to end the Bear line wavered and retreated before massed interference."
Although the Bears scored once in the third period, there was no stopping the rushing carnage of the Cardinals as Nevers added three more scores in the second half, along with a pair of extra points to solidify the final 40-6 victory for the south siders. Reporter Edgar Munzel of the Chicago Herald Examiner was exuberant in its praise of tackle Duke Slater, saying that "Duke Slater, the veteran tackle, seemed the dominant figure in that forward wall which had the Bear front wobbly."
Indeed, the headline from the Examiner stated: "Slater Rips Gaps in North Siders' Line as Ernie Shatters Pro Precedent." Overall, the blocking for Nevers was so effective that on four of his six touchdowns, he was untouched as he crossed into the end zone.
Wilfrid Smith concluded his Tribune article recalling when Nevers left the field late in the contest: "Then Ernie left the game and how those south siders cheered! And well they might. Forty points plus nineteen points against Dayton last Sunday gave him fifty-nine in a row which is some kind of record, but the south side didn't care. For the Cardinals had defeated the Bears!"
As for Nevers, he shunned the spotlight after his record performance and instead pointed over to his linemen and asked: "What about the horses up front? They made it all possible."
And what about that article so critical of Nevers, Grange and Thorpe? Perhaps author Davis S. Walsh may have noticed the devastating performance of Nevers on the same day that his unflattering article was published. And most certainly he noticed when Thorpe, Grange, and Nevers were all selected in the very first class of the Pro Football Hall of Fame in 1963!
Thank you for joining us on the Sports History Network and we look forward to talking with you next time as we explore how a quarterback for the Cardinals could experience the worst possible day in NFL history, yet still be honored as an All-Pro that very same year!
More Great Sports History Content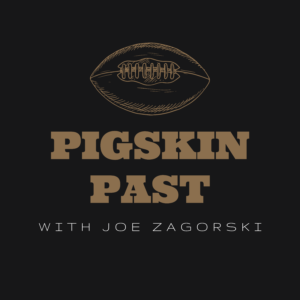 Ask any pro football historian what George Allen's greatest coaching...
Read More