This week Scottie Graham rides shotgun with me in the DeLorean to head back to his playing days at The Ohio State University and in the NFL. Hailing from Long Beach, Scottie found himself at The Ohio State University and ended up becoming a three-year starter and voted Captain in his senior season. For his College career, Scottie rushed for 1,768 yards and 9 touchdowns.
He was then drafted in 1992 as a part of Bill Cowher's first-ever draft class for the Pittsburgh Steelers. That year, Scottie ended up playing for the New York Jets. According to Pro Football Reference, he only played in 2 games and rushed the ball 14 times for 29 yards.
Then, he caught some fire with the Minnesota Vikings from 1993 – 1996, where he ended up breaking a Vikings' record for yards rushing in consecutive games. First, he ran for 166 yards against the Kansas City Chiefs, then blew past the Green Bay Packers for 139 yards (in 1993). Scottie finished his NFL career with the Cincinnati Bengals, amassing for his career, 1,267 rushing yards and 7 touchdowns (plus 20 catches for 126 yards).
Perhaps the most impressive feat is Scottie never recorded a fumble in his entire NFL career. Nah, it was the award he won in 1996, the Ed Block Courage Award. According to the Ed Block website, "each year, the Ed Block Courage Awards honors those National Football League players who exemplify commitments to the principles of sportsmanship and courage." This award is given to one player for each NFL team on an annual basis.
I have a feeling this is one reason Scottie succeeded at the NFLPA with Gene Upshaw for many years. You can hear it in the interview how he has a genuine care for people. After his long run with the NFLPA, Scottie moved to Arizona State University in the Athletic Department, working with student-athletes. All of this prepared him for his next journey.
Announced January 4, 2021, Scottie is now the running backs coach at Arizona University. Best of luck to Scottie and the WildCats this upcoming season, as we are looking forward to all football leagues getting back to some normalcy this year.
Please note – As an Amazon Associate, I earn from qualifying purchases.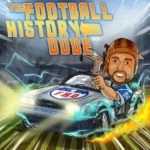 This week I spoke with Michael Mertes about a project...
Read More