Today we have Super Bowl XII, which was held on January 15, 1978, in the Superdome in New Orleans, Louisiana between the first-time AFC champion Denver Broncos and the four-time NFC champion Dallas Cowboys.
As always, we have a pop quiz, and then homework at the end of the episode. The pop quiz question for today is, what dubious record did Dallas set in this game that still stands today? The answer will come at the end of the podcast.
Prelude to Super Bowl XII
The Denver Broncos had a magical year in 1977, after 17 fruitless seasons where they failed to make the playoffs and in many cases had a losing record. Red Miller came in as head coach and turned things around. The Broncos won their first six games of the year, then won another six games in a row after a midseason loss to Oakland. With nothing to play for in their season finale, they lost to Dallas to finish up the season at 12-2, the best record in the AFC. The Broncos beat Pittsburgh 34-21 in the divisional round and the Oakland Raiders 20-17 in the AFC Championship Game, with both games in Denver, to advance to their first Super Bowl.
The Broncos were led by quarterback Craig Morton, who threw for just under 2,000 yards. He threw for 14 touchdowns and just eight interceptions. Morton, of course, had led Dallas to Super Bowl V. Now he'd be going up against his former team. The Broncos didn't have one main running back; it was more of a back-by-committee. Otis Armstrong had 489 yards and four touchdowns to lead the team.  But right behind him were Lonnie Perrin with 456 yards, Rob Lytle with 408, and Jon Keyworth with 311. Riley Odoms led the receiving corps with 37 catches, while Haven Moses had the most yards with 539 and touchdowns with four.
The Dallas Cowboys were, as usual, one of the top forces in the NFC. They started out the season 8-0, with many of those victories quite decisive. After a pair of midseason losses, the Cowboys closed the season with four straight wins, including the aforementioned Week 14 victory over Denver. Dallas finished 12-2 and with the best record in the NFC. They crushed Chicago 37-7 in the divisional round before beating Minnesota 23-6 in the NFC Championship Game, both games in Dallas. That gave them their fourth NFC title in eight years.
Quarterback Roger Staubach, as usual, was brilliant. He threw for over 2,600 yards and 18 touchdowns, and just nine interceptions, for a passer rating of 87.0. Rookie running back Tony Dorsett, fresh off a national championship with Pitt, rushed for just over 1,000 yards and 12 touchdowns while catching 29 passes for another 273 yards and a touchdown. The Pearsons – Drew, and Preston – led the way in receiving. Drew caught 48 passes for 870 yards and a couple of scores. Preston caught another 46 for 535 yards and four scores.
The big story going into the Super Bowl wasn't about either team's offense, though. It was all about Dallas's Doomsday Defense against Denver's Orange Crush defense. Both teams had lots of playmakers on the defensive side of the ball, and it figured that the better defense would win the Super Bowl. By the end of this game, one of these teams would be so dominant on defense that the voters couldn't even pick a single MVP.
Super Bowl XII: First Quarter
The Cowboys tried a trick play on the first play of the game. They went with a reverse, that was going to be a flea-flicker back to Staubach. However, receiver Butch Johnson dropped the ball, and he was tackled by linebacker Tom Jackson for a loss of nine. The Cowboys ended up punting, but linebacker Tom Henderson hit Broncos receiver Rick Upchurch before he could catch the kick. It was a 15-yard penalty on Dallas.
Morton completed a third-down pass to Moses for a first down at the Dallas 35, gaining 20 yards. But defensive tackle Randy White sacked Morton for an 11-yard loss, and Denver had to punt. Receiver Tony Hill muffed the kick, but he was lucky to have teammate Charlie Waters fall on the ball at his own 1. Staubach threw to Dorsett for 15 yards, but the Cowboys were soon forced to punt, and Denver got good field position.
Waters put heavy pressure on Morton, and defensive back Randy Hughes came up with an interception. That turned the field position in Dallas's favor. Staubach then hit tight end Billy Joe DuPree for a first down at the 12. Dorsett ran the ball on three of the next four plays, scoring standing up on a fourth-and-inches play, and Dallas led 7-0.
Morton's next pass was intercepted by defensive back Aaron Kyle, and he returned it inside the Denver 35. Newhouse ran for nine yards, and then Dorsett broke off a long run inside the 5. Staubach was sacked by defensive tackle Rubin Carter and defensive end Lyle Alzado, forcing a field goal try. Kicker Effren Herrera made a 35-yard field goal, and Dallas went up 10-0 at the end of the first quarter.
Super Bowl XII: Second Quarter
The Broncos were forced to punt on their next possession. Staubach threw a screen to Preston Pearson, getting the Cowboys in Denver territory. Newhouse then took a pitch for a first down at the 43. DuPree hauled in a pass for 18 yards, and Dorsett got the ball into the red zone. However, Staubach got chased out of bounds, and Dallas had to settle for a 43-yard Herrera field goal to go up 13-0.
Morton got picked off on his next pass, this one to defensive back Benny Barnes. The Broncos forced a Dallas punt, but the kick went off the helmet of receiver John Schultz, and linebacker Bruce Huther recovered for Dallas. Dorsett then took a draw to get a first down inside the 20. The Cowboys ended up settling for a 43-yard field goal by Herrera, but he missed wide to the left.
Morton completed a pass to receiver Jack Dolbin, only for him to fumble. Hughes was there to recover for Dallas, and he returned it to the Denver 26. Dorsett ran for eight yards to start the new drive, and Newhouse got ten yards down inside the 10. However, after the two-minute warning, Herrera tried a short field goal, and he missed it wide to the right.
Morton passed to Odoms, who fumbled, and Hughes recovered this fumble as well. However, on the next play, DuPree fumbled away a reception to Jackson. The Broncos now had a chance at scoring. Lytle ran for a pair of first downs, getting the Broncs down to the Dallas 40 with 17 seconds left. But Morton then threw a fourth interception of the half, this one to defensive back Mark Washington. That now gave Dallas a chance to score, and Staubach threw a short pass to Pearson to get to the 27 with one second left. But Herrera missed a field goal attempt of about 44 yards wide to the left, and his three misses meant that Denver was still in the game at the half, down only 13.
Super Bowl XII: Third Quarter
The Broncos got the ball to start the second half. On the second play, Armstrong took his first carry of the second half for 18 yards. Morton ran the option for a flip to Keyworth for five more, but the Broncos soon faced fourth down. They decided to go with a fake. Punter Bucky Dilts got tackled shy of the marker, but the Cowboys had 12 men on the field. That gave Denver a first down. Keyworth took a draw to get into field goal range, then kicker Jim Turner – a veteran of Super Bowl III with the New York Jets – made a 47-yard field goal, the longest in Super Bowl history at the time. As of today, it still stands as a tie for the fifth-longest in Super Bowl history. The Broncos cut their deficit to ten.
As the second quarter went on, both teams had players dropping like flies. There were injuries galore, and players such as Broncos linebacker Randy Gradishar and Cowboys running back Tony Dorsett were getting pulled off the field. The heavy-hitting of the two defenses was a big factor in this. The teams exchanged punts, and Dallas got the ball back at their own 41.
Staubach scrambled for six yards, then he threw to Drew Pearson for a 13-yard gain. Facing third-and-long a little bit later, Staubach threw a bomb to Butch Johnson. Johnson dropped the ball as he hit the ground, but the officials ruled that he had possession over the goal line before the ball came out. In today's NFL, this would likely have been called an incomplete pass. Instead, it went down as a 45-yard touchdown to put Dallas up 20-3.
Upchurch nearly saved the game for Denver by returning the ensuing kickoff 65 yards. It was the longest kickoff return in Super Bowl history at the time. Backup quarterback Norris Weese entered the game on Miller's direction; he felt that Morton was too immobile for the Dallas pass rush. Running back Jim Jensen took the ball down to the 1 on a fourth-down play, and Lytle managed to pop over from a yard out to cut the Dallas lead to ten again at the end of the third quarter.
Super Bowl XII: Fourth Quarter
On Dallas's next possession, Staubach threw to Dupree for a first down at his own 33, then he hit Johnson for a first down at midfield. Receiver Golden Richards hauled one in for nine more, and Newhouse got a first down inside the 40. However, Jackson stripped Staubach of the ball, and Carter recovered for Denver. The Broncos now still had a chance, but they were forced to punt after three incomplete Weese passes.
Staubach was now ailing, and Danny White took over at quarterback. He ran a quarterback draw for 12 yards, but the Cowboys were forced to punt. The Broncos got the ball back with what was really their last chance. On third down, Weese fumbled, and Kyle recovered for Dallas. On the very next play, Newhouse took a handoff to his left and threw to the end zone for Richards. Touchdown! It was a 30-yard play, and it put the game out of reach. Dallas led 27-10 with seven minutes left.
On Denver's last possession, Weese got his team downfield into scoring range. However, on a fourth-down, Weese threw a perfect pass to Upchurch which the receiver just flat-out dropped. The Cowboys took over on downs and ran the clock out, with defensive tackle Randy White and defensive end Harvey Martin sharing MVP honors.
Super Bowl XII: Aftermath and Awards
Dallas committed 12 penalties in this game, and that is the answer to today's pop quiz. The Cowboys set a Super Bowl record for the most penalties committed by one team in a game. It's a record that still stands today, albeit tied by Carolina in Super Bowl XXXVIII.
We had co-MVPs for the only time ever, mainly because the voters wanted to give the award to the entire Dallas defense. But if I were to pick a different MVP, I'd pick defensive back, Randy Hughes. He had the interception and two fumble recoveries. Yes, he was in the right place at the right time, but he still had to make the plays. He was part of an absolutely smothering Dallas defensive attack. Think about how the Buccaneers destroyed the Chiefs' offensive line in Super Bowl LV. That's how much the Dallas defense dominated.
For MVP of the losing team, I'd have to go with linebacker Tom Jackson. Not because he became an ESPN guy, but because he made several big plays for either tackles for loss or turnovers. He helped keep the Broncos in the game. But how about the Least Valuable Player? That's an easy one: Morton. His four first-half interceptions tied a Super Bowl record. He was awful in Super Bowl V, but he was even more awful in this one. Would Denver have had a chance if Weese had started? We'll never know, but what we do know is that this was one of the worst quarterback performances in Super Bowl history.
The biggest play of the game was the bomb from Staubach to Johnson. Denver looked to still be in the game at that point, but when Staubach hit Johnson, the Cowboys essentially put the game away. Johnson may not have actually made that catch, though. He was lucky that the officials of his day counted that as a touchdown catch and not an incomplete pass.
The biggest play no one remembers is Upchurch's 65-yard kickoff return. That set up a touchdown for the Broncos, their only one of the day. Yes, the Broncos lost, but that touchdown at least gave them a chance, if Weese could have only gotten something going against the Dallas attack. Upchurch set a Super Bowl record that has long been forgotten, having been broken in Super Bowl XVII by Miami's Fulton Walker and several times since.
The best player from this game no one remembers? That's obvious, it was Weese, in a losing effort. He played very well in relief of Morton, as well as he could against a pass rush that was giving him no time to throw. Again, had he started the game instead of Morton, who knows what could have happened.
Lombardi Memories is a show that takes you back in time, into January or February, to the greatest one-day spectacle in all of sports. This is the every-other-Tuesday podcast that looks back at each and every one of the 50-plus Super Bowls and tells the story of who won and why.  Tommy A. Phillips is your host on this Super Journey.  He's an author of multiple NFL books.  You can purchase below.
Please Note – As an Amazon Associate, I earn from qualifying purchases
More From Lombardi Memories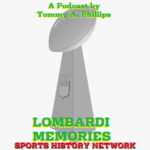 Today we have Super Bowl XVIII, which was held on...
Read More