Today we have Super Bowl XX, which was held on January 26, 1986, between the first-time AFC champion New England Patriots and the first-time NFC champion Chicago Bears, with the never-ending controversy about why Walter Payton didn't score a touchdown.
If you're looking for the full story of this 1985 season, pick up my Great Eighties book and you'll learn more than you ever wanted to know about that year and the rest of the eighties.
As always, we have a pop quiz, and then homework at the end of the episode. The pop quiz question for today is: how many of the top five career-rushing leaders in NFL history have scored a touchdown in the Super Bowl? The answer will come at the end of the post.
The 1985 New England Patriots were a unique team in NFL history. After starting off the season 2-3, the Patriots won each of their next six games and eight out of nine. They won their final game over Cincinnati 34-23 to clinch the second wild card spot in the AFC. Remember, there were only two wild cards at the time; the 11-5 Denver Broncos thus became the first 11-win team to miss the playoffs since the Baltimore Colts in 1967.
The Patriots had the unenviable task of having to win three straight road games to reach the Super Bowl. They did just that, beating fellow wild card New York 28-14, then #1 seed Los Angeles 27-20. Finally, they went on the road to beat Miami 31-14, a place they had not won since 1969. New England thus became the first Super Bowl team to win three road playoff games to get there. This feat would not be seen again until 2005.
Running back Craig James rushed for 1,227 yards, and receiver Stanley Morgan racked up 760 receiving yards. Quarterback Tony Eason took the job from Steve Grogan during the regular season, and he threw for 2,156 yards and 11 touchdowns. He also threw for 17 interceptions, though, making his passer rating a paltry 67.5.
If there was any "star" of the team, it might have been running back Tony Collins, who rushed for 657 yards and led the team with 52 catches, going for 549 yards, and scoring five total touchdowns. Former #1 overall draft pick Irving Fryar caught 39 passes for 670 yards and a team-leading seven scores.
But overall, the New England Patriots were the ultimate underdog. No one had ever gone their route to making the Super Bowl, as a third-place team in the AFC East who somehow got hot at the right time. Their opponent wasn't of the same ilk.
No, the Chicago Bears were the mightiest, proudest, most ferocious team in NFL history. Chicago won its first 12 games in a row, and most of them by convincing margins: 45-10 over the Redskins, 26-10 over the 49ers, 44-0 over the Cowboys, even 20-7 over the Patriots early in the season. They lost one game in 1985, to the Dolphins 38-24 on a Monday night when Miami got all the bounces.
They shut out both opponents in the NFC playoffs. They beat the Giants 21-0 and the Rams 24-0. NFL fans really missed out on a great matchup when Miami lost the AFC Championship Game to New England; a Dolphins-Bears rematch would have been must-watch TV.
Along the way, humongous defensive tackle William Perry became a folk hero for his touchdown runs, as he'd take handoffs in short-yardage situations at the goal line. The Bears were full of brash personalities like quarterback Jim McMahon, who broke NFL rules by wearing headbands with the name "Adidas" on them.
They recorded a music video called the "Super Bowl Shuffle" which swept the nation. The Bears' "46" defense was one of the greatest in the history of the league, with defensive end Richard Dent picking up 17 sacks and linebacker Otis Wilson another 10.5. There was no other team as memorable as this team in the history of the NFL.
Plus, there was running back Walter Payton anchoring the offense. The all-time legend rushed for 1,551 yards and nine touchdowns while leading the team with 49 receptions. Receiver Willie Gault had the most yards through the air with 704, while receiver Dennis McKinnon led the team with seven touchdown catches.
McMahon threw for just shy of 2,400 yards and 15 touchdowns. And the Bears had a very accurate kicker in Kevin Butler, who made all 51 extra points and 31 of 37 field goals. There wasn't a single weak spot on the roster.
That set up this Super Bowl as the ultimate David vs. Goliath matchup. The only difference was, David didn't have any stones to fire with. The Patriots had no way of matching up against Chicago. Their only hope was to force turnovers. Head coach Raymond Berry decided to make his team completely key on Payton.
Bears head coach Mike Ditka likewise chose to take advantage of the Pats' obsession with Payton. The Bears could beat you so many ways, and that's what they proved in this game.
Super Bowl XX: First Quarter
There was confusion about the coin toss. Referee Red Cashion had perhaps the worst game of his career on the biggest stage. He couldn't figure out whether Payton called heads or tails on the toss. Eventually, he believed a protesting Payton that he had called heads, and the Bears won the toss.
This was a bizarre situation, because the way the coin toss rules worked, the Bears wanted to lose the toss! You couldn't defer to the second half in those days, so it was either take the ball first or let the opponent receive to start both halves. Chicago thus took the ball to start the game.
Payton started out rushing for a seven-yard gain. On his second carry, he got hit by defensive end Julius Adams, and he fumbled. Linebacker Larry McGrew recovered for the Patriots. The Pats took over near the 19. Eason threw his first pass for tight end Lin Dawson, but it fell incomplete, and Dawson was hurt on the play.
On his next pass, he had Morgan breaking wide open, and Morgan just dropped the ball. His third pass fell incomplete as well. Kicker Tony Franklin came on and made a 36-yard field goal for the first points scored against Chicago all postseason.
Gault returned the ensuing kickoff 19 yards to the 30. Two plays into the drive, McMahon went deep for Gault, and he hit him for a 43-yard gain down to the New England 26. Fullback Matt Suhey ran it twice, getting a first down inside the 15. Facing third down a few plays later, McMahon tried to run for it, but he got flipped over by defensive back Ronnie Lippett. He was okay, but the Bears had to settle for a 28-yard Butler field goal to tie it at three.
The Patriots continued with their pass-first approach, with Eason throwing two passes on the next possession, both of which fell incomplete. He then was sacked by Dent and linebacker Wilber Marshall. Chicago got the ball back after a punt to the 29.
McMahon went play-action to Gault for 18 yards, but the Bears then had to punt as well. Punter Maury Buford's kick went for a touchback.James ran the ball for New England's first run of the game, and he went nowhere, tackled by linebacker Mike Singletary. Then defensive tackle Steve McMichael sacked Eason, who fumbled. Defensive tackle Dan Hampton recovered for the Bears.
McMahon started out the new drive by throwing across the field to tight end Emery Moorehead. He went eight yards down to the 5, but the officials missed a blatant clipping foul that sprung Moorehead for the gain. McMahon snuck for a first down on a third-down carry, and then Ditka decided to try a trick play.
On second down, he had Perry take the handoff and go back to pass. Perry found no one open and wisely went down for a minimal loss, technically a sack. The Bears settled for a 24-yard Butler field goal, but they now had a 6-3 lead, and they'd never surrender it.
James fumbled on the first play of New England's next possession. Dent forced the fumble, and defensive back Gary Fencik recovered it. It took just two plays for Chicago to score. Suhey ran for two yards, then he took a pitch and went for an 11-yard touchdown. The Bears led 13-3 after one quarter.
Super Bowl XX: Second Quarter
The Patriots went nowhere on their next possession, and the Bears got it back at their own 11. Running back Calvin Thomas ran for five yards on two carries, then receiver Dennis Gentry took a handoff and got a first down at the New England 46. McMahon threw to Gault for seven yards, then he hit Suhey on a long pass down at the 15.
Suhey carried it on each of the next three plays, getting a first down at the 5. Two plays later, Perry came into the game but was just a decoy. He blocked the way for McMahon to run it in on the option. If McMahon would have pitched the ball to Payton on the option, we wouldn't still be hand-wringing over this Super Bowl. McMahon, not Payton, scored the TD, and the Bears led 20-3.
New England went three-and-out once again. Payton ran for five yards, but then Suhey ended up fumbling. Linebacker Steve Nelson forced the fumble, and defensive back Raymond Clayborn recovered it. At this point, Berry pulled Eason from the game and inserted Grogan. Eason did not complete a pass before leaving the game, making him the only starting quarterback in Super Bowl history to not complete a single pass. Grogan fired to Collins to get into Bears territory. He then found James on third down, which got New England its first, first down of the game. The Pats ended up punting anyway, though.
Starting at the 20, the Bears put together a good drive. Payton ran for a first down at the 32, right before the two-minute warning. The Pats got called for an illegal hands penalty to give Chicago another first down. On the next third down, McMahon found Gentry for 11 yards and a first down at the New England 46.
Gentry ran for five more, then McMahon fired to receiver Ken Margerum for a 30-yard gain. Two plays later, with no timeouts left, McMahon scrambled for a first down at the 2, and the clock ran down. As he got up, he got into a shoving match with New England players who were trying to keep him from getting up. Some Bears got into the shoving as well. The officials lost complete control of the game, and the Bears just quickly snapped the ball to McMahon, who threw it away.
Cashion called a five-yard penalty on the Bears, but he forgot that there was a ten-second runoff! The half should have been over, but instead, the Bears got to try the field goal.
Moreover, Cashion forgot to mark off the five-yard penalty at first, only doing so at the request of the New England players. Eventually, Butler made a 24-yard kick, and the Bears took a 23-3 lead into halftime.
Super Bowl XX: Third Quarter
The Patriots had minus-19 yards of offense in the first half. They tried to make up for that on the first drive of the second half, with Grogan throwing to Morgan for eight yards. Collins plowed up the middle for only the second first down of the game for New England.
But then the levees broke and the Pats couldn't hold back the Bears defense anymore. First, McMichael and Dent combined for a sack. Then the Pats got called for a false start. Then, it was Wilson and Hampton combining for another sack. "If it were a fight, they'd have to stop it," NBC announcer Dick Enberg said. The only solace for New England was that punter Rich Camarillo got away a Super Bowl record 62-yard punt, one that wasn't actually kicked all that well but was not picked up by a Bear before it bounced down to the 4.
McMahon began the next drive by throwing a 60-yard bomb to Gault. He then hit Moorehead for another first down at the 22. Payton ran for seven yards in two plays, then Suhey got a first down at the 11. McMahon then found a wide-open Margerum for a first down at the 1. McMahon took it in himself for a touchdown, instead of handing off to Payton, which would have silenced the critics. Chicago now led 30-3.
When it rains, it pours, and New England was suffering through a torrential downpour. Grogan threw an interception to defensive back Reggie Phillips, and he returned it for a touchdown. 37-3. Then receiver Cedric Jones got hit by Fencik, and he fumbled. Marshall recovered and lateraled it to Wilson for a return to the 38.
Payton carried it twice to get a first down, then McMahon found Gentry wide open streaking across the field. Gentry went out of bounds at the 1. There was one problem: Gentry didn't just not get both feet in, he didn't even get one foot in! In college football, it would have been an incomplete pass, let alone the NFL. But Cashion continued having a bad day, ruling it a catch.
Then came the most controversial play of the game. Instead of letting Payton get his touchdown and shutting up tens of thousands of fans forever, Ditka decided to let Perry score from the 1. He bowled over the Patriots and spiked the ball emphatically after scoring. It was now 44-3, but Payton still was without a touchdown.
Super Bowl XX: Fourth Quarter
The Patriots did go on a long drive from there to score a touchdown, but it would be a waste of time for me to break it down to you. What does a fourth-quarter touchdown in a 44-3 game really mean, anyway? Grogan threw a fourth-down touchdown pass to Fryar, from eight yards out. That made it 44-10.
The rest of the game was exhibition time. Steve Fuller entered at quarterback for Chicago, and like Eason, he didn't complete a pass. Of course, he was nursing a 34-point lead, so he really didn't need to connect. The Bears got down to the New England 5 anyway, when linebacker Jim Morrissey intercepted a pass and returned it 48 yards.
If not for Collins making a tackle, the Bears would have been the first team in Super Bowl history to score 50 points. What did it matter, though? They were already the first team over 40. Ditka gave Payton ample opportunities to try to score a touchdown, but the Patriots did everything in their power to stop him. He couldn't get in.
Ditka deserves no blame for Payton not scoring in this game because he had a couple of tries on this drive and he just could not punch it in, not even on fourth down. The field position caused Grogan to get sacked by defensive end Henry Waechter (pronounced Waxter) for a safety. The final score was Chicago 46, New England 10. It was fitting. The 46 defense led the Bears to a 46-point performance.
Super Bowl XX: Aftermath and Awards
The MVP of Super Bowl XX was Richard Dent; he made a significant impact early in the game, getting one-and-a-half sacks. I have no problem with that pick; after all, it should have been someone on defense.
But if I were to give it to an offensive player, I'd have to give it to McMahon. He threw for 256 yards, including some long bombs. He rushed for two touchdowns as well. McMahon was the difference between Chicago being a good team and a great one. Early in the season, when he was hurt, Chicago didn't look all that great. Once he took over, the Bears rolled. McMahon deserves much more credit than he gets.
The best player on the losing team? There were none. So I'll just give it to the punter Camarillo, for his 43.8 yard average on six punts, including the Super Bowl record punt of 62 yards. New England stunk it up so badly that no one deserves any credit on the roster.
Who was the LVP? Tony Eason is too easy a choice as Least Valuable Player, and Craig James deserved it a lot as well. But I'm going to give it to Red Cashion. The famous referee who always loved to yell "First down!" had the worst game of his career.
He admitted as much, refusing to go to a party after the game. He knew he had messed up. The officiating was so horrendous, but no one noticed thanks to Chicago's dominance. If this had been a closer game, this game would have gone down like Super Bowl XL as one of the most controversial Super Bowls of all time.
Who was the best player no one remembers? That would have to be Reggie Phillips, who scored on the pick-six. Of all the Bears defensive players, you remember most of them, but you don't remember him. His pick helped salt away what was an easy victory.
The biggest play of this game was McMahon's early 43-yard bomb to Gault. That got the Bears offense going, and although they only scored two field goals on their first two possessions, they were on their way.
As for the biggest play that no one remembers, I'd go with Payton's fourth-down run in the fourth quarter that ended up well shy of the goal line. Why? Because right then and there, Ditka gave him the chance to score a touchdown.
If he had scored, then we wouldn't have to hear that Ditka made the wrong choice by letting other guys score touchdowns while Payton didn't get one. But Ditka did give him that opportunity, and the Pats defense just stopped him. Ditka needs to be let off the hook on this one. Payton had his shot; he couldn't score.
And that leads us to our pop quiz question of the day: how many of the top five players in career rushing yards have scored a Super Bowl? The answer is two. Emmitt Smith, of course, has scored multiple times.
But second-place Payton did not. Third place is now Frank Gore, and he did indeed score a touchdown in Super Bowl XLVII. Fourth-place Barry Sanders never reached the Super Bowl, as was also the case for fifth-place Adrian Peterson. Only Smith and Payton have Super Bowl rings.
Again, there are others as well, and I recommend you check out any you can find. These are just the top two that I've gone with.
So, the Bears finished 18-1 and won the Super Bowl while allowing just ten points all postseason long. They won the Super Bowl by the largest margin in history at the time and could have won by even more. 51-10 was very possible had Payton scored.
It's time to let Ditka off the hook because careful watching of this Super Bowl shows that Payton did have his chance to score, he just couldn't punch it in.
Next time, we'll have John Elway and Phil Simms going at it in a crazy Super Bowl that was a classic through two quarters. By the fourth quarter, though, the only drama left was the first-ever Super Bowl Gatorade bath and the first player to say they were going to Disney World after the game.
All those stories will be told on the next podcast. If you want more info about the eighties in the NFL, pick up my book Great Eighties on tommyaphillips.com, you'll find the Amazon link to it right there.
Lombardi Memories is a show that takes you back in time, into January or February, to the greatest one-day spectacle in all of sports. This is the every-other-Tuesday podcast that looks back at each and every one of the 50-plus Super Bowls and tells the story of who won and why.  Tommy A. Phillips is your host on this Super Journey.  He's an author of multiple NFL books.  You can purchase below.
Books From The Host Of Lombardi Memories
Please Note – As an Amazon Associate, I earn from qualifying purchases
More From Lombardi Memories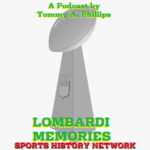 Today we have Super Bowl XXV, which was held on...
Read More