Today we have Super Bowl XXIV, which was held on January 28, 1990, at the Louisiana Superdome in New Orleans, between the four-time AFC champion Denver Broncos and the four-time NFC champion San Francisco 49ers. If you're looking for the full story of this 1989 season, pick up my Great Eighties book and you'll learn more than you ever wanted to know about that year and the rest of the eighties.
As always, we have a pop quiz, and then homework at the end of the episode. The pop quiz question for today is this: The 49ers won this Super Bowl by 45 points. When was the last NFL Championship Game in which a team won by 45 or more points? The answer will come at the end of the podcast.
Prelude to Super Bowl XXIV
The NFC came into this game with five consecutive Super Bowl victories. This season, the gap between the two conferences was so wide, the Madden Cruiser could fit inside. The NFC had seven teams with at least ten victories; two of them missed the playoffs. The two wild cards each had 11 wins. The NFC West had three teams out of four with winning records.
As for the AFC, it had only one team to reach double digits in wins: Denver. The conference had mediocre teams galore; ten teams in the AFC finished within one game of .500. It was a mess. For the Broncos, they were far and away the best team, but could they prove it?
They lost three of their final two games, then nearly lost in the Divisional Round to the 9-7 wild card Steelers. They pulled out a one-point victory, before taking on Cleveland for the third time in four years in the AFC Championship Game. They held off a Cleveland rally to win 37-21, and they were headed to their fourth Super Bowl in the last 13 years.
Quarterback John Elway threw for over 3,000 yards, but he was inconsistent. He threw 18 touchdowns and 18 interceptions. His passer rating was a paltry 73.7. If not for his running – he ran for 244 yards and three touchdowns – he may have considered this a bad year.
Running back Bobby Humphrey was the main ground-gainer; he rushed for over 1,100 yards and seven touchdowns. Elway's favorite receiver was Vance Johnson, who caught 76 passes for 1,095 yards and seven touchdowns. Johnson had over 45 more catches than any other player.
As for the 49ers, they were an outstanding team that was one of the greatest in NFL history. They lost only two games – a one-point loss to the Rams and a four-point loss to Green Bay, in a 14-2 season. Quarterback Joe Montana threw four touchdown passes in the fourth quarter of a comeback 38-28 win over Philadelphia early in the season. By the end of the season, it was too easy for San Francisco.
They beat Buffalo by 11 and Chicago by 26 to end the regular season. Then, in the playoffs, they beat Minnesota 41-13 in the Divisional Round. In the NFC Championship Game against the Rams, they battered and bruised L.A. quarterback Jim Everett so much that he went down in a "phantom sack." The Niners won 30-3 and advanced to their second straight Super Bowl.
This year, there was not much of a quarterback controversy. Montana threw for over 3,500 yards and 26 touchdowns as opposed to just eight interceptions, for an amazing passer rating of 112.4. He was named league MVP. Of course, he had many weapons to work with.
Running back Roger Craig ran for 1,000 yards and caught 49 passes too. Receiver Jerry Rice caught 82 balls for nearly 1,500 yards and 17 touchdowns. Fullback Tom Rathman had the second-most catches with 73, and receiver John Taylor went for 1,000 yards and ten touchdowns.
Super Bowl XXIV: First Quarter
Packers legend Willie Wood tossed the coin, which came up heads. Montana's call was tails, so the Broncos won the toss and got to receive. They wouldn't hold the ball for long. Elway threw two incompletions, then got brought down by defensive end Pierce Holt, and the Broncos had to punt. San Francisco took over at their own 34.
Craig took a second-down handoff for a first down at the 50. Craig then caught a third-down screen pass and went for nine yards to pick up another first down. Montana hit Rice for nine yards, then he ran for a ten-yard gain on a third-down scramble. Two plays later, Montana threw over the middle to Rice, who bounced right off two tacklers and coasted into the end zone for the game's opening touchdown.
Elway began Denver's next drive with a shovel pass to Humphrey. He went for 28 yards and a first down. Humphrey then ran for a first down and set up another for Elway to gain on a third-down sneak. Elway tried the shovel pass again, but it bounced back to him, and he chose to bat it down. The Broncos settled for a 42-yard field goal by kicker David Treadwell, and the score was now 7-3.
The 49ers went three-and-out, and punter Barry Helton's kick was returned to the Denver 48. The Broncos had the perfect opportunity to go down and score a touchdown and take the lead. But Humphrey fumbled on a first-down carry, and San Francisco recovered. The Niners got called for holding on their first play of their new drive. Montana made up for it by throwing to Rice for a first down.
Facing fourth down a bit later, Rathman took the carry and got four yards for a first down, losing the ball but only after he was down. Montana then hit Rice on a third-down pass over the middle for 21 yards. Next, he threw to tight end Brent Jones for a seven-yard touchdown. Kicker Mike Cofer missed the extra point, and the Niners led 13-3 after one quarter.
Super Bowl XXIV: Second Quarter
The Broncos went three-and-out again, and San Francisco took over at their own 32. Rathman caught a pass over the middle for 18 yards, then Craig ran for gains of six and nine yards. Montana hit Rathman on another short pass, gaining 12 more. Craig ran for eight yards, and then got the first down.
The Niners then faced fourth-and-inches from the 2. Rathman pounded his way to the first down, then followed that up shortly afterward by punching it in from the 1. The Niners now led 20-3.
Stop me if you've heard this before: the Broncos went three-and-out. The 49ers followed with a three-and-out of their own. The Broncs got another shot and ended up getting one first down on a pass to Johnson before having to punt again after the two-minute warning.
Montana got his next shot starting at his own 41. He threw short to Rathman for four, then scrambled for five more to midfield. Timeout San Fran. Now, Rathman picked up the first down on a four-yard run. Montana then found tight end Wesley Walls at the Denver 38. The Niners called their second timeout with 40 seconds left.
But the Broncs made it way too easy for Montana, allowing Rice to break wide open down the middle of the field. Montana naturally saw him and completed the pass for a touchdown. The 49ers went to the half holding a 27-3 lead.
Super Bowl XXIV: Third Quarter
The Niners went three-and-out to start the second half. That's when Elway threw an interception to linebacker Mike Walter. He returned the pick to the Denver 28. Rice immediately cashed in, catching a touchdown identical to the one at the end of the first half. The 49ers now held a 34-3 lead.
On Denver's next drive, Elway threw an interception to Chet Brooks. He stepped out of bounds at the Denver 35. Two plays later, Montana ran the exact same play as the last two touchdowns, only this time it was Taylor bringing it in. It was a 35-yard touchdown, and San Francisco now led 41-3. Montana had thrown for a Super Bowl-record five touchdowns in just three quarters.
Elway wasn't quitting, even down by 38. He led a good drive, throwing to Johnson to get past the 50 to start it out. Humphrey then took a draw for a 34-yard pickup. The 49ers got called for pass interference on the next play, setting up Elway to run it in on a third-down quarterback draw. That made it 41-10, a bit more palatable for Broncos fans, but not much.
Super Bowl XXIV: Fourth Quarter
Montana could have gone ahead and passed for seven or eight touchdowns had he wanted to. Instead, the 49ers tried letting up. That's probably the only thing they failed at doing, because they couldn't help scoring more points on the Broncos.
First, Montana led a methodical drive down the field. Craig started it with a 13-yard run, and Montana converted a third down with a pass to tight end Jamie Williams. Rathman ran for 18 yards, while Montana was breaking the Super Bowl record for most consecutive completions. That streak ended shortly afterward, but a few plays later, Rathman took it in for another touchdown, making it 48-10.
Elway found himself sacked by defensive end Daniel Stubbs on first down, then victimized by Stubbs again, as he picked up an Elway fumble and returned it all the way to the 1. Craig went in from there, making it a 55-10 score. The rest of the game was backups playing; Steve Young got his first action in a Super Bowl, but he didn't throw for any touchdowns. No one scored again, and the game ended in a Scorigami: 55-10 San Francisco, the biggest blowout in Super Bowl history.
Super Bowl XXIV: Aftermath and Awards
Guess who won MVP? Of course, it was Montana. He completed 22 of 29 passes for 297 yards and five touchdowns. He now held pretty much every Super Bowl passing record there was to earn. His passer rating was almost perfect, at 147.6. If there was anyone to choose as second-best player, that would obviously be Rice. He caught seven passes for 148 yards and three touchdowns, and he made it all look so easy.
The MVP of the Broncos would be Humphrey; he ran for 61 yards and caught three passes for 38 yards. He also fumbled, but he wasn't the biggest goat on the Denver sideline in this game. That would be Elway, who completed only 10 of 26 passes for 108 yards and two interceptions, earning a passer rating of 19.4.
Elway just couldn't win the big one. He was going to retire as a Hall of Famer without a Super Bowl ring. His time was over. (Of course, we all know what happened from here.)
The biggest play of this game was Humphrey's fumble in the first quarter with the game at a 7-3 score. If Denver scores there, they go up 10-7, and who knows what happens from there. Maybe they keep it close. Maybe it just ends up 55-17. In any case, Humphrey losing that ball was the first play that killed the Broncos.
The biggest play no one remembers? I'll pick any of the 49ers' fourth downs in the first half. Many people do not realize that the Niners wouldn't have gotten nearly as many points had they failed to convert on their fourth down attempts. They also would have gotten fewer points had they settled for field goal attempts. Instead, 49ers head coach George Seifert was aggressive all the way, and boy, did it ever pay off.
The best player in this game you don't remember? I'm going with defensive back Chet Brooks. He had an interception and a big return, and he helped recover the Humphrey fumble in the first quarter. He had a big day on a night when defense wasn't really necessary given how well the offense played.
Super Bowl XXIV ended in a Scorigami, 55-10; that score has never happened any other time in NFL history. But when was the last time an NFL championship was decided by 45 points? That would be all the way back in 1957, when the Detroit Lions defeated the Cleveland Browns 59-14 to win the NFL championship.
That is the answer to today's pop quiz question: 1957. Super Bowl XXIV remains the largest margin of victory by a team, as well as the most points scored by a team. And we know which team that was. Of course, it was the 49ers.
Next time, we will go from one of the worst Super Bowls to one of the best. Super Bowl XXV. It's the New York Giants against the Buffalo Bills in a game that came down to the final second, as we enter the nineties. My website is tommyaphillips.com, where you can find all of my books. Until next time, this is Tommy A. Phillips. So long!
Lombardi Memories is a show that takes you back in time, into January or February, to the greatest one-day spectacle in all of sports. This is the every-other-Tuesday podcast that looks back at each and every one of the 50-plus Super Bowls and tells the story of who won and why.  Tommy A. Phillips is your host on this Super Journey.  He's an author of multiple NFL books.  You can purchase below.
Books From The Host Of Lombardi Memories
Please Note – As an Amazon Associate, I earn from qualifying purchases
More From Lombardi Memories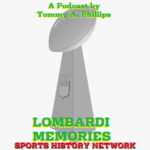 Today we have Super Bowl XXV, which was held on...
Read More