Today we have Super Bowl XXXVIII, which was held on February 1, 2004, at Reliant Stadium in Houston, Texas between the four-time AFC champion New England Patriots and the first-time NFC champion Carolina Panthers.
As always, we have a pop quiz, and then homework at the end of the episode. The Carolina Panthers put together a 95-yard drive in this game. Who was the only team to have a longer drive in yardage in a Super Bowl? The answer will come at the end of the podcast.
Prelude to Super Bowl XXXVIII
The New England Patriots started their 2003 season with a thud. They were beaten 31-0 in Buffalo by their biggest rivals at the time, the Bills. Defensive back Lawyer Milloy had gone to Buffalo, and the Patriots were considered dead on arrival. After a 2-2 start to the season, many figured that the Patriots wouldn't be a factor.
And then they started winning, and winning, and winning. They won their final 12 games of the season. Most of them were close victories, but their 38-34 win over Indianapolis helped provide them with home-field advantage throughout the playoffs. The Pats then got sweet revenge on Buffalo by beating them in the season finale, by the exact score they had lost by: 31-0.
The Patriots scraped by the Titans in the divisional round, 17-14. They then beat Indianapolis 24-14 in the AFC Championship Game, one in which Colts receivers constantly complained about Pats defenders being too physical. The NFL changed its rules thanks to that game, but it was of no help to the Colts, who were headed home. The Patriots were off to their second Super Bowl in three years.
Quarterback Tom Brady threw for 3,620 yards and 23 touchdowns. His top receiver was Deion Branch, who caught 57 passes for over 800 yards and three touchdowns. The top two running backs were Antowain Smith and Kevin Faulk, who finished within four yards of each other, both ending up just shy of 650. Faulk also caught a lot of passes – 48 to be exact. In a weird anomaly, Faulk didn't score a touchdown all regular season.
As for Carolina, they got off to a hot start, winning their first five games of the season. Eventually, they faced a reckoning, losing three straight games to drop to 8-5. But they won their final three games, clinched their division title, and got the #3 seed.
The Panthers dominated against Dallas 29-10 in the wild-card round at home. In the divisional round, they headed to St. Louis, where the game went to double overtime. Quarterback Jake Delhomme threw a 69-yard touchdown pass to receiver Steve Smith, and the Panthers beat the Rams, 29-23. The Panthers used a great defensive effort in Philadelphia to beat the Eagles 14-3 in the NFC Championship Game and advance to their first Super Bowl in franchise history.
This was a major turnaround for a team that went 1 – 15 just 2 years before this season.
Delhomme threw for over 3,200 yards and 19 touchdowns, but also 16 interceptions. Smith was his top target, catching 88 passes for over 1,100 yards and seven touchdowns. Receiver Muhsin Muhammad added another 54 catches for over 800 yards and three scores.
Running back Stephen Davis ran for over 1,400 yards and eight touchdowns on 318 carries. "He Hate Me" XFL star Rod Smart returned 41 kicks for nearly 1,000 yards and one touchdown. The Panthers also had a ferocious defense, with defensive ends Mike Rucker and Julius Peppers combining for 19 sacks.
Super Bowl XXXVIII: First Quarter
The Panthers came out of the blocks with an unimaginative run-run-pass-punt, and the Patriots got the ball back on the Carolina 47. Brady threw to receiver Deion Branch for 16 yards over the middle, then Faulk ran for five yards. Brady went play action, and he found Brown for another first down at the 14. The Pats' drive stalled there, so on came kicker Adam Vinatieri for a ho-hum 31-yard field goal. Wait a minute… he missed it? In a dome? How in the world did that happen?
Carolina went three-and-out again, this time thanks to a sack by Pats linebacker Mike Vrabel. The Panthers defense forced a three-and-out of their own, and they got the ball back at their own 11. But they did nothing again, and the Pats took over at the Carolina 49. This time Brady threw to Branch for a first down at the 38 and then hit him again for another six yards. But linebacker Will Witherspoon tackled Brown on an attempted reverse for a big loss, and the Pats had to punt.
The defensive standoff continued into the second quarter. The Panthers got a first down on a holding penalty, but that was it, and they punted it back. The teams then traded three-and-outs, with linebacker Willie McGinest sacking Delhomme to end the next Panther possession.
Super Bowl XXXVIII: Second Quarter
Smith started the next drive with a six-yard run. An offside penalty on third down gave New England a first down. Brown caught one for six, then Faulk ran for nine yards across the midfield stripe to the 47. Brady threw to Brown for about nine yards, but he could not get the first down on a sneak. Facing fourth-and-one, Patriots head coach Bill Belichick went for it, and Smith picked up the first down on a run.
The Panthers challenged the spot of the ball, but there was no way they were moving that back. The Panthers jumped offside a couple of plays later, then Smith ripped off a nine-yard run for a first down at the 20. However, the Carolina defense stood strong, and then defensive tackle Shane Burton blocked Vinatieri's 36-yard field goal attempt.
With five minutes to go in the first half, Vrabel hit Delhomme from behind and stripped him of the ball. Defensive tackle Richard Seymour recovered it at the 20. Smith ran for seven yards, before losing a few on the next play. Brady scrambled for his longest run of the season, going 12 yards down to the 5. He then fired to the back of the end zone to Branch, and the Patriots went up 7-0. It was the latest a Super Bowl had ever gone before the first points on the board.
But now that scoring had commenced, it wouldn't stop. Starting at the 5, Delhomme threw to receiver Ricky Proehl for a first down at the 23, as the game hit the two-minute warning. He then floated one for Muhammad, who brought it in along the sideline for a 23-yard pickup. Proehl caught another one, and he got a first down at the New England 39. A few plays later on third-and-ten, Delhomme launched one deep for Smith, who hauled it in along the left sideline for a 39-yard touchdown. The Panthers had tied the game at seven.
Brady struck back quickly. He first threw to receiver David Givens for a first down. Then he went for the bomb to Branch, completing it for 52 yards inside the 15. The Pats called timeout with 35 seconds left. Two plays later, Brady threw to Givens for nine yards. Timeout again, this time with 23 seconds left. On the next play, Brady went play-action and found Givens in the middle of the end zone for a five-yard touchdown, and New England led 14-7.
Vinatieri used the squib kick with little time left in the half, and Panthers tight end Kris Magnum picked it up and returned it to the Carolina 47. The Panthers decided to cross the Pats up with a run, and Davis plowed straight ahead all the way inside the New England 35 for 21 yards. They called timeout with five seconds left. Kicker John Kasay made a 50-yard field goal, and the Panthers trailed at halftime only by four points, 14-10.
Super Bowl XXXVIII: Third Quarter
Like the first quarter, the third quarter proved to be a feeling-out process. Both teams punted twice to begin the second half, with neither really doing all that much aside from committing penalties. When the Patriots got their third possession, that's when the points began going back up on the board. Brady threw to Branch for a first down at the 45.
Smith ran it to the Carolina 46, then picked up the first down on a six-yard run off the right side. The Pats got called for holding, but Brady made up for it with a pass to tight end Daniel Graham at the 9. On the first play of the fourth quarter, Brady threw to the end zone incomplete, but the Panthers were called for holding. Brady handed off on the next play, and Smith took it in two yards off the right side for a touchdown. The Patriots now had a 21-10 lead.
Super Bowl XXXVIII: Fourth Quarter
Delhomme suddenly found a new gear in the fourth quarter. He started it with a 13-yard throw to Muhammad. Next, he went to Smith for a first down at the Carolina 45. He then threw to Smith down the left side of the field for 22 more yards. Running back DeShaun Foster took the next carry, and he managed to evade and push through tacklers all the way for a 33-yard touchdown, making it 21-16.
It's at this point that Panthers head coach John Fox decided to go for two. "I would not do it," CBS announcer Phil Simms said. "I would kick the extra point." Simms was one hundred percent right. It was way too early to go for two. Not only that, but extra points were pretty much automatic with the ball on the 2 instead of on the 15 like they are today. The Panthers should have kicked the extra point, but they didn't. Delhomme missed Muhammad in the end zone, and now the Panthers were chasing points.
New England had a promising drive on which the Pats got three first downs, one on a Faulk 23-yard run. But Brady threw an interception in the red zone to defensive back Reggie Howard. After a pair of incompletions from the 15, Delhomme threw long down the left sideline for Muhammad. He hauled in the pass and sped into the end zone. It was an 85-yard touchdown reception, the longest in Super Bowl history, a mark that still stands today.
He broke Antonio Freeman's record of 81 yards set in Super Bowl XXXI. The Panthers now had to go for two, because they missed the last one. Delhomme threw to the right corner of the end zone, but the pass fell incomplete, and Carolina led by just one, 22-21.
A holding penalty gave New England a first down. Brady then threw to Faulk to get to the 43, before going to Brown for a first down. Faulk picked up three more, and Brady completed to Givens for a first down inside the 25. Facing third down a bit later, Brady rolled out and found Givens for a first down inside the 5. Two plays later, Brady threw to Vrabel – that's right, the linebacker, playing offense – for a one-yard touchdown to retake the lead. Belichick went for two, and Faulk got it on the direct snap. That made it 29-22, Patriots.
The Panthers kept this frenetic pace going on their next drive. Foster took a draw to the 36 and a first down, then Delhomme threw to Muhammad for 19 yards and another new set of downs at the two-minute warning. Delhomme went down the seam to find Proehl for 30 more yards, and the Panthers called timeout with 1:42 to go.
We will get to that timeout in a moment. For now, Delhomme threw incomplete and then a short pass to Mangum for two yards. Under heavy pressure on third down, he beat the blitz on a pass to Proehl for the tying touchdown. Kasay's extra point officially tied the game at 29.
Now, let's take a second and look at the errors the Panthers had made. By missing two two-point conversions, they incentivized the Patriots to go for two themselves. That added up to three lost points. The Panthers should be leading at this point, 31-28. Instead, they're tied. And how about that timeout? The Panthers were in no danger of running out of time. By calling timeout there, they gave more time to Brady. Heck, they should have run the clock down 40 seconds there instead of calling a timeout. What big blunders by John Fox.
Kasay kicked off out of bounds, giving Brady the ball at his own 40. It was child's play for him to get into field goal range from there. He threw to Brown for a first down at the Carolina 47. After a pass interference call set New England back with 44 seconds left, Brady got the yards back on a throw to Brown at the Carolina 44.
He then threw to Graham to get to the 40 and called timeout with 15 seconds left. This is a time the Patriots never would have had if Carolina hadn't called timeout. Instead, Brady had time to throw one more pass to Branch to set up Vinatieri with a 41-yard field goal attempt. Vinatieri kicked it off the right hash with nine seconds left. "Looks good!" CBS announcer Greg Gumbel said as the kick split the uprights.
"He Hate Me" XFL star Rod Smart couldn't return the kickoff all the way, being stopped at his own 21. Time ran out, and the Patriots had won their second Super Bowl in three years, 32-29!
Super Bowl XXXVIII: Aftermath and Awards
The immediate talk in the aftermath of New England's victory was that they were the closest thing to a dynasty that we'd ever see in the NFL. No one imagined that they'd go on to win six Super Bowls and play in three more. Brady was named MVP for throwing for 354 yards and three touchdowns.
If I were to give out an MVP, though, I'd give it to Vrabel. He had two sacks, a forced fumble which set up a touchdown, six tackles, and he caught a touchdown pass on offense. He was Mr. Everything for the Pats, and he deserved more credit than he got.
A Least Valuable Player? Well, I can't give it to John Fox because he's a coach.
So, I'll give it to Kasay. Kicking off out of bounds with less than two minutes to go is inexplicable. I know he made a 50-yard field goal, but his kickoff out of bounds virtually handed the game to the Patriots. There is no excuse for that, especially not in a dome.
The Most Valuable Player on the losing team was Muhsin Muhammad.
It's tempting to give it to Delhomme, who threw for 323 yards and three touchdowns. However, I've got to go with Muhammad for that wonderful 85-yard touchdown reception that put him in the record books. He also had three other catches to reach 140 yards. That's almost half of Delhomme's yards right there. Delhomme doesn't have such a good day without Muhammad breaking out.
The best player you don't remember is David Givens, an overlooked receiver in Brady's stable. He caught five passes for 69 yards and a touchdown. He's not often mentioned as one of Brady's targets, but he had a big game here in the Super Bowl.
The biggest play of this game sadly was Kasay's kickoff out of bounds. That's what set up Brady to go a mere 36 yards to set up Vinatieri for an easy 41-yard field goal. If Kasay kicks it deep, who knows, maybe the Panthers make a stop or even force a turnover. But once he did that, the Panthers' fate was sealed.
The biggest play you don't remember is the one I totally forgot about when writing this recap. Reggie Howard's interception came at a point in the game where I lulled myself to sleep. I didn't recognize that Brady had even thrown an interception until looking at the scoresheet. And yes, it was a big play. It set up Muhammad's 85-yard record-breaking touchdown.
That meant that the Panthers went at least 90 yards to score touchdowns twice in this game. The only team to have a longer drive than the 95-yarder the Panthers had? The Chicago Bears in Super Bowl XX, who scored one on a 96-yard drive. That is the answer to today's pop quiz question.
For homework, how about this one. It's Better to Be Feared: The New England Patriots Dynasty and the Pursuit of Greatness by Seth Wickersham. I haven't read this one yet, but I figure it's got to be one of the best books for looking at this modern-day New England dynasty.
I look forward to eventually reading this one and getting some behind-the-scenes looks at the Patriots. Oh, and it was Sports Illustrated's Nonfiction Book of the Year. That means it must be pretty good.
But we aren't finished talking Patriots on this podcast. No, we'll be talking about them again next time, when we reach Super Bowl XXXIX between the Pats and the Eagles. Will T.O. be able to lead the Eagles to victory? Can Donovan McNabb run a no-huddle offense? And can Troy Aikman and Cris Collinsworth coexist in the same broadcast booth? Find out all this in two weeks.  In the meantime…
You can find all my books at tommyaphillips.com; I specifically suggest the Great Eighties and Nifty Nineties books. Later this year, there will be a third book on NFL decades, on the seventies. You won't want to miss it. Until next time, this is Tommy A. Phillips, signing off. So long!
Lombardi Memories is a show that takes you back in time, into January or February, to the greatest one-day spectacle in all of sports. This is the every-other-Tuesday podcast that looks back at each and every one of the 50-plus Super Bowls and tells the story of who won and why.  Tommy A. Phillips is your host on this Super Journey.  He's an author of multiple NFL books.  You can purchase below.
Books From The Host Of Lombardi Memories
Please Note – As an Amazon Associate, I earn from qualifying purchases
More From Lombardi Memories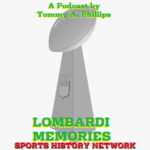 Today we have Super Bowl XLVI, held on February 5,...
Read More