Today we have Super Bowl XL, which was held on February 5, 2006, at Ford Field in Detroit, Michigan, between the six-time AFC champion Pittsburgh Steelers and the first-time NFC champion Seattle Seahawks.
As always, we have a pop quiz, and then homework at the end of the episode. The pop quiz question for today is: who was the last non-quarterback to throw a touchdown pass in the Super Bowl before Antwaan Randle El threw one in Super Bowl XL? The answer will come at the end of the podcast.
The Pittsburgh Steelers were left for dead after Week 13. They had lost three games in a row, including one to the first-place Cincinnati Bengals. At 7-5, they were in a bad position.
Yet, it wasn't so bad. The Steelers didn't need any help to make the playoffs. Four wins in a row would get them in the playoffs no matter what happened. So, that's what they went out and did. Running back Jerome Bettis ran all over the Chicago Bears for a 21-9 victory, then the Steelers crushed Minnesota, Cleveland, and Detroit on their way to an 11-5 record and the #6 seed in the AFC.
No #6 seed had ever reached the Super Bowl; in fact, no #6 seed had even reached the conference championship round. But these Steelers went into the playoffs on fire.
Quarterback Ben Roethlisberger led the Steelers to three road victories to reach the Super Bowl. In the first one, over AFC North champion Cincinnati, Bengals quarterback Carson Palmer was injured on the first play of the game. The Steelers went on to win, 31-17, against Jon Kitna.
Next, the Steelers went on to Indianapolis, where they took on the top-seeded Colts. Peyton Manning and company were heavy favorites, but Pittsburgh came out on fire and took a big lead. Manning brought the Colts back within three points. The Steelers got down to the Colts 1, and Ben handed to Bettis for what seemed to be surely a touchdown. But Bettis somehow fumbled, and Nick Harper picked it up.
Only Ben stood in his way of a touchdown return, and Ben made the tackle to save the day. The Colts later missed a tying field goal, and the Steelers won, 21-18. The Steelers then dominated in Denver on their way to a 34-17 win over Jake Plummer.
Ben was in his second season as a starting quarterback, and he had solid numbers – 2,385 yards, 17 touchdowns, only nine interceptions, and a passer rating just south of 100. Receiver Hines Ward led the team with 69 catches for 975 yards and 11 touchdowns. Tight end Heath Miller was second on the team in receptions, and receiver Antwaan Randle El – a former college quarterback – was third.
Running back Willie Parker was the dynamic threat in the Steelers' backfield; he rushed for just over 1,200 yards and four touchdowns, while Bettis ran for nine touchdowns but only 368 in a reduced role. Of course, Super Bowl XL was in Detroit, Bettis's hometown. What better time to go to the Super Bowl?
Meanwhile, over in the NFC, the Seattle Seahawks had no problem making the playoffs. They started the season 2-2 before going on an 11-game winning streak. They lost a meaningless season finale to the Green Bay Packers to finish 13-3 with the #1 seed in the NFC. Their playoff games weren't very memorable; the Seahawks beat Washington 20-10 and Carolina 34-14 to advance to their first Super Bowl in franchise history. Along the way, the Seahawks became the only team to play in an AFC Championship Game (in 1983) and an NFC Championship Game.
League MVP Shaun Alexander took the league by storm, rushing for 1,880 yards and a league-record 27 touchdowns. That didn't mean the Seahawks were all running; quarterback Matt Hasselbeck threw for just shy of 3,500 yards, throwing 24 touchdowns as opposed to just nine interceptions and a passer rating similar to Ben's. Seattle didn't have one main receiver; rather they were receiver-by-committee.
Whether it was Bobby Engram and his team-leading 67 catches for just short of 800 yards, Joe Jurevicius, with a team-leading ten touchdown receptions, Darrell Jackson, D.J. Hackett, and trash-talking tight end Jerramy Stevens, the Seahawks had weapons all around.
Stevens did too much talking in the weeks leading up to Super Bowl XL, making him a prime target for Steelers fans. As for Bettis, he hoped to retire after winning a Super Bowl in Detroit. The Steelers were technically the "home" team for this game, but they chose to wear their white jerseys because they had won three games to get here in them. The Seahawks wore their super-ugly monochrome uniforms.
Super Bowl XL: First Quarter
The Seahawks got the ball to start the game. Hasselbeck threw a couple of passes to Darrell Jackson to begin the drive, picking up a first down. Alexander ran for an eight-yard gain, then Jackson hauled in another pass for another first down. The Seahawk drive ended when linebacker Clark Haggans sacked Hasselbeck, on a play the 'Hawks were called for holding. Punter Tom Rouen kicked it away for a touchback.
The Steelers committed two false start penalties and had to punt. Seattle took back possession at their 36. Hasselbeck scrambled for a nice gain to the 44, and Jackson hauled in his fourth pass to move the ball to the Pittsburgh 45 with a first down. But a holding penalty brought the 'Hawks back, and they ended up punting again. Rouen repeated his first kick by putting this one in the end zone as well.
Pittsburgh went three-and-out again, and Seattle got the ball back at their own 49. Alexander ran for four, then Jackson caught his fifth pass of the first quarter. That tied the Super Bowl record for most catches in a first quarter with Bills receiver Andre Reed.
Hasselbeck threw to Jurevicius for another first down. He then went play action to the end zone, and Jackson seemingly had his sixth catch of the quarter and this one for a touchdown. But hold the phone! Jackson pushed off a defender while making the catch. That wiped out the reception and pushed the Seahawks back. They ended up settling for a 47-yard field goal by kicker Josh Brown to go up 3-0.
Super Bowl XL: Second Quarter
The Steelers continued struggling on their next drive. Ben threw three incompletions, and the Steelers punted again to start the second quarter. Alexander started the drive with a five-yard run, and Hasselbeck found Jurevicius for a first down at the 44. Alexander carried the ball across midfield, but on third down, Stevens had a pass knocked out of his hands by defensive back Chris Hope. It was close to being a fumble, but it couldn't be reviewed. The Seahawks had to kick, and Rouen once again punted for a touchback.
Finally, the Steelers got a first down, on a pass from Ben to Randle El. Next, Ward took an end around for 17 yards. But Ben got greedy and went long, and his pass found the arms of defensive back Michael Boulware, who got the interception. Fortunately for the Steelers, their defense forced a three-and-out, and Randle El returned the punt to the 42.
On third down, Ben escaped pressure and got off a shovel pass to Ward for 12 yards to the Seattle 43. Next, Ben found receiver Cedrick Wilson for a first down at the 22. Bettis took a screen pass for five more yards, but the Steelers were called for offensive pass interference on the play.
Defensive end Grant Wistrom sacked Ben, and the Steelers were now looking at third-and-long. Ben scrambled out to his left but stayed behind the line of scrimmage. He then threw the ball all the way across the field, something you should never do. He was rewarded when Ward came down with the catch at the 3 for a first down. Bettis pounded it down to the 1 on two carries as the half reached the two-minute warning.
It was third-and-goal, and Ben kept the ball and tried scoring off the left side. He came down right at the goal line, and the official's first signal was that he was short. Then they changed it; touchdown! The play went to video review. After reviewing the play, the ruling on the field stood. From my personal look at the play, I think that it probably should have been ruled short, but also that there's no way you could overturn it on replay.
Who knows what may have happened had Ben been ruled a yard short? Maybe Bettis pounds it in on the next play. Maybe Parker or Ben runs it in. Maybe the Steelers pass for a touchdown. Maybe, kicker, Jeff Reed kicks an 18-yard field goal. Or… maybe they don't score at all. You never know. As it stood, the Steelers took a 7-3 lead.
The Seahawks got the ball back with a little under two minutes to go. Hasselbeck threw to Jurevicius for a first down to the 46, then he threw a short pass to Alexander at midfield. Timeout, Seattle. Then Hasselbeck threw to Engram for another first down at the 40. Hasselbeck's next pass for Jackson was caught but out of bounds.
The Steelers called a timeout to set up their defense. For some insane reason that we'll never know, Seattle head coach Mike Holmgren called for a simple run up the middle by Alexander. He ran it to the 36 for four yards, but the clock ran. And ran. And ran. And ran. And soon there were only 13 seconds left. The Seahawks had completely botched the clock.
After an incompletion on another Jackson catch out of bounds, the 'Hawks settled for a 54-yard field goal attempt by Brown. He missed it wide to the right, and the Steelers went to the half with a 7-3 lead while the Rolling Stones warmed up.
Super Bowl XL: Third Quarter
Pittsburgh started the second half with the ball. Defensive back Ricardo Colclough returned the kickoff to the 25. Ben started off with a pass to Ward that was a bit behind him, and it fell incomplete. But that's when Willie Parker ripped off the longest run in Super Bowl history. He broke right through the line and went 75 yards for a touchdown. The Steelers now led, 14-3.
Hasselbeck threw a pass to running back Maurice Morris to get to the 35, then fullback Mack Strong took the ball to the 44. Alexander then broke a run off the left side for 21 yards. That's about as far as the Seahawks would go, though. They settled for a 50-yard field goal attempt by Brown. This one he missed wide to the left, and the Seahawks remained down by 11.
The Steelers now drove downfield, with all the momentum and the chance of stepping on the Seahawks' throat. Ward caught a pass barely off the ground for a first down. After a Bettis run and an incompletion, Ben found Ward again, who broke a tackle to get to the 23. Bettis pounded through a big hole for a first down at the 10. He carried the ball twice more, getting to the 6.
The Steelers were just about to put this Super Bowl in the history books when Ben threw an interception to defensive back, Kelly Herndon. He returned it 76 yards, all the way to the Pittsburgh 20. That marked the longest interception return in Super Bowl history. Three plays later, Hasselbeck found Stevens open in the end zone for a 16-yard touchdown, and the Seahawks cut their deficit to four points.
The Steelers went back to struggling on offense, going three-and-out on their next two drives. Seattle also went three-and-out on one drive. They got the ball back after the second Steeler punt at their own 2. Alexander ran for five yards, and Hasselbeck scrambled for a first down at the 16. Hasselbeck then went to tight end Ryan Hannam for a couple of passes, and he got a first down. Next, Engram caught one for a first down at the 48, and the third quarter ended one play later.
Super Bowl XL: Fourth Quarter
Alexander ran it to the 46, then Hasselbeck found Engram for a first down at the 30. Alexander ran for seven yards, then for another first down. Hasselbeck went down the seam for Stevens, and he caught it at the 1, but the Seahawks were called for holding on the play. ABC announcer John Madden disagreed with the call, but I could see what the official was looking at.
It probably was holding, if a ticky-tack call. The Seahawks unraveled from that point forward. First, they gave up a sack by Steelers defensive tackle Casey Hampton. Then, Hasselbeck threw an interception to defensive back Ike Taylor. To top it off, Hasselbeck got called for a low block foul while making the tackle on the return. That was definitely the wrong call by the officials, but it didn't erase the fact that the Steelers now had the ball.
Parker ran it to the 46, then Randle El caught a pass for six yards. Ben scrambled out of the shotgun for a first down to the Seattle 43. Then came the trickery. Parker took a reverse, which he flipped back to Randle El, who then unleashed a bomb downfield. Touchdown, Hines Ward, 43 yards out! The Steelers now led 21-10.
Hasselbeck fumbled on a scramble, and defensive back Troy Polamalu fell on it for Pittsburgh. However, Holmgren challenged, and he was right – Hasselbeck was down before the fumble. That gave Seattle a first down at the 34. Alexander ran for four more yards, then Jurevicius caught a pass at midfield for a first down.
The Seahawks' plans were all messed up when defensive back Deshea Townsend came in on a blitz and sacked Hasselbeck on third down. Now facing fourth-and-13 with six-and-a-half minutes left near midfield trailing by 11, there was only one option: go for it. Punting would essentially concede the game to Pittsburgh. So, what did Holmgren do? He punted. And now the Steelers running game could go to work.
This drive turned into the Jerome Bettis Show.
He carried the ball seven times on the drive, with Randle El getting a first down on a screen and Ben getting another on a bootleg. Holmgren was forced to use all his timeouts. The Steelers ran down the clock all the way to the two-minute warning, at which point the Seahawks got the ball back after a Chris Gardocki punt into the end zone for a touchback.
Hasselbeck threw to Stevens in bounds, keeping the clock running. He hit Jurevicius for a first down to the 39, but by the time he threw an incompletion, there was only a minute left. He threw two more incompletions before connecting on fourth-and-ten to Engram for a first down. He then spiked the ball with 34 seconds left in field goal range.
At this point, Holmgren needed to kick the field goal in order to give his team enough time to try an onside kick and hope to get that necessary touchdown and two-point conversion. Instead, he had Hasselbeck keep throwing, and one of his passes was caught in bounds by Stevens. On the final play for Seattle, Stevens dropped a fourth-down pass, and that ended the game. The Steelers had matched San Francisco and Dallas with their fifth Super Bowl win, 21-10!
Super Bowl XL: Aftermath and Awards
Receiver Antwaan Randle El threw that 43-yard touchdown to Ward, and it was the most important play of the game. Who was the last non-quarterback to throw a touchdown in a Super Bowl? It came against the Steelers in Super Bowl XIV, when running back Lawrence McCutcheon threw a touchdown pass to Ron Smith. That is the answer to today's pop quiz question, as well as my pick for the biggest play of this game.
Let's circle back around and talk about the MVP. Hines Ward was named MVP for catching five passes for 123 yards and a touchdown, as well as running it once for 18 yards. If I were to give a second-place MVP, I'd hand it to Parker. He ran ten times for 93 yards and a touchdown, and he broke off the longest run in Super Bowl history, a mark that still stands.
As for Least Valuable Player, I wouldn't give it to Ben, even though Ben had an awful day: nine completions on 21 attempts for just 123 yards and two interceptions for a ghastly passer rating of 22.6, the worst by a winning quarterback in Super Bowl history. No, instead, I'll give it to kicker Josh Brown of the Seahawks for missing two field goals. Think about it: if he makes both field goals, Seattle is going for the win at the very end. That could have been a very exciting finish to the game, but he missed both kicks, and his team never recovered.
The Most Valuable Player on the losing team was Hasselbeck. He completed 26 of 49 passes for 273 yards and a touchdown, with an interception, while rushing for 35 yards on three attempts. Despite his pick, he kept his team in the game, even with receivers dropping balls and kickers failing on kicks. Jackson, by the way, who had five catches in the first quarter, never recorded another reception the rest of the game, though he did catch two passes out of bounds.
The best player you don't remember? How about linebacker Larry Foote of the Steelers? He picked up five tackles, including one for a loss. Of these players, you'll remember most of them, but Foote had a solid game and he wasn't a big name, so maybe (and hopefully) you don't remember him until now, that is.
The biggest play you don't remember? Has to be Jackson's first catch out of bounds near the end of the first half. He came close to getting his feet in, but he stepped on the out-of-bounds line in the end zone. If he runs that pattern better, he gets both feet in, and it's a touchdown for Seattle. Instead, the Seahawks ended up missing a field goal.
And what about those officials? It's easy to say in the heat of the moment that the officials screwed up. But watching this game, I found that every call they made was justified in one way or another. Maybe they didn't make the best calls, but their officiating wasn't nearly as bad as everyone makes it out to be. I'd give their officiating a C. A passing grade, but not a good one either. They don't deserve an F, though. And they didn't cost Seattle this game – the Seahawks themselves cost themselves the game.
For homework this week, I am recommending Michael Holley's book Heart and Steel, co-written by Bill Cowher. You can get it pretty cheap, even though it is a relatively new book. Bill Cowher finally got his Super Bowl victory here in Super Bowl XL, and I couldn't be happier for him.
He deserved to have this moment. It's too bad he stayed one more year and had a poor season because he deserved to go out on top like Bettis did. In any case, Cowher is one guy you gotta love.
Next time, we will go into the Purple Rain! The first Super Bowl to be affected greatly by weather, Super Bowl XLI brings excitement from the opening kickoff. And Prince is there to deliver one of the most memorable halftime shows of all time!
It's the nine-time NFL champion Chicago Bears against the three-time NFL champion Colts. And none of those previous Colts titles came in Indianapolis. Peyton Manning looks to secure his legacy. It all comes to you in two weeks.
 In the meantime…
You can find all my books at tommyaphillips.com; I specifically suggest the Great Eighties and Nifty Nineties books. Later this year, there will be a third book on NFL decades, on the seventies. You won't want to miss it. Until next time, this is Tommy A. Phillips, signing off. So long!
Lombardi Memories is a show that takes you back in time, into January or February, to the greatest one-day spectacle in all of sports. This is the every-other-Tuesday podcast that looks back at each and every one of the 50-plus Super Bowls and tells the story of who won and why.  Tommy A. Phillips is your host on this Super Journey.  He's an author of multiple NFL books.  You can purchase below.
Books From The Host Of Lombardi Memories
Please Note – As an Amazon Associate, I earn from qualifying purchases
More From Lombardi Memories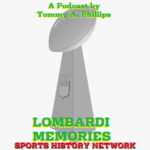 We have finished reviewing the first 50 Super Bowls, and...
Read More