Today we have Super Bowl XLI, which was held on February 4, 2007, at Dolphin Stadium in Miami, Florida, between the second-time NFC champion Chicago Bears and the AFC champion Indianapolis Colts, who were in the Super Bowl for the first time since moving to Indy in 1984.
As always, we have a pop quiz, and then homework at the end of the episode. The pop quiz question for today is: Indianapolis overcame an eight-point deficit in this game. How many times before this game did a team come back from down by more than eight points to win? The answer will come at the end of this podcast.
Prelude to Super Bowl XLI
The Indianapolis Colts were known as playoff chokers. Every year, they'd have a great regular season, and every year, they found a new way to lose in the playoffs. In 2003, they reached the AFC Championship Game but got shut down by the Patriots.
In 2004, they made it to the divisional round, where New England ended their season again. And in 2005, the Colts were the #1 overall seed, but they didn't win a single playoff game, falling to Pittsburgh in the divisional round.
In 2006, things were finally different. This time, the Colts were the #3 seed. They knocked Kansas City out of the wild card round with a 23-8 victory. Then kicker Adam Vinatieri scored all 15 points on five field goals against the Ravens in a 15-6 divisional round win. Finally, the big test came at home against New England in the AFC Championship Game. Quarterback Peyton Manning brought the Colts back from an 18-point deficit, and the Colts defeated the Patriots 38-34 to go to their first Super Bowl since moving to Indianapolis.
Manning had another banner year, throwing for nearly 4,400 yards and 31 touchdowns with just nine interceptions. He had two 1,300-yard receivers: Marvin Harrison (with 12 touchdowns) and Reggie Wayne (with nine). In the backfield, Joseph Addai ran for over a thousand yards with seven touchdowns, and Dominic Rhodes ran for another 600-plus yards and five touchdowns.
Even tight ends Dallas Clark and Ben Utecht were both over 350 receiving yards. The Colts were absolutely stacked on offense, and they weren't too bad on defense either. Linebacker Robert Mathis led the team with nine-and-a-half sacks, and defensive end Dwight Freeney had another five-and-a-half.  As for the Chicago Bears, they finished with the best record in the NFC at 13-3.
They started out the season 7-0, and the only game they lost in December was a New Year's Eve meaningless finale against Green Bay. They managed to get past the Seattle Seahawks 27-24 in overtime, then they crushed the New Orleans Saints 39-14 to advance to their second Super Bowl.
The Bears were built all around defense and special teams. Defensive end Mark Anderson had 12 sacks; defensive backs Ricky Manning and Charles Tillman each had five interceptions. Players such as linebacker Brian Urlacher and defensive back Nathan Vasher were big playmakers whose impact went beyond the scoresheet. And of course, the Bears had return specialist Devin Hester, who returned three kickoffs, two punts, and one field goal for six touchdowns.
Offensively, the Bears didn't have as much talent. Quarterback Rex Grossman threw for nearly 3,200 yards, but he had 20 interceptions to match his 23 touchdowns. Running back Thomas Jones ran for over 1,200 yards, and the Bears had three receivers with over 600 yards in Muhsin Muhammad, Bernard Berrian, and Desmond Clark. They weren't nearly as flashy as the Colts, which is perhaps why they came into Super Bowl XLI in Miami as six-and-a-half point underdogs.
This was the first Super Bowl with two African-American head coaches: Tony Dungy and Lovie Smith. The winner of this game would be the first African-American head coach to win a Super Bowl. Both were upstanding men who were deeply spiritual. You weren't going to hear any cursing and swearing around them!
Super Bowl XLI: First Quarter
CBS announcer Phil Simms put his foot in his mouth twice before the opening kickoff. "I do not think weather is going to be a factor," he said. When the Colts lost the toss and the Bears chose to receive, Simms said, "It was a blessing, losing the coin toss." Of course, we know what happened next.
Rain poured down the remainder of the game, making for slippery conditions and loose footballs, so weather definitely played a huge factor. And the Colts' loss of the coin toss hurt them immensely when Hester returned the opening kickoff 92 yards for a touchdown!
The Colts tried to kick it away from Hester, angling it toward the sidelines, but they would have been better off just kicking it out of bounds. Hester took the ball, ran toward the middle, juked, and sprinted down the right sideline for a 92-yard touchdown. The Bears took a 7-0 lead to start the game.
Manning took over at his own 31. He almost had his opening pass intercepted by Urlacher, who tipped it. Addai ran for 14 yards for a first down, before Manning was almost picked off by Vasher. Two plays later, Manning was actually picked off this time around, by defensive back Chris Harris.
The Bears went three-and-out and punted. This would prove to be a theme on this rainy night in Miami. The Colts took the ball back at their own 20. Addai ran for six yards, and Manning hit Harrison for a first down. Addai hauled in a pass for five more, then Clark picked up the first down on a reception. Facing third-and-long a bit later, Manning found Wayne wide open for a 53-yard touchdown. While punter Hunter Smith botched the hold of the extra point, the Colts had at least gotten on the board, down 7-6.
This time when the Colts kicked off, Vinatieri kicked it low, and the Bears fumbled. Mathis knocked it out, and linebacker Tyjuan Hagler picked it up for Indianapolis. Only a play later, though, Addai fumbled, having the ball stripped by defensive end Alex Brown and picked up by Anderson. Jones then ripped off a 52-yard run deep into Indianapolis territory. On third down, Grossman found Muhammad for a four-yard touchdown, and the Bears took a 14-6 lead.
The Colts went three-and-out and punted to Hester. The returner avoided two hits before stepping out of bounds at the 35. Grossman then threw to Berrian, who never got his second foot in, but it was ruled a force-out, and it was a first down for Chicago. Next, running back Cedric Benson had the ball knocked out of his hands by defensive back Bob Sanders. Freeney recovered the loose ball for Indianapolis.
The first quarter ended with the teams trading punts. With four turnovers in the first quarter, it was the most turnovers by two teams combined in a first quarter of any Super Bowl.
Super Bowl XLI: Second Quarter
Manning threw to Addai for a first down into Bears territory. He then hit Harrison for 15 yards. Addai ran twice to pick up gains of six and ten. Manning went back to Harrison to get to the 16. That's as far as the Colts would go, but Vinatieri made a 29-yard field goal to cut the deficit to 14-9.
The Colts defense forced another quick three-and-out. Manning threw to Harrison for a first down to the Chicago 36. He then hit Clark for 17 more. Rhodes took the ball on four of the next five plays, picking up a first down and scoring a one-yard touchdown. Choosing not to chase the points, Dungy had Vinatieri kick the extra point, and the Colts went ahead by two.
The Bears went three-and-out once more, and the Colts had a chance to add to their lead. Addai ran three times and caught two passes to move the ball into Chicago territory under the two-minute warning. Manning then threw to tight end Bryan Fletcher, who fumbled. Tillman stripped the ball off him and recovered the fumble.
But only a play later, Grossman gave it right back. He fumbled the snap, and defensive end Raheem Brock fell on top of it for Indianapolis at the Chicago 35. With little time left before the half, Rhodes ran for a first down, and he caught a pass to get to the 17. After a timeout, Addai got stunned by Urlacher for a loss, and Dungy decided to take the field goal. He called timeout with two seconds left.
Vinatieri was all but automatic on these kicks, but not tonight in the "Purple Rain." He missed from 36 yards out, wide left. The Colts went to the locker room with a 16-14 lead.
Prince played a perfect halftime show where he played "Purple Rain" in the midst of a torrential downpour and purple lights. The halftime show was so much better than anything that happened in this sloppy game. It was truly one to remember.
Super Bowl XLI: Third Quarter
The Colts got the ball to start the second half. Manning went run heavy, handing the ball off to Addai a bunch, and throwing a few short passes to him as well. Altogether, Addai touched the ball nine times on this drive, getting the Colts deep into Chicago territory. Manning completed a third-down pass to Clark but got caught short of the first down. After an unsuccessful challenge by Dungy where he hoped to catch the Bears with 12 men on the field, the Colts kicked the field goal. Vinatieri converted from 24 yards out to make it 19-14.
Grossman completed passes to Jones and Muhammad to get into Colts territory. Facing second-and-one, though, Grossman slipped and fell, and he was sacked by defensive tackle Anthony McFarland. Then he fumbled a snap, and Mathis and Brock combined to sack him again! The Bears were forced to punt once again.
Rhodes started the next drive by ripping off a 36-yard run. He ran for another eight, and the Bears got called for a personal foul facemask penalty. But the Colts were unable to punch it in, getting as far as the 2. Vinatieri made a 20-yard field goal, and the Colts now led, 22-14.
The Bears put together their last real threat of the game on their next possession. The Colts were flagged on the kickoff, which put Chicago in Indy territory to start. Jones ran twice, getting a first down. He got the Bears as far as the 16 before the drive stalled. Kicker Robbie Gould made a 44-yard field goal, and the Bears cut their deficit to 22-17 at the end of three quarters.
Super Bowl XLI: Fourth Quarter
Manning fired to the sideline to Harrison, who was called out of bounds. However, Dungy challenged and won the challenge, as it was ruled a catch. Manning then threw to Wayne to pick up eight yards and a first down. The Colts eventually had to punt anyway. The Bears started their next drive by getting called for holding.
A couple plays later, Grossman found Muhammad for a 21-yard gain. But on the very next play, Grossman made the back-breaking mistake. He threw an interception to defensive back Kelvin Hayden on the sideline, who barely stayed in bounds and went 56 yards for a touchdown. The Bears challenged to see if he had stepped out of bounds, but the officials ruled him in bounds, and the Colts now went ahead 29-17.
Now in desperation mode, Grossman compounded the problem by throwing another interception, this one to Sanders, who returned it to the Chicago 40. The Colts weren't able to score off it, but they punted it down to the 8. Now, the Bears had to go 92 yards. Grossman threw three consecutive passes to Desmond Clark, and Jones ran for another first down to the 46. But, facing fourth-and-nine, Clark had the ball knocked out of his hands, and the Bears turned it over on downs.
After the two-minute warning, the Colts turned the ball over on downs. The Bears were now out of timeouts and down by 12. They needed a miracle at this point, but it wasn't happening. Grossman completed a bunch of passes in bounds, and the clock bled down to zero. Time ran out on the Bears, and Dungy and the Colts were Super Bowl champions!
Super Bowl XLI: Aftermath and Awards
The Colts successfully came back from that 14-6 deficit to win this game. They were the third team to recover from such a deficit in a Super Bowl – it happened twice before. Washington came back from down ten points against Denver in Super Bowl XXII, and the Giants recovered from a nine-point deficit to Buffalo in Super Bowl XXV. And that is the answer to today's pop quiz question: two.
Peyton Manning was named MVP for his 247-yard, one-touchdown performance. But he didn't deserve the MVP. Instead, it should have been split between Rhodes and Addai. Rhodes ran for 113 yards and a touchdown, and Addai put up 143 scrimmage yards while catching ten passes. Those two controlled this game for the Colts, not Manning. I get the feeling Manning got the award just because of name recognition.
The Most Valuable Player of the losing team was Hester. Not only did he return that kickoff for a touchdown, but he forced Vinatieri into short kicks for almost the rest of the night. Vinatieri ended up with just one touchback. A lot of times, the Bears got great field position. Hester was a true game changer, but he was not enough on his own to save the team.
The Least Valuable Player was Grossman. While he completed 20 of 28 passes, he ended up with just 165 yards and only one touchdown as opposed to two interceptions. He threw the game away in the fourth quarter with his two turnovers. If he had played better, Chicago would have had more than a fighting chance in this game.
The best player you don't remember? How about linebacker Cato June for the Colts? He ended up with seven tackles in this game, five of them solo tackles. Most of these other Colts names you'll recognize, but you probably don't remember June, who had a great day on defense.
The biggest play of this game was Hayden's pick-six. That essentially won the game for the Colts, making it a 12-point game and ending any real Chicago comeback chances. But the biggest play you don't remember is Grossman's back-to-back mishaps in the third quarter. He had second-and-one and a chance to move the ball into Colt territory. Instead, he stumbled once and fumbled another time, and soon the Bears were punting. That led to a Colts field goal. It was a back-breaking moment.
This time, go with Quiet Strength by Tony Dungy. He's written a bunch of books, actually, and any of them would be a good choice to commemorate his landmark victory in the Super Bowl. Dungy paved the way for Mike Tomlin to become the second African-American head coach to win a Super Bowl just two years later.
Next time, we will have what I believe is the greatest Super Bowl of all time: the wild card New York Giants up against the 16-0 New England Patriots. What could happen? It's a game for the ages, and it'll be covered right here for you to enjoy. Can the Patriots become the league's first 19-0 team? Or will the Giants pull off an upset of monumental proportions? It all comes your way in a couple weeks. In the meantime, visit my website at niftynineties.com to see my books. This is Tommy A. Phillips, signing off. So long!
 In the meantime…
You can find all my books at tommyaphillips.com; I specifically suggest the Great Eighties and Nifty Nineties books. Later this year, there will be a third book on NFL decades, on the seventies. You won't want to miss it. Until next time, this is Tommy A. Phillips, signing off. So long!
Lombardi Memories is a show that takes you back in time, into January or February, to the greatest one-day spectacle in all of sports. This is the every-other-Tuesday podcast that looks back at each and every one of the 50-plus Super Bowls and tells the story of who won and why.  Tommy A. Phillips is your host on this Super Journey.  He's an author of multiple NFL books.  You can purchase below.
Books From The Host Of Lombardi Memories
Please Note – As an Amazon Associate, I earn from qualifying purchases
More From Lombardi Memories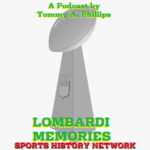 Today we have Super Bowl XLIV, which was held on...
Read More