Today we have Super Bowl XLIII, which was held on February 1, 2009, at Raymond James Stadium in Tampa, Florida, between the seven-time AFC champion Pittsburgh Steelers and the first-time NFC champion Arizona Cardinals.
As always, we have a pop quiz, and then homework at the end of the episode. The pop quiz question for today is: Jeff Reed made a really short 18-yard field goal in this game. Which Super Bowl was the last one to feature a field goal that short? The answer will come at the end of the podcast.
Prelude to Super Bowl XLIII
The 2008 Pittsburgh Steelers were both one of the best and one of the luckiest teams in recent NFL history. How were they lucky? Well, for all three of their playoff games, a team who beat them in the regular season lost in the playoff game right before playing the Steelers. Indianapolis beat them 24-20 in the regular season; they lost the wild card game to San Diego, who went to Pittsburgh.
The Tennessee Titans beat Pittsburgh 31-14 in the regular season; they lost in the divisional round to Baltimore, sending the AFC Championship Game to Pittsburgh instead of Nashville. Then the Philadelphia Eagles, who beat the Steelers 15-6, lost to the Arizona Cardinals in the NFC Championship Game. The Steelers lucked out in avoiding all three of them.
But those three losses were all but one of their losses! Their only other loss came to the NFC #1-seeded New York Giants. Aside from those four losses, the Steelers won 12 games, including a five-game winning streak late in the season. That included a dramatic 13-9 win over Baltimore to put away the AFC North title. The Steelers then crushed the Chargers 35-24 in a game that wasn't really that close, before a rematch against the Ravens. The Steelers beat Baltimore for the third time, this time 23-14 thanks to a Troy Polamalu pick-six. They were on to their seventh Super Bowl.
The Steelers were led by quarterback Ben Roethlisberger, who threw for over 3,300 yards and 17 touchdowns. His numbers didn't look that impressive, as he threw 15 interceptions, but that's ignoring everything he did behind center. He was almost impossible to sack, and he'd often buy five or more seconds to wait for someone like receiver Hines Ward to break wide open for a big gain. Ward caught 81 passes for 1,043 yards and seven touchdowns, with his sidekick Santonio Holmes catching 55 for 821 and five scores.
The Steelers' only real weakness on offense was their offensive line, but running back Willie Parker still managed to rush for almost 800 yards. And their defense? Insane. Linebacker James Harrison was the Defensive Player of the Year with 16 sacks. LaMarr Woodley joined him with 11 and a half sacks. Polamalu had seven interceptions during the regular season. So, while the Steelers were lucky in some ways, they were also up there in greatness with any Super Bowl team in the 2000s.
On the other side of the ledger were the Arizona Cardinals. They only barely made the playoffs, winning the NFC West at 9-7 despite losing four of their last six games. They wouldn't have had a winning record if they hadn't blocked a punt in overtime against Dallas early in the season, or if they hadn't won their season finale over Seattle. But the Cardinals caught fire at the right time. They beat Atlanta 30-24 in the first round, destroyed #2-seeded Carolina 33-13, and escaped the Eagles 32-25 to reach their first Super Bowl in franchise history.
If you looked at Arizona's offensive numbers, you'd wonder why they only won nine regular-season games. Quarterback Kurt Warner threw for 4,583 yards and 30 touchdowns. Three Arizona receivers had over 1,000 yards receiving – Larry Fitzgerald with over 1,400 and 12 touchdowns, Anquan Boldin with 11 touchdowns, and Steve Breaston. They couldn't run the ball – Edgerrin James led the team with just 514 yards – but their passing offense was on fire. Their defense wasn't all that good, though.
They gave up 426 points, which was worse than all but four teams. There wasn't much surprise that the Cardinals came into this game as six-and-half point underdogs to the Steelers.
Super Bowl XLIII: First Quarter
Arizona became the first team in Super Bowl history to win the opening coin toss and defer their option to the second half. It was a new rule that allowed teams to do so starting in this 2008 season. The Steelers then marched right down the field on the opening drive. Ben found a wide-open Ward for 38 yards on the second play.
He then hit tight end, Heath Miller, for 21 yards down the middle of the field. Parker took it down to the 1, but on third down, Ben got tackled just shy of the goal line. It was originally ruled a touchdown, but the Cardinals challenged it and got it overturned. With fourth-and-goal from the 1, Steelers head coach Mike Tomlin played it safe and called for kicker Jeff Reed. He made an 18-yard field goal, and the Steelers led, 3-0.
The Cardinals got a first down on a pass from Warner to Breaston, but then they got called for holding. It was an early sign of a flag-filled game called by referee Terry McAuley's crew. Warner then fumbled an exchange to James, which James recovered for a loss. The Cardinals were forced to punt, and Holmes took it back to his own 31.
Ben started the drive with a 25-yard pass to Holmes. He then went for the long bomb, but defensive back Dominique Rodgers-Cromartie broke up what would have been a touchdown pass. Ben then went to his classic sandbox play by buying a ton of time and avoiding a sack multiple times. He bought just enough time to find Miller for a first down.
He'd go back to Miller on a middle screen for a first down, then Parker ran for nine yards off the right side. A short pass to Holmes picked up another first down. The Steelers got down to the 1 on a Miller catch. Running back Gary Russell pounded in from there, and the Steelers went up 10-0.
The Cardinals got a first down after a couple of passes to James. Warner then hit Breaston for another first down. James took a swing pass for another new set of downs at the Steelers 49. The Cardinals got called for holding again, but they made up for it when Warner found Boldin on a long pass down to the 1. Warner then hit tight end, Ben Patrick, for a one-yard touchdown, and the Cardinals pulled within three.
Super Bowl XLIII: Second Quarter
The Steelers picked up one first down on a Parker run, but they had a second first down taken away by a holding penalty. They punted, and Arizona took it back at the Pittsburgh 42 after a good return by Breaston. The Cards went nowhere, though. Woodley picked up a sack of Warner and forced an Arizona punt. But right at the two-minute warning, linebacker Karlos Dansby tipped a pass by Ben and caught it for an interception.
Warner threw incomplete twice, but on third down, he dumped it off to running back Tim Hightower, who got a first down at the 23. Fitzgerald finally got on the scoresheet with his first catch for a first down at the 12. Warner threw to Boldin twice, and the Cardinals got down to the 2. Timeout, Arizona, with 18 seconds left in the half.
That's when Harrison pulled off the longest play in Super Bowl history (at the time). Warner got tricked when Harrison started to blitz, then stayed back in coverage. Harrison caught Warner's pass at the goal line and proceeded to run down his own right sideline. None of the Cardinals managed to catch him except for Fitzgerald, who ran him down at the goal line but was just a little too late. Harrison scored on a 100-yard interception return, and the Steelers went to the half with a 17-7 lead.
Super Bowl XLIII: Third Quarter
James started the Cardinals out in the second half with a nine-yard run on second down to pick up a first down. He then ran for another first down, and he caught a swing pass to get past midfield. But then Warner got hit by linebacker James Farrior, and Harrison recovered. This might have won Harrison Super Bowl MVP if had not been overturned on replay. Warner's arm was going forward, so it was ruled incomplete. The Cardinals had to punt it away, anyway.
The Steelers then went on a long drive. The Cardinals were called for three personal fouls on the drive; the first came on a facemask penalty. Ben threw to Ward for a first down at midfield, then the Cards got called for a very questionable roughing the passer call on the next play. Ben hit Holmes for 15 more yards, and Parker ran it down to the 5.
The Steelers got forced into trying a field goal, which Reed made, but Cardinals defensive back Adrian Wilson ran right over holder Mitch Berger on the play and got called for a personal foul. The Steelers took the points off the board, only to put them right back on the board after three fruitless plays and a 21-yard kick by Reed to make it 20-7.
Super Bowl XLIII: Fourth Quarter
Warner hit Breaston for a first down, but the Cardinals got called for holding once again, and they punted. The Cards then got called for defensive holding to give Pittsburgh a first down. At this point, it was getting ridiculous with all the penalties. Not to say that there was any conspiracy, but the Cardinals were having far worse luck with the flags than the Seattle Seahawks did three years ago in a widely scrutinized Super Bowl vs. the Steelers.
Defensive tackle Darnell Dockett sacked Ben to force a punt. Warner then started the new drive by throwing to Breaston for 12 yards, and a wide-open Jerheme Urban for a first down at the Arizona 43. Next, he went underneath to running back J.J. Arrington to pick up 22 yards. Warner finished the drive with three passes to Fitzgerald in four plays. He grabbed one for a first down, another to get down to the 5, and finally a fade in the end zone for a touchdown. Kicker Neil Rackers made the extra point to pull the Cards within six.
The Steelers were forced into another three-and-out, and the Cardinals got the ball back at their own 25. Warner threw to Boldin for a first down, and for once, the Steelers were called for the flag. A personal foul gave Arizona 15 free yards. Warner fired to Breaston for 23 yards, but a holding penalty followed by three incompletions forced a punt.
On the punt return, Harrison pushed, shoved, and punched an opposing player and should have been thrown out of the game. But in typical fashion from McAuley's crew, he was given a meaningless personal foul penalty that resulted in a one-yard loss for Pittsburgh since the ball was downed at the 2. Harrison's dirty play was largely ignored, aside from a protest from NBC color commentator John Madden. The Steelers were backed up at their own 1.
That's when things got bad for the Steelers offense. Ben threw incomplete to Ward, and Parker barely got the ball out of the end zone on second down. Ben thought he had a third-down conversion on a pass to Holmes at the 21, but the Steelers finally got flagged for holding in their own end zone. Center Justin Hartwig was called for a safety since he committed the penalty in his own end zone. The Steelers' lead was cut to four points.
It took Arizona just two plays to take advantage. Warner threw a second-down pass over the middle to Fitzgerald, who caught it and sprinted 64 yards past the entire Pittsburgh defense for a touchdown. With just about three minutes to go, Arizona had its first lead of the game, 23-20.
But you know what happened next. Ben led the Steelers down the field, completing two passes to Holmes to pick up the first down. He then fired to receiver Nate Washington for another new set of downs. Two plays later, he hit Holmes again, and he ran all the way down to the 5. Timeout, Pittsburgh with 49 seconds left.
When it came to what the Steelers' plan was, Ben didn't hide it; he was going to Holmes as much as possible. First, he missed Holmes in the left-back corner of the end zone. Then he went right back to Holmes on the same throw, only in the right back corner of the end zone. This one Holmes caught with both feet in bounds. The Steelers had the go-ahead touchdown with 35 seconds left.
By the way, Holmes celebrated after the touchdown by copying LeBron James's classic chalk throw, using the football as a prop. According to NFL rules, that should have been ruled a 15-yard penalty. But McAuley's crew didn't call it, which should come as no surprise. The Cardinals got the ball back after a kickoff return to the 23.
Warner tried leading a miracle drive, throwing to Fitzgerald for a first down at the 44 and hitting Arrington to get across midfield with 15 seconds to go. After the Cards' final timeout, defensive end LaMarr Woodley hit him and he fumbled, and defensive end Brett Keisel recovered for Pittsburgh. The Steelers had won their sixth Super Bowl, 27-23.
Super Bowl XLIII: Aftermath and Awards
Santonio Holmes was named Super Bowl MVP for his nine-catch, 131-yard performance. There really wasn't much argument as to who deserved it for the Steelers, unless you wanted to give it to McAulay. If I have to give the "2nd-best MVP" award to someone, it would be Ben, for buying all that time during the game and leading his team on the game-winning drive.
Fitzgerald and Warner share the MVP award for the losing team. Warner threw for 377 yards and three touchdowns and would have won this game had he not been fooled by Harrison at the goal line. Fitzgerald caught seven passes for 127 yards and two touchdowns and would have won this game, too, if not for Ben's last-minute drive. The Cardinals played great in this game. They just couldn't close the deal.
The Least Valuable Player? How about Edgerrin James? He rushed for just 33 yards, and while he did have four catches, they only went for 28 yards. That's just not enough from a star running back. Of course, it was always hard to run on the Steelers in those days, so he doesn't deserve all that much blame.
The biggest play of this game was, of course, tied between Harrison's 100-yard return and Holmes's game-winning catch in the end zone. By the way, one of the officials went to the locker room and cried tears of joy. Now, that was because he was happy that he got the call right on Holmes's catch.
In any case, the Cardinals got flagged 11 times for 106 yards. But the one that hurt them the most was a flag on the Steelers. Harrison clearly attacked a Cardinal on a punt, throwing a punch. For whatever reason, the officials decided to not throw him out of the game. Maybe it doesn't matter whether he got ejected, but this was just one of the most egregiously bad calls of the game.
The best play you don't remember? How about Ben's run at the end of the first drive? If he picks up six more inches, this game never gets close. He would have had a touchdown, the Steelers would have at worst been tied 24-24 in the fourth quarter, and the Cardinals perhaps never get back into the game. But he was correctly ruled short of the goal line, and Reed kicked an 18-yard field goal, the shortest one since Roy Gerela made one from the same distance in Super Bowl X. That is the answer to today's pop quiz question.
Finally, the best player you don't remember? Let's not forget Steve Breaston. I totally forgot about his existence before watching this game. He caught six passes for 71 yards in this game. Breaston was a star receiver out of Michigan, but he kind of got lost in the shuffle with Fitzgerald and Boldin as the top two receivers. He deserves more credit than he got.
Next week, we find out who's better: Drew Brees or Peyton Manning? It's Super Bowl XLIV, the onside kick Super Bowl. This one ought to be a whole lot of fun. Until next time, this is Tommy A. Phillips, signing off. So long!
Lombardi Memories is a show that takes you back in time, into January or February, to the greatest one-day spectacle in all of sports. This is the every-other-Tuesday podcast that looks back at each and every one of the 50-plus Super Bowls and tells the story of who won and why.  Tommy A. Phillips is your host on this Super Journey.  He's an author of multiple NFL books.  You can purchase below.
Books From The Host Of Lombardi Memories
Please Note – As an Amazon Associate, I earn from qualifying purchases
More From Lombardi Memories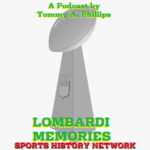 Today we have Super Bowl XLVI, held on February 5,...
Read More