Today we have Super Bowl XLV, which was held on February 6, 2011, at Cowboys Stadium in Arlington, Texas, between the eight-time AFC champion Pittsburgh Steelers and the three-time NFC champion Green Bay Packers.

As always, we have a pop quiz, and then homework at the end of the episode.
The pop quiz question for today is: only one Super Bowl stadium has had higher attendance than Super Bowl XLV in Texas. Which stadium is it? The answer will come at the end of the podcast.
Prelude to Super Bowl XLV
Pittsburgh Steelers starting quarterback Ben Roethlisberger violated the NFL's personal conduct policy and was suspended for the first four games of the season, after having the suspension reduced from six games. The Steelers went 3-1 without him, then rolled through the rest of the schedule with him. They finished 12-4, ending up with the #2 seed in the AFC.
The Steelers fell behind Baltimore by 14 points in the divisional round. Ben brought them back with two third-quarter touchdown passes, and the Steelers pulled out a 31-24 victory. Then the unthinkable happened, as the wild card New York Jets somehow knocked off the #1-seeded New England Patriots. That meant the AFC Championship Game would be held at Heinz Field, the venue currently known as Acrisure Stadium.
The Steelers went up 24-0 on the Jets, but the Jets battled back to within five points. The Steelers managed to run out the clock, and they won 24-19 to advance to their eighth Super Bowl, and their third in the last six years.
Ben threw for exactly 3,200 yards and 17 touchdowns while throwing just five interceptions in his abbreviated season. He also ran for 176 yards and two touchdowns. Running back Rashard Mendenhall ran for 1,273 yards and 13 touchdowns, and he fumbled twice during the regular season, which will come into play later.
Receiver Mike Wallace led the way with 60 catches for 1,257 yards and ten touchdowns, while borderline Hall of Famer Hines Ward was right behind him with 59 catches. The Steelers also had a ferocious defense, with Defensive Player of the Year Troy Polamalu, who picked off seven passes and linebackers James Harrison and LaMarr Woodley, who combined for 20 and a half sacks.
As for the Green Bay Packers, they started out the season 3-3 with a couple of overtime losses, and the season looked lost. Then they came back to defeat former quarterback Brett Favre and the Vikings 28-24, and they went on a four-game winning streak.
Quarterback Aaron Rodgers got hurt in a 7-3 loss to Detroit, and the Packers fell to 8-6 with a loss to the Patriots. Fortunately, the Packers held the tiebreaker in the NFC, so all they needed to do to make the playoffs was to win their final two games. They did just that, making it into the playoffs as the #6 seed on the strength-of-victory tiebreaker.
The Packers' long and winding road to Texas started with a 21-16 win over Michael Vick and the Philadelphia Eagles, which came down to an interception on the final drive.
Another big interception came against Atlanta, where defensive back Tramon Williams scored on a pick-six on the final play of the first half. The Packers lit up the Falcons for 48 points in a 48-21 win. The Packers completed their three-game journey of road games in Chicago, against their hated rivals and NFC North champions.
Rodgers had a shaky game, but defensive tackle B.J. Raji scored on a pick-six, and the Packers held on for a 21-14 victory to advance to Super Bowl XLV.
The Packers were unique in that they never trailed by more than seven points all season long. Even in their losses, they never faced a deficit of more than a touchdown. They were 10-6 and a wild card, but they came into Super Bowl XLV as three-point favorites over the Steelers.
Rodgers threw for 3,922 yards and 28 touchdowns, with 11 interceptions, a high number for him. Running back Brandon Jackson ran for 703 yards and three touchdowns, but it was rookie James Starks who gave the Packers a spark at the end of the season.
Receiver Greg Jennings led the team with 76 catches for 1,265 yards and 12 touchdowns. Donald Driver, Mr. Old Reliable, caught 51 balls and four touchdowns. James Jones and Jordy Nelson rounded out a strong receiving corps. Linebacker Clay Matthews was a terror for opposing quarterbacks, as he picked up 13 and a half sacks. Williams led the team with six interceptions, and safety Nick Collins was second with four.
The Packers were a #6 seed and only 10-6, while the Steelers were a #2 seed and 12-4. Yet the Packers came into this game as three-point favorites. What gives? I guess the oddsmakers saw that the Packers were on fire, as they had won their last five games. Still, it seemed a little weird that they'd give the Pack the nod when the Steelers were in their third Super Bowl in six years.
Super Bowl XLV: First Quarter
The Steelers got the ball to start the game, as the Packers won the toss and deferred. Receiver Antonio Brown took back the opening kickoff 37 yards and had to be tackled by Packers kicker Mason Crosby.
However, the Steelers went three-and-out and couldn't do anything with it. Punter Jeremy Kapinos, a former Packer, and a Penn State product, kicked the ball away. Williams muffed the punt, but the Packers got back on top of it to avoid an early blow.
Rodgers threw a 24-yard pass to Driver for the Packers' initial first down of the game. Receiver Jordy Nelson dropped a pass on the next third down, though, and the Packers had to punt. Mendenhall started Pittsburgh's next drive with a 15-yard run, then added a nine-yarder. A big false start penalty set back the Steelers from 2nd & 1 to 2nd & 6, and they couldn't pick up the first down, so Kapinos punted it back for a touchback.
Rodgers went back to Nelson and hit him for nine yards. Starks then picked up the first down with a seven-yard carry. The Packers repeated those plays, and Nelson and Starks combined for another first down. Rodgers then went to Jackson for a 14-yard gain inside the Pittsburgh 40. Starks ripped off still another seven-yard run, and fullback Korey Hall caught a two-yard pass.
On third-and-one, Rodgers threw down the right sideline, where Nelson beat defensive back William Gay for a 29-yard touchdown. Crosby's extra point gave Green Bay a 7-0 lead.On the ensuing kickoff, Brown again ripped off a long return, but an illegal block in the back penalty brought back the Steelers inside their own 10.
Ben went back to pass, but Packers defensive tackle Howard Green hit him as he threw the ball, and the ball just fluttered in the air to Collins, who scampered 37 yards for a touchdown. The Packers took a 14-0 lead, though Collins picked up a crucial 15-yard penalty for going to the ground to celebrate after the touchdown.
The Steelers returned the kickoff to the 36 after the kickoff from the 15. Mendenhall ran it twice to get a first down just shy of midfield. Another illegal block in the back penalty set back the Steelers, but Ben got the yards back on a pass to Mendenhall. He slipped on the next play and looked to be injured, but on the very next play, he scrambled for a first down at the Green Bay 33. The first quarter ended with Green Bay up 14-0.
Super Bowl XLV: Second Quarter
Big Ben completed a third-down pass to receiver Emmanuel Sanders for 13 yards. He scrambled again for a couple of yards, and he threw a pass to Wallace for a short gain. The Steelers didn't get a first down, so kicker Shaun Suisham made a 33-yard field goal to cut the deficit to 11 points.
The Packers went three-and-out, with Driver catching a pass just shy of the first down. The Steelers got the ball back at their own 22. After a holding penalty, Wallace caught a 16-yard pass, which set up a first down run by Mewelde Moore on a seven-yard run.
Ben then completed a third-down pass to receiver Antwaan Randle El for 13 yards. However, two plays later, after a timeout, Ben threw a pass that was intercepted by defensive back Jarrett Bush. The Packers wasted no time in taking advantage; Rodgers hit Nelson for a 17-yard gain, Starks ran for a first down off the right side, and Rodgers finished the drive with a pass over the middle to Jennings for a 21-yard touchdown to put the Pack up 21-3.
That's when the Steelers flipped a switch. Suddenly they became the aggressor for much of the next two quarters. Ben threw long to Randle El for 37 yards at the two-minute warning. His next pass fell incomplete, but on the play, Packers defensive back Charles Woodson broke his shoulder.
He was gone for the game, and the defense immediately suffered, especially with defensive back Sam Shields also hurt. Ben found Ward for a first down on a sliding catch, and the Steelers called timeout. After a short pass to Brown, Ben went to Ward on the next two plays, first hitting him for 18 yards, then finding him for an eight-yard touchdown. The Packers took a tenuous 21-10 lead into halftime.
Super Bowl XLV: Third Quarter
The Packers started the second half with the ball. A holding call set them back, though Rodgers picked up the ten yards on a pass to receiver James Jones. Nelson caught one for nine yards, but on third down, Jones dropped a wide-open pass that would have certainly been a touchdown. Some things never change in Green Bay.
The Steelers got the ball back near midfield after a facemask penalty on the Pack.
Mendenhall began the next drive with a 17-yard rush. Running back Isaac Redman ran twice along with a run by Ben, and Redman got a first down inside the 10. Mendenhall then ran it in for an eight-yard touchdown, and the Steelers cut the deficit to just four points.
The Packers went three-and-out after a third-down sack by James Harrison. The Steelers got it back at their own 40, and Ben got things going with an eight-yard pass to Wallace. Moore ran for a seven-yard run off the right side, then Ben threw over the middle to Ward for 15 more yards.
The Steelers went backwards from there, with tight end Heath Miller losing two yards on a catch, and Packers linebacker Frank Zombo sacking Ben. Suisham tried a field goal from around 50 yards, but his kick was terrible, way off to the left, and no good.
Rodgers threw to Nelson for 18 yards, and he hit tight end Andrew Quarless from Penn State for a five-yard gain. But he couldn't convert on third down, and the Pack punted. The Steelers couldn't put a drive together, with Mendenhall running for four, Wallace catching one for four, but the third-down pass for Wallace falling incomplete.
The Packers got the ball back, but Rodgers' third-down pass for receiver Brett Swain was juggled and went incomplete. Head coach Mike McCarthy challenged the play, but he lost the challenge, and the Steelers took the ball back at their own 40 after a punt. The Steelers started their next possession with an eight-yard Mendenhall run. The third quarter came to a close with Green Bay up just 21-17.
Super Bowl XLV: Fourth Quarter
Before the fourth quarter began, Packers outside linebackers coach Kevin Greene brought Clay Matthews over to the sidelines and said, "It is time. It is time." On the first play of the fourth quarter, Matthews knocked the ball out of Mendenhall's grasp with his helmet, and the ball bounced to linebacker Desmond Bishop. Defensive tackle Ryan Pickett was also in on the forced fumble, which gave Green Bay the ball near midfield.
Rodgers threw a third-down pass to Jones for 12 yards to pick up a first down at the Pittsburgh 40. A couple of plays later, Nelson dropped a wide-open pass that would have been a big gain.
But Rodgers didn't give up on him; instead, he went right back to him, and Nelson hauled this one in and ran it all the way down to the Pittsburgh 2. After a sack by Harrison, Rodgers came back with a pass to the right side of the end zone to Jennings for an eight-yard touchdown. Green Bay's lead was now 28-17.
Ben brought the Steelers back. First, he threw to tight end Matt Spaeth for nine yards, then to Wallace for another 11. After an incompletion to Brown, he went back to Wallace for 11 more. Offensive lineman Flozell Adams got called for holding, but Ben got most of it back on a 15-yard pass to Ward. Ben then found Wallace down the left sideline for a touchdown. The Steelers went for two, and they ran the triple option, with Ben pitching to Randle El for the two points to make it 28-25 halfway through the fourth quarter.
Defensive lineman Ziggy Hood sacked Rodgers on first down of the new drive, and it looked like the Steelers might get the ball back quickly. But Rodgers first threw to Nelson for nine yards, and after a false start, Rodgers zinged one in to Jennings on third-and-ten for a 31-yard completion.
Starks then ripped off a 14-yard run to keep the drive going, and Rodgers fired to Jones for another first down. The Packers got as far as the 5 before a third-down incompletion for Nelson. McCarthy opted for the 23-yard field goal, which Crosby made to put Green Bay up 31-25.
The Steelers had done this before; two years ago, Ben had brought his team downfield for a game-winning touchdown. But this Packers defense was a lot stronger than the Cardinals' defense. Ben completed his first two passes, first hitting Miller for 15 yards and a first down, then going to Ward for four.
But the Packers' defense was picture-perfect from there on out, forcing three incompletions and turning the ball over on downs. Rodgers came out to take a knee, and the Green Bay Packers were Super Bowl champions for the fourth time!
Super Bowl XLV: Aftermath and Awards
Rodgers was named Super Bowl MVP for throwing for over 300 yards and three touchdowns with no interceptions. It was quite possibly the greatest quarterback performance by a Green Bay Packer in a Super Bowl, and that's considering two great performances by each Bart Starr and Brett Favre.
At the time of the game, however, I thought the MVP award might go to Jennings. He caught four passes for 64 yards and two touchdowns, and three of his catches were crucial to the Packers' success.
He would be my pick as a runner-up for MVP. Nelson deserves some consideration as well, catching nine passes for 140 yards, but also dropping some key passes that could have helped the Packers put this game away.
For MVP of the losing Steelers, there are a few choices. I could go with Ben, who threw for two touchdowns and 263 yards. I could also go with Wallace, who had nine catches for 89 yards and a touchdown. But ultimately, I have to pick Ward. He had seven catches for 78 yards, and he always seemed to be open any time Ben needed a big pickup. Ward had an uncanny ability for getting wide open, and it remains to be seen if he will eventually enter the Pro Football Hall of Fame, which remains a strong possibility.
The Least Valuable Player for the Steelers had to be Mendenhall. While he did run for 63 yards, he coughed up the ball at the worst time, right when it looked like the Steelers were driving down to take the lead. Mendenhall's fumble was the turning point in this game, and unfortunately, he ends up in this category.
The best player you don't remember? How about Jarrett Bush of the Packers? He was mainly a special teams star with the Packers, as well as being a much-maligned defensive back. But in this game, he came up with a key interception, and nearly picked off another pass on the final play of the game. He stepped up when the Packers' defense was ripped apart by injuries, and he deserves a lot of credit for coming up big in the biggest game of his life.
The biggest play of this game was Mendenhall's fumble forced by Matthews and Pickett and recovered by Bishop, but what was the biggest play you don't remember? I'm going with Starks' run for a first down on Green Bay's final drive. Getting a boost from the ground game was just what the doctor ordered for the Packers' offense.
By getting that first down, the Packers ate off more time off the clock, and they opened up the passing game just enough to get down to the 5-yard line, where they kicked a field goal to make it a six-point margin.
This Super Bowl had a high attendance, but due to some structural problems, several hundred fans got stranded and were unable to have a seat for the game. That dampened the atmosphere for what was the highest-attended Super Bowl in any place other than the Rose Bowl.
That's right, the Rose Bowl is the answer to this week's pop quiz question; Super Bowl XIV drew just about eight hundred more fans than Super Bowl XLV, and both games involved the Steelers. Of course, Super Bowl XIV was also kind of a home game for the Los Angeles Rams, definitely helping the attendance there.
The Green Bay Packers won their 13th league title in franchise history, putting them far and away ahead of any other team in NFL history. The Chicago Bears are second with nine; in third place lurk the New York Giants. And the Giants had seven NFL championships at the time of Super Bowl XLV; they would try to make it eight in Super Bowl XLVI.
That's right, next time, we have the rematch between the Giants and Patriots, Super Bowl XLVI, where scoring a touchdown may end up costing your team the game. Really. Until then, this is Tommy A. Phillips, signing off. So long!
Lombardi Memories is a show that takes you back in time, into January or February, to the greatest one-day spectacle in all of sports. This is the every-other-Tuesday podcast that looks back at each and every one of the 50-plus Super Bowls and tells the story of who won and why.  Tommy A. Phillips is your host on this Super Journey.  He's an author of multiple NFL books.  You can purchase below.
Books From The Host Of Lombardi Memories
Please Note – As an Amazon Associate, I earn from qualifying purchases
More From Lombardi Memories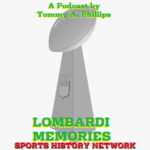 Today we have Super Bowl XLVI, held on February 5,...
Read More