Today we have Super Bowl XLVIII, held on February 2, 2014, at Metlife Stadium in New Jersey between the two-time NFC champion Seattle Seahawks and the seven-time AFC champion Denver Broncos.
As always, we have a pop quiz, and then homework at the end of the episode. The pop quiz question for today is: what Super Bowl record did Demaryius Thomas set in this game? The answer will come near the end of the podcast.
Prelude to Super Bowl XLVIII
The Seattle Seahawks were a dominant team in 2013. They started the season with four straight wins, then went on to win their next seven games to reach 11-1. While they skidded a bit at the end, they still easily claimed the #1 seed in the NFC at 13-3. They then managed to get by the New Orleans Saints 23-15, before winning a dramatic game against the San Francisco 49ers 23-17, holding off a late 49er drive to win their second NFC title.
Russell Wilson, in his second season, was the quarterback for this Seahawks team. He passed for over 3,300 yards and 26 touchdowns, with just nine interceptions. Running back Marshawn Lynch provided the power on the ground, carrying the ball over 300 times for 1,257 yards and 12 touchdowns. In the receiving department, Golden Tate and Doug Baldwin led the way, each catching 50 or more passes and over 750 yards while scoring five times each. The Seahawks also had a secret weapon in Percy Harvin, who hardly played due to injury, but was back for the Super Bowl and ready to return kicks.
The strength of this Seahawks team, however, came on the defensive side of the ball. Defensive back Richard Sherman had eight interceptions and 125 yards of returns of those picks. Earl Thomas added another five, with Byron Maxwell having four and Kam Chancellor having three. Defensive end Michael Bennett had eight and a half sacks, and Cliff Avril was right behind him with eight. The Seahawks had the #1 defense in the whole league.
They went up against the #1 offense in the whole league, the Denver Broncos. Denver won its first six games and went on to finish 13-3 as well. Quarterback Peyton Manning was named league MVP after throwing for NFL records of 5,477 yards and 55 touchdowns.
He had two receivers over 1,200 yards, Demaryius Thomas and Eric Decker. Those two, along with Wes Welker and Julius Thomas, all had at least ten touchdown receptions. The Broncos even had a running back in Knowshon Moreno who reached the 1,000-yard mark. To put it simply, this was the greatest offense in NFL history.
But the Broncos offense wasn't all that great in the playoffs. They snuck by wild card San Diego 24-17, before beating New England 26-16. There appeared to be some key weaknesses in the team that an opponent could exploit. That being said, no one at all expected them to get blown off the field by anyone.
Super Bowl XLVIII: First Quarter
The Seahawks won the toss and deferred their option to the second half. Denver received and got the ball at their own 14. On the first play of the game, center Manny Ramirez snapped the ball over Manning's head, and the Broncos fell on top of it in their own end zone for a safety. That marked the fastest score in Super Bowl history, only 12 seconds into the game, as Seattle took a 2-0 lead.
On their second play, the Seahawks unveiled their weapon in Percy Harvin by handing off to him on an end around for 30 yards. Wilson threw to receiver Jermaine Kearse for 12 yards, then ran for six yards himself. On a third-down play, he dived for the first down but came up short. Head coach Pete Carroll thought he picked it up, so he challenged the play.
After review, the ball was moved up closer to the marker but not far enough for a first down, so Carroll lost his challenge. The Seahawks took a 31-yard field goal by kicker Steven Hauschka, and they went up 5-0.The Broncos went three-and-out, and the Seahawks got it back on their own 28. Wilson threw to Tate for a first down at the 40, before going to fullback Michael Robinson for six more yards.
Wilson then hit Baldwin for six and a first down, before going to Harvin for five more. After a trick play that resulted in an incomplete pass, Wilson floated one to Baldwin for 37 yards down to the 6. A couple of plays later, Harvin dropped a pass that Broncos head coach John Fox challenged, saying that he caught it and fumbled it. Replays showed that it was an incomplete pass, so Fox lost his challenge as well. The Seahawks settled for a 33-yard Hauschka field goal to go up 8-0.
Late in the first quarter, Moreno fumbled on a carry off the left side, but he got lucky, as guard Zane Beadles recovered. On the very next play, the Broncos were not as lucky, as Manning had his pass picked off by Chancellor at the Denver 38. Harvin took a handoff for 14 yards to set up the Seahawks inside the Denver 25, before tight end, Luke Willson caught a five-yard pass to end the quarter.
Super Bowl XLVIII: Second Quarter
Lynch ran for five yards and a first down before Baldwin pulled one in for seven yards. A pass interference penalty on Denver defensive back Tony Carter set the Seahawks up down near the goal line. Lynch made it in on his second try, and the Seahawks led 15-0.
The Broncos put together a great drive, with Demaryius Thomas catching four passes. Moreno ran for one first down, and Manning hit Welker for 16 yards and another first down. Running back Montee Ball also picked up a first down. But after getting down to the 35, Manning was hit by Avril as he threw, and the ball fluttered up to linebacker Malcolm Smith, who returned it 69 yards for a touchdown to put the Seahawks up 22-0.
If the Broncos were to have any chance at coming back, they needed to score on this drive. Manning threw to Julius Thomas for five yards, then to Demaryius Thomas for another 18. Welker hauled one in for five, then Julius Thomas caught another one at the 27. Moreno took a reception to the 21, but the Broncos soon faced fourth-and-two.
Fox decided to go for it rather than kick a field goal. Manning's fourth-down pass was tipped and fell incomplete, and the Seahawks took over on downs. They ran out the clock, and they went to the half with a 22-point lead.
Super Bowl XLVIII: Third Quarter
On the opening kickoff of the second half, the Broncos tried a directional kick to keep the ball away from Percy Harvin. It failed miserably. Harvin picked the ball up off a bounce, then proceeded to speed by the entire Broncos special teams. His 87-yard touchdown return put the Seahawks up 29-0, and the game was practically over already.
Manning threw to Welker for a first down, then hit Moreno and Decker to claim another new set of downs. Demaryius Thomas caught a couple of short passes, and an offside call gave Denver a first down. The Broncos got stopped at the Seattle 40, though. Facing fourth-and-11 from there, Fox inexplicably chose to punt. It made no sense. The Broncos were trailing by 29 points. What did field position mean at this point? They gained 32 yards on the punt, putting Seattle back at its 8, but they still trailed by four touchdowns.
The Broncos got the ball back with pretty good field position, so you may say that it worked out. But not on this day. Demaryius Thomas caught a pass and fumbled, and Malcolm Smith was there to recover for the Seahawks. The Seahawks proceeded to go down and score again. Wilson threw to Luke Willson for 12 yards, then to receiver Ricardo Lockette for 19 more. Kearse then hauled one in and went 23 yards to the end zone to put the Seahawks up 36-0.
To close out the third quarter, the Broncos finally got on the board. Manning threw to Julius Thomas for eight yards, before Demaryius Thomas drew a pass interference flag. Welker caught two passes for 12 and 22 yards, with a pass to tight end Jacob Tamme for a first down sandwiched in between. Manning then fired for Demaryius Thomas for a touchdown on the final play of the quarter. Welker caught the two-point pass, but it was too little, too late. The Broncos went to the final quarter trailing by 28.
Super Bowl XLVIII: Fourth Quarter
The final piece of business to take care of was the ensuing onside kick on the first play of the fourth quarter. Tight end Zach Miller recovered the onside kick, and the Seahawks could now relax. But they didn't! They instead went and scored again. Wilson threw to Tate for nine yards and Baldwin for a first down. Next, he hit Kearse down at the 10.
Finally, Wilson threw one to Baldwin for a ten-yard touchdown. The Seahawks won the game 43-8, claiming their first Super Bowl crown. For the Denver Broncos, it was their fifth Super Bowl loss, setting a new record for futility.
Super Bowl XLVIII: Aftermath and Awards
Malcolm Smith was named Super Bowl MVP for his pick-six and his fumble recovery. The fan voting may have had something to do with that. My sister and I stuffed the ballot box for Smith in the fourth quarter while online voting was open.
The reason for our love for Smith was that he had happened to win Super Bowl MVP in the Madden game we played the day before. In that game, Smith also had a pick-six, as my Denver Broncos team got crushed. If I were to give out an MVP to someone else, it would be Russell Wilson, who threw for 206 yards and two touchdowns and had a pristine 18-for-25 day with no interceptions. He even ran for 26 yards. In most years, Wilson would have won MVP; but this year, his defense was the story.
The Least Valuable Player in this game was, unfortunately, Peyton Manning. He threw for 280 yards, many of those being garbage yards while being picked off twice. He didn't show up in his team's biggest game of the year. Manning would never be the same after this loss; however, that didn't mean he couldn't win big games.
The MVP of the losing team would be the late Demaryius Thomas. He caught a Super Bowl-record 13 passes for 118 yards. While that record wouldn't stay long, it was still a remarkable performance, even if it was in a losing effort. Sadly, Thomas died recently. His performance in a losing effort was admirable. His 13 catches for a Super Bowl record is the answer to this episode's pop quiz question.
The biggest play of this game was the very first one, the snap over Manning's head for a safety. After that, the Broncos unraveled and were never in this game. It was over from the word "go." The biggest play no one remembers is that pass to Harvin on Seattle's second drive where the pass fell incomplete, but Fox challenged to see if it was a fumble.
If, by some chance, that had been a fumble, then Denver would have taken over down only 5-0. The fact that it was just forward enough to be an incomplete pass probably made the difference in this game being a blowout, or at least somewhat competitive.
The best player you don't remember? It's hard to say in a game this recent, but I'd have to go with Cliff Avril. It was his presence that set up the pick-six by Malcolm Smith, hitting Manning to cause the bad throw.
If you do remember him, then I apologize, but he's a defensive player that you may have forgotten about now that the Legion of Boom is gone.
It seems that the Seattle Times picked that title thinking there were more Super Bowl victories to come. And there was. There was one just one yard away.
But that's for next episode, Super Bowl XLIX between the Seattle Seahawks and the New England Patriots. Can Tom Brady break his decade-long drought of Super Bowl victories? Or will the Seahawks repeat and become something of a dynasty?
You know the answers by now, but that's what's coming up next. In the meantime, you can find all my books at tommyaphillips.com, including Sweet Seventies: The Play-By-Play of Another Classic Decade in Pro Football History. This is Tommy A. Phillips, signing off. So long!
Lombardi Memories is a show that takes you back in time, into January or February, to the greatest one-day spectacle in all of sports. This is the every-other-Tuesday podcast that looks back at each and every one of the 50-plus Super Bowls and tells the story of who won and why.  Tommy A. Phillips is your host on this Super Journey.  He's an author of multiple NFL books.  You can purchase below.
Books From The Host Of Lombardi Memories
Please Note – As an Amazon Associate, I earn from qualifying purchases
More From Lombardi Memories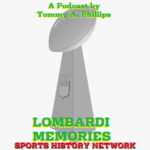 Today we have Super Bowl XLIX, held on February 1,...
Read More