Today we have Super Bowl XLIX, held on February 1, 2015, between the three-time NFC champion Seattle Seahawks and the eight-time AFC champion New England Patriots.
As always, we have a pop quiz, and then homework at the end of the episode. The pop quiz question for today is: on how many of his 24 runs in this game did Marshawn Lynch not pick up at least one yard? The answer will come near the end of the podcast.
Prelude to Super Bowl XLIX
The defending Super Bowl champion Seattle Seahawks looked to repeat, but it wasn't an easy start. They began the season 3-3, but after that, they went 9-1 the rest of the way, including a six-game winning streak to end the regular season to finish first in the NFC West at 12-4.
After beating Carolina in the divisional round 31-17, they won a bizarre NFC Championship Game over Green Bay in which they trailed 16-0 before scoring a touchdown on a fake punt and recovering an onside kick. They won 28-22 in overtime and advanced to their second straight Super Bowl.
Seattle was led by quarterback Russell Wilson, who threw for 3,475 yards and 20 touchdowns, with just seven interceptions. The hard-to-figure-out Marshawn Lynch rushed for 1,300 yards and 13 touchdowns and famously refused to answer any questions at Super Bowl Media Day.
Wilson ran for 849 yards and six touchdowns to rank second on the team. His main receiver was Doug Baldwin, who caught 66 balls for 825 yards and three touchdowns. Seattle also had Jermaine Kearse, who went for 537 yards on 38 grabs.
But the strength of Seattle's team was their defense, the Legion of Boom. The Seahawks had defensive back Richard Sherman, who had four interceptions and consistently locked down opposing receivers. They had defensive ends, Michael Bennett and Cliff Avril, along with linebacker Bruce Irvin and defensive tackle Jordan Hill.
All four had at least five sacks. Earl Thomas and Kam Chancellor added to the power of the defensive backfield. The Seahawks defense may have been the best in the league.
As for New England, they started out the season 2-2, and many media vultures questioned quarterback Tom Brady. Bill Belichick deflected questions, and then the team went on a seven-game winning streak. They coasted to a 12-4 record and the AFC East title. In the divisional round against Baltimore, the Patriots trailed by 14 points to the Ravens before coming back to win, 35-31.
They then crushed Indianapolis 45-7 in the infamous "Deflategate" game. For the record, I personally think the whole "Deflategate" thing was more of a witch hunt than anything. Even if the footballs were not at the proper psi, both teams play with the same ball, right? If it's easier to catch, then it's also easier to intercept. It was much ado about nothing, but since it involved the Patriots, the media vultures began circling the team again.
Brady threw for over 4,100 yards and 33 touchdowns, with just nine interceptions. The media wrote him off after his fourth game of the season, but it made no sense. He was just as good as he ever was. He didn't even have a running back with more than 415 yards. The Patriots were running back-by-committee with three players with between 280 and 415 yards.
Receiving, though, the Patriots lit it up. Receiver Julian Edelman caught a team-high 92 passes and went for 972 yards and four touchdowns. Tight end Rob Gronkowski led the team with 1,124 yards on 82 catches, scoring 12 times. And receiver Brandon LaFell caught 74 passes for 953 yards and seven scores. The Patriots were a passing juggernaut.
On defense, the Patriots had defensive back Darrelle Revis, about as much of a lockdown corner as you could get in the NFL. Defensive end Rob Ninkovich had eight sacks and linebackers Dont'a Hightower and Chandler Jones each had six. The Patriots defense was good enough to complement the strong offense.
On paper, this Super Bowl was a toss-up, a practical pick 'em in the betting sense. It could easily go either way. In the end, just one yard separated the two teams from each other.
Super Bowl XLIX: First Quarter
On the first third down of the game, Brady threw for a first down to running back Shane Vereen, but that's all the Patriots could get on their first drive. They punted, and since Ryan Allen got away such a good kick to the 15, they declined a running-into-the-kicker penalty which should have been roughing the kicker since Allen's plant leg got hit. Seattle ran Lynch three times, didn't get a first down, and punted it back.
Brady threw to Edelman to get a first down on the left sideline. Running back LaGarrette Blount then ran the ball beyond midfield, followed by Brady hitting Gronk for a first down at the 44. Blount ran outside for another first down at the 26, and Brady refreshed the down count with a pass to receiver Danny Amendola.
Facing third down, though, Brady threw an ill-advised pass which was intercepted by defensive back Jeremy Lane. The bad news for Seattle? Lane injured his arm and tore his ACL on the return of what was his first career interception. He would not be back for the remainder of the contest.
Super Bowl XLIX: Second Quarter
The Seahawks continued to struggle on offense, and the Patriots got the ball back at the 35. Brady threw to Amendola for a first down just beyond midfield. He then hit LaFell for eight yards, before going to Vereen for another first down. Next, Edelman caught a pass on the run and got a first down at the 10. Two plays later, Brady hit LaFell for an 11-yard touchdown pass, and New England led 7-0.
The teams traded punts, and Seattle took the ball back at their own 30. Now the Seahawks offense got going, starting with a five-yard run by Lynch. Wilson threw to Kearse for a first down at the 40, then Lynch ran for five more yards. But the unexpected hero for Seattle in this game was a receiver by the name of Chris Matthews.
He did not catch a pass in the regular season, but he showed up big time in the playoffs, recovering the onside kick in the NFC Championship Game, and now having a big game in the Super Bowl. He caught a long pass all the way down to the 11 for a first down. Lynch ran it three times from there, scoring from three yards out on the third run, and the Seahawks tied the game at seven.
New England then zoomed down the field. Brady threw to Amendola for a first down at the 31, as the two-minute warning sounded. Out of the timeout, Blount ran for nine yards, then Brady threw to Vereen for a first down. The Seahawks gave up a first down by jumping offside, then Brady got off a low pass which Vereen caught for a first down at the 26.
Two plays later, Brady fired down the right sideline for Gronk, who hauled it in and spiked the football after a 22-yard touchdown. The Patriots led, 14-7, with just about half a minute left in the first half.
The Seahawks went even faster than the Patriots did. Running back Robert Turbin broke off a 19-yard run, and Seattle called timeout with 24 seconds left. Wilson then scrambled out of bounds at the New England 45 with 17 seconds left. Next, Wilson found receiver Ricardo Lockette for a first down, and New England got called for a facemask on the play. Seattle now had the ball at the New England 11 with six seconds to go.
Kick a field goal? No. Wilson threw a quick pass to the left side of the end zone, and Matthews hauled it in for a touchdown. Instead of pulling within four, Seattle tied the game at 14 at the half.
Super Bowl XLIX: Third Quarter
Seattle continued its positive momentum in the second half. Lynch broke off a 15-yard run, then Matthews made another big play. Wilson went play action and found Matthews down at the New England 17. Lynch plowed for seven yards, but the Seahawks were stopped shy of the first down. So, kicker Steven Hauschka came on to kick a 27-yard field goal and give Seattle its first lead of the game, 17-14.
Brady was intercepted on his next drive by linebacker Bobby Wagner. That set up Seattle with great field position. Wilson threw another pass to Matthews, this one for only nine yards. Lynch picked up the first down from there, though, and Wilson scrambled for another first down to the 23.
Lynch powered his way down to the 4, and two plays later Wilson lobbed one up to Baldwin for a three-yard touchdown and a 10-point lead after three quarters of play.
Super Bowl XLIX: Fourth Quarter
The game went into somewhat of a lull on the next four possessions, all punts. New England couldn't pick up a first down on two drives, and Wilson completed one 25-yard pass to Lockette but nothing else on his two drives. He was sacked by Ninkovich on third down, and the Patriots got the ball back at their own 33.
Brady was sacked by Irvin, and it looked like another punt was coming as the Patriots faced 3rd-and-14. But Brady stepped up and fired to Edelman for a gain of 21. Next, Vereen caught a pass for about nine yards and got a late hit penalty added on. Brady converted on another third down, hitting Edelman for a first down to the 3. Two plays later, he found Amendola in the back of the end zone for a touchdown, and kicker Stephen Gostkowski's extra point made it 24-21.
The Seahawks then went three-and-out, but they shouldn't have. Patriots defensive back Malcolm Butler tripped Lockette on a first-down play, and that should have been called either pass interference or tripping. Instead, Seattle ended up punting, and New England got it back at their own 36.
Brady threw a dump-off to Vereen for eight yards, and Vereen caught another one for a first down. Edelman hauled one in before Vereen had one wiped off the board due to offensive pass interference. Brady got it all back on a pass to Gronk for a first down at the Seattle 32.
Gronk caught another one for a new set of downs at the 20, and Vereen took a rare run for eight yards. Brady set up first-and-goal with a pass to LaFell, and Blount pounded down to the 3. Brady then hit Edelman in the left side of the end zone for a three-yard touchdown, and New England took a 28-24 lead with 2:02 left on the clock.
It was now time for Wilson to work some magic. He went down the sideline to Lynch for a first down inside New England territory at the 49 as the two-minute warning went off. Two plays later, the play clock almost ran out on Seattle, and they had to take their first timeout.
Keep that one in mind. Wilson completed a third-down pass to Lockette for a new set of downs at the 38. On the next play, Wilson threw to Kearse, who had the ball bounce off him as he was on the ground and into his hands for an extremely unlikely 33-yard gain. It was like Antonio Freeman's "He did what?" catch for the Packers back in 2000. Kearse got a first down at the 5, but again the play clock almost ran out and Seattle took their second timeout. Now Lynch ran it down to the 1, punishing New England defenders as he went.
The Seahawks let the clock run down within 30 seconds, figuring they would leave no time for Brady. If they had at least two timeouts, this would have been ideal; that way, they could run the ball three straight times if they wanted to.
Instead, they had only one timeout. But even with one timeout, they still had the option to run the ball on second-and-goal. For whatever reason, and we'll never know why Pete Carroll called for a pass play. Butler stepped in front of it and intercepted it, and the future of the NFL changed forever.
The Seahawks would have been a dynasty had they just handed off to Lynch for a one-yard touchdown run which would have won it, 31-28. The Patriots instead ended up team of the 2010s by winning two of the next four Super Bowls after this one.
This was perhaps the most important play in NFL history in the 21st century. And it all happened because Carroll didn't see it fit to hand off to a running back who had gained at least one yard on all but two of his carries. That's the answer to today's pop quiz question; on only two of Lynch's 24 carries did he not gain at least one yard. Seattle shouldn't have wasted those timeouts, but even so, they still had one in their pocket for a running play.
I'm sure Carroll still has nightmares over this play, as does probably every member of the Seahawks. There are conspiracy theories as to why the Seahawks called a pass, but I think the reason was just sheer stupidity.
Super Bowl XLIX: Aftermath and Awards
Brady was named MVP for his four touchdown passes and for leading the team back from down 10 in the fourth quarter, the first team to ever do that in a Super Bowl. But Butler deserved the MVP. He caught the winning interception.
He stepped up and made that play. If he doesn't, then the Seahawks win. But of course, the writers had to give it to Brady. This phenomenon would arise two Super Bowls later.
The MVP of the losing team? Tough call, but I got to give it to Lynch. He rushed for 102 yards on 24 carries and had he rushed for 103 yards on 25 carries, NFL history would be radically different. If he runs it in, he probably gets Super Bowl MVP.
Is that the reason why Carroll didn't want him to run it because he was sort of unlikable to the media? Who knows. What matters is that Lynch never got that shot to win the Super Bowl, and the Seahawks have not been back to the Super Bowl since.
The Least Valuable Player was Baldwin. He managed just one catch for three yards in this game.
Seattle got almost nothing out of him while getting 109 yards on four catches out of the player you don't remember, Chris Matthews. No one knew who he was, and no one still knows who he was. He just came out of nowhere and lit up the Super Bowl, and nearly won it. Can you imagine if he would have won Super Bowl MVP after having zero catches in the regular season?
But Baldwin, an established receiver, was shut down and caught just one pass, as he was locked down by Revis. Yes, it was for a touchdown, but the only reason he got it was that the umpire blocked Revis on the play. Without "referee interference," that play isn't complete and Seattle might not score a touchdown there.
The biggest play of the game requires no introduction. How about the biggest play you don't remember? The Seahawks letting the play clock almost run out on the final drive as they were still hovering around midfield. They called a timeout to prevent a delay of game.
If they could have just gotten the play in, then they don't use a timeout, and they have two timeouts to burn at the goal line, enough to let Lynch pound away three straight times. If they threw it anyway there, so be it, but having that extra timeout would have afforded Carroll no excuse.
Next time, we will get a short break from the Patriots. They're going to be around a long, long time, so don't get too comfortable. But for now, we'll have the 50th Super Bowl, between Peyton Manning's Denver Broncos and Cam Newton's Carolina Panthers.
Why they didn't name it Super Bowl L is beyond me; I hate the fact that they went away from Roman numerals here. Hopefully, they keep Roman numerals for the next 40-some years until Super Bowl 100.
Anyway, Super Bowl 50 is next time. Until then, you can find all my books at tommyaphillips.com. This is Tommy A. Phillips, signing off. So long!
Lombardi Memories is a show that takes you back in time, into January or February, to the greatest one-day spectacle in all of sports. This is the every-other-Tuesday podcast that looks back at each and every one of the 50-plus Super Bowls and tells the story of who won and why.  Tommy A. Phillips is your host on this Super Journey.  He's an author of multiple NFL books.  You can purchase below.
Books From The Host Of Lombardi Memories
Please Note – As an Amazon Associate, I earn from qualifying purchases
More From Lombardi Memories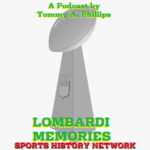 Today we have Super Bowl XLIX, held on February 1,...
Read More