There have been some really great pro football Thanksgiving Day games throughout the course of pro football history during the 1970s. This episode of Pro Football in the 1970s will revisit one of those great Turkey Day contests for football historians and just your casual fans alike. It is usually referred to as the greatest Thanksgiving Day game in pro football history.
On November 28, 1974, the Dallas Cowboys would play their division rivals, the Washington Redskins, at Texas Stadium. Both teams were still alive for a possible playoff berth, but only one of them would actually go to the playoffs. The Cowboys had been experiencing their worst year in the past nine years, as they entered this Thanksgiving Day game with a dismal (for them) 6-5 record.
The Redskins owned a better chance to win the NFC Wildcard, as they had fought and scratched to possess an 8-3 record at this point of the 1974 season. One of their wins was a 28-21 victory over Dallas just two weeks before this rematch in Dallas. Another victory over the Cowboys by Washington would knock Dallas out of any chance to make the playoffs and would also enhance their own chances to reach the postseason.
Greatest Thanksgiving Day Game Ever?
This Thanksgiving Day game is remembered mostly for the drama that it offered to millions of football fans who were intently watching this contest as they consumed their turkey dinners. It was also remembered because of a rookie quarterback for Dallas who entered the game in the second half, following a concussion inflicted upon starting quarterback Roger Staubach.
Clint Longley was fresh out of Abilene Christian University, and he hadn't thrown a pass all year. But Dallas head coach Tom Landry had no choice. He just shipped Craig Morton off to play for the New York Giants, and Staubach was still hearing parakeets chirp in his head in the second half of this game. 
Longley was all that Landry had, so he simply had to put him in the game and take his chances with the rookie.
As it turned out, Longley surprised everyone, including Landry. He definitely surprised the Redskins, who thought that they would have little – if any – trouble dealing with the rookie signal-caller. To his credit, Landry realized that Longley did not have a lot of knowledge or experience, so he greatly simplified his play calling. 
Longley did his coach one better. 
He simply threw the ball to whomever he saw who was open. It's really quite amazing how a rookie with no experience could take a playbook as think as Landry's and condense it to the simplicity of throwing the ball to whoever was open.  
Maybe football was that simple, but the Redskins to their credit did everything that they could to make things difficult for the Cowboys. 
Besides knocking Staubach out of the game, they also managed to come back and take the lead on several occasions, when a former Dallas Cowboys running back – Duane Thomas – returned to Texas Stadium wearing a Washington Redskins uniform. Thomas scored two touchdowns in that game, the last one of which gave his new team a 23-17 lead in the fourth quarter.  
Roger Staubach would seemingly make a career of pulling out football games in the last minute. But the jury was out whether this untested rookie named Clint Longley could do so on this occasion.
Well, as we all know, the Cowboys over time have been a team that has provided the sport with many legendary moments. This particular Thanksgiving Day game in 1974 would end up being one of the most memorable. Longley and his offense had the ball at the 50-yard line, and the Washington defense was prepared for a long bomb…or so it seemed.
Longley dropped back and enjoyed great protection from his offensive line and from running back Walt Garrison, who stayed in the pass pocket to help keep Washington defensive end Diron Talbert from sacking the Dallas quarterback. 
Drew Pearson ran a deep fly route straight down the field and proved to be at least a little bit faster than Ken Stone, the Redskins cornerback who was assigned to cover the Cowboys wide receiver. 
Stone looked back for Longley's pass just inside of his 15-yard line, however. Pearson took advantage of that and gain an extra yard of separation from his pursuer. Pearson caught the ball inside the Washington 10-yard line and sprinted into the end zone for one of the most spectacular Thanksgiving Day touchdowns in NFL history. 
Dallas won, 24-23, and thus kept their small playoff hopes alive for another week.
Clint Longley never went on to a great — or even a good — NFL career. But he will always be remembered throughout NFL history for his performance on Thanksgiving Day, 1974, against the Washington Redskins.
Pro Football in the 1970s Trivia Question!
Both Roger Staubach and Clint Longley threw passes for the Cowboys against the Redskins in that famous 1974 Thanksgiving Day game.
But there was actually another member of the Cowboys team who threw a pass that day. Who was it? The correct answer will be given on a subsequent episode of Pro Football in the 1970s. Thanks for joining us!
Enjoy this episode/article about Thanksgiving Day football?  We have more over at the Thanksgiving Day football history page. 
Host and Author of Pro Football in the 1970s - Joe Zagorski
Please Note – As an Amazon Associate I earn from qualifying purchases
More Posts From Pro Football In The 1970s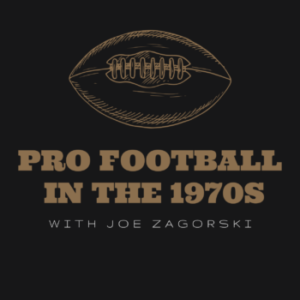 Perhaps no other era in the sport of pro football...
Read More