"Where we celebrate the history of sports, one week at a time."
Over the course of 365 days a year, something in the world of sports always makes us stop and take notice. This new member of the Sports History Network highlights the accomplishments, memories, and anniversaries of some of the greatest moments in sports history and delves into some of the hidden stories behind them.
Hosted by former sportswriter and broadcaster Dana Auguster, this weekly podcast describes these sports moments like no other. Each week the show will be your tour guide as we stroll down sports memory lane, reliving the moments that make sports a vital element of being an American. Also, the show uncovers other moments and facts that few sports fans know about.
The show is divided into three different segments.
The first is the "Main Event" where one event is highlighted. A historical event that is celebrating an anniversary is a current event that mirrors another from sports' historical past.
The second segment is the "Weekly Top 5". Five events that took place during that week in history that deserves to be highlighted and discussed.
The third and final segment is simply "shoutouts". Moments, birthdays, and other sports oddities that happened that week that deserves to be recognized.
If you wish to send a comment or check out the shows Twitter page, go to @HistoricallySp2 or email the show at [email protected]
So, join this weekly podcast that is part of the Sports History Network called Historically Speaking Sports Podcast. The podcast where we celebrate sports history one week at a time.
Host of the Show - Dana Auguster
Growing up in south Louisiana, my interest in sports has been a major part of my life since an early age. If I think about it long enough, if there was anything I enjoyed more than playing sports was talking about it.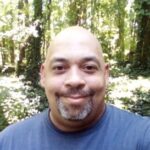 I attended Southern University and graduated with a degree in Broadcast Journalism in 1998 and began a career as a Sportswriter and radio broadcaster.
I began as a part-time writer for my hometown publication they became a full-time staff writer at the Daily Review Newspaper in Morgan City Louisiana. From there I joined the staff at a weekly publication called the Tri-Parish times.
On the radio side I began at a small A.M. in Baton Rouge the worked as a broadcaster for KBZE radio in Morgan City working as a broadcaster of high school football and basketball games.
Moved out of south Louisiana in 2011 to Atlanta to go into business with family but my interest in sports never left me and I am looking to expressing my love of sports and sports history to all fans both young and old.