About Yesterday's Sports

Host Mark Morthier grew up in New Jersey just across the river from New York City during the 1970s, a great time for sports in the area. He relives great moments from this time and beyond, focusing on football, baseball, basketball, pro wrestling, and boxing. You may even see a little Olympic Weightlifting in the mix, as Mark competed for eight years.  Listen to the trailer below for more information about the show. 
Latest Articles From Yesterday's Sports
Mark Morthier - Yesterday's Sports Host
My first recollections of watching sports go back to 1969 when I was seven years old. My father and older brother were both big sports fans so there was always a game on the TV. I grew up in Northern NJ as a fan of local sports teams–the Yankees, Knicks, and Rangers. But it was different in football: I was a Dallas Cowboys fan.  That's me with my all-time favorite player – Bob Lilly.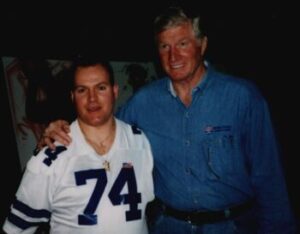 When I wasn't watching sports, I was playing sports. I played high school football and competed in Olympic-style weightlifting from 1981-1989. I competed in powerlifting from 2011-2019. I've participated in 60 weightlifting/powerlifting competitions and currently hold several New York State & New Jersey State records in the 50-59 (Masters Division) age group. I've also served as a weightlifting/powerlifting coach. I'm a certified personal trainer and I've written a book titled No-Nonsense Old-School Weight Training.
I live in Upstate New York with my wife Sharon. I have a son, a stepson, and a stepdaughter. We have four Grandchildren.
Please note – As an Amazon associate, I earn from qualifying purchases.