Welcome to the contest page for the Sports History Network.  We often have giveaways from our guests, sponsors, and podcast hosts of the network to share with you.  You can come back to this page as often as you wish, as there are often new giveaways to enter.  Please see the ones we currently have below.
Speaking of the podcast hosts, be sure to check out our Podcast Page for all of the great shows on the network.  You just may find your next favorite podcast about the history of your favorite sport.
SORRY, WE DO NOT HAVE ANY ACTIVE CONTESTS
Don't forget to sign up for our newsletter below to stay in the know for updated contests, new shows added to our roster, and much more.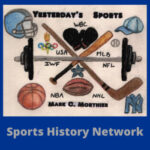 Fifty years after he retired, Joe Kapp is still the...
Read More