Mapping Women's Football Around The World
This map shows pins of Women's football teams around the world.  It was put together by Russ, but it's better if you go to the link, so you can zoom in and see all of the teams. 
Making of "Women's American Football" (From the Author)
A large majority of the American population seems to be unaware that thousands of women play tackle football. It is almost as if they were wearing blinders, created by our societal expectations about football being a manly sport, which keeps them from seeing all those women. My personal blinders that had hidden women's tackle football from me fell off in 2015 when I was researching my book Le Football: A History of American Football in France. 
During that process, I found Les Sparkles de Villeneuve St Georges. Sarah Charbonneau started the team in 2011, and they played their first game in 2012 against the Spanish National Team. Though they lost that one 33-6, the Villeneuveans had kicked off women's football in France.
The first women's game that I attended was also in France. My friend Jean-Marc Burtscher and I went to watch the Molosses (Bulldogs) d'Asnières-sur-Seine versus the Argocanes of Aix-en-Provence. This was the final of the 2016 Challenge Féminin, the second championship of women's football sponsored by the Fédération Française de Football Américain.
The Molosses included women who had started playing with the Sparkles, and they demonstrated their longer experience by winning 24-0. Burtscher is a photographer, and he brought a camera with a telephoto lens, which apparently equated being a member of the press for the owner of the hometown Molosses, so he gave us press passes, and we had front-row seats for the game. I wrote up a report on the game for Andrew Linden's Sport in American History blog.
The University of Nebraska Press published Le Football that year, so I was looking for a new project. The combination of what I had written about women playing in France, and my first-hand experience watching the game, gave me the idea to begin researching women's football for my next book.
A search of the extant literature on the topic indicated that with the exception of The Women's Football Encyclopedia (2016) by Neal Rozendaal, very little had been written about women playing the game. Since I did not want to spend time researching and writing about something that several others had already done, women's football became my new project.
Lacking much of a documentary record, early on, I decided that it would be good to complement what articles I could find with oral histories from the women who played the game. Leah Hinkle, then of the Portland Fighting Shockwave of the Women's Football Alliance (WFA), was the first player I interviewed.
She had played linebacker for several years, and when I talked to her, she was working on becoming a certified trainer to stay in the game after her playing days ended. I learned from her that once women found a place in America's most popular game, they were reluctant to let it go.
I knew that women played in Europe, but Lea Kaszas, my second interview, opened my eyes to what I came to call the "sisterhood of traveling shoulder pads" that exists internationally.
Kaszas played for the Indy Crash of the WFA but took some time off from that team to play for Turku Trojans of the Suomen Amerikkalaisen Jalkapallon Liitto Ry (SAJL), the women's football federation in Finland. There are several European women who have come to the United States to play, and some Americans such as Kaszas, who crossed the pond the other way to play in Europe.
With a few interviews done, I was on my way. It occurred to me that a good place to find interviews would be at games. The first game I saw in the U.S. was in Columbus, Ohio when the Columbus Comets played the Derby City (Louisville, KY) Dynamite. This was not a good game. The Comets had around thirty players, while the Dynamite barely had any reserves for the eleven on the field. When a serious injury halted play just before halftime, I decided to drive the hour and a half back to Ada rather than watch the full game.
That gave me some pause about the quality of the women's game – the Molosses versus Argocanes match was also called in the late fourth quarter because the visitors were running out of players. I wondered if I would ever see a complete game.
My next experience answered that question and allayed my concerns. The International Federation of American Football (IFAF) sponsored the 2017 Women's World Championship (WWC) in Langley, BC in July. With the help of Roger Kelly of American Football International (AFI), who got me a press pass to cover the game, I flew off to Canada to watch the games.
The women there were in football playing shape, and each team had a full roster. The games were hard-fought, and the level of play was very good. Even though I wrote game reports for AFI, I still did not really feel like a reporter, until Team Australia Head Coach Dr. Jennifer Welter sent an assistant to kick me out of their practice. I watched the United States win their third WWC over Canada, and watched the surprising Mexican team take third place when they defeated Great Britain.
I managed to interview women from Britain, Mexico, the U.S., Australia, Finland, and Canada while at the games, and it was a great experience in terms of the football I saw, and the athletes to whom I talked. My story articles from the WWC, and beyond, can be found here:
Along the way, I also learned that girls in Canada and the U.S. had their own leagues. Shortly after the WWC, I visited Mooresville, IN to watch The Battle of the Borders contests. These two games pitted girls from the Manitoba Girls Football Association against the Indiana Girls Tackle Football League. The MGFA had been around since 2012, while the IGTFL was fairly new. The more experienced Canadians won both the grades 4-6 and the grades 7-12 games, but the younger girls made it a closer game. All ages demonstrated that they were having a blast playing the rough game.
Once I knew that girls played, I found Crys Sacco of the Utah Girls Football League (UGFL) who told me about how it all began with a viral video of Sam Gordon, a young girl playing peewee football. My wife Sophie and I visited Salt Lake City to watch the UGFL and the Utah Falconz, then of the Independent Women's Football League for a long day of football. Sacco, along with Louise Bean and Head Coach Rick Rasmussen of the Falconz, made that Saturday a full day of football, and I was able to interview several players from both organizations.
Over the course of this project, I have been able to interview around two hundred fifty women and a few men. Those interviews can be found here.
I watched dozens of games in France, the U.S., Canada, and Finland. These women demonstrated a great love for the game, so much so that they played through injuries that would have sidelined me. Their enthusiasm for the sport burned with the fire of new converts who had perhaps been told at some point that football was a man's game.
I found that, contrary to what our popular culture tells us, not many women faced hordes of men who were opposed to them taking their place on the field. There may be many women who faced opposition from their parents or succumbed to a general societal feeling that football was a man's game, and never attempted to play.
The women I talked to, however, did not face much opposition. Their families, with a few exceptions, supported them risking life and limb to deliver violence against their opponents. These girls and women were tough and committed athletes. That also removed the blinders that my culture and society had placed over my eyes.
Rob Taylor, of the University of Nebraska Press, agreed to publish Women's American Football, but the manuscript was just too long. I ended up cutting around 60,000 words. Most of it was the content covering women playing outside of the U.S. So now that the book is in print, I have the makings of a second volume on women playing our game abroad.
I started working on that by attending the 2022 IFAF WWC in Vantaa, Finland. Kelly came through again, helping me get press credentials, and I continued interviewing women. The USA won their fourth WWC, but by closer scoring margins than in the past. The rest of the world is catching up.
My goal is to continue to enable others to drop their blinders so they can see the entire world of women's American football.
Please note – As an Amazon Associate, I earn from qualifying purchases.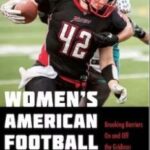 This week Russ Crawford, Professor of History at Ohio Northern...
Read More