This week I spoke with Michael Mertes about a project he started to celebrate the NFL's 100th season, called "The Quarterback Project." He started the project to find a way to determine who the greatest quarterbacks were of all time in the NFL. To do this, Michael created a formula to assign a score.  
This score helped him rank the quarterbacks, something he's releasing on his site, with the top quarterback being released on the opening night of the 2022 season. We get into many topics during the interview, including:
The origin story of The Quarterback Project

How he calculated the index score for all of the quarterbacks

How the score accounts for quarterbacks in different eras

Some quarterbacks ranked higher on the list than he expected

Some quarterbacks he thought for sure would have been on the list, but the score didn't dictate it

We take the DeLorean back to some great QB duels in history

His plans for the future

Much more….
Visit The Quarterback Project, and let the debates begin.
Please note – As an Amazon Associate, I earn from qualifying purchases.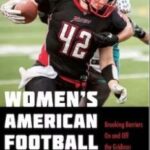 This week Russ Crawford, Professor of History at Ohio Northern...
Read More