In this segment Ladies and Gentlemen, I am going to discuss upsets throughout Boxing History, ending the episode with perhaps the greatest upset of all time.
I define an upset as an unlikely ending to a contest that one would think was a sure thing but had an unexpected winner for a long shot victor over a superior opponent.
#5 - Randy Turpin vs. Sugar Ray Robinson 1
The first upset I am going to focus on is England's Randy Turpin W15 Round decision over Sugar Ray Robinson on 1 July 10, 1951, in London, England. This fight was for the Middleweight Championship of The World.
Turpin won a one-sided decision and it was not even close. He outpunched, outworked, and outfinessed the Great Sugar Ray throughout the contest. His great strength seemed to be Robinson's Achilles heel.
This was the second loss of Ray's career, and he would begin to lose fights as he aged and became a Middleweight.
#4 - Cassius Clay vs. Sonny Liston 1
The second upset is Cassius Clay, later known as Muhammad Ali, KO7 over Charles Sonny Liston. The first fight took place on February 25, 1964, in Miami Beach, Florida. The brash, young Clay (22 years old at the time) talked much trash, calling Liston "The Big Ugly Bear."
Liston held his own, shooting remarks back to the bold youngster. Clay shocked the world, an 8-1 underdog, boxing brilliantly and frustrating the bedazzled champion. His speed and movement confused and startled the formidable Liston. Sonny did not come out for the 7th round and a new era and superstar was born.
#3 - Muhammad Ali vs. George Foreman
The next contest once again involves Muhammad Ali. At 32 years of age, many thought his better days were behind him. Ali lost to Joe Frazier and an unknown Ken Norton, who broke his jaw in the process.
Ali would be no match for the supposedly invincible George Foreman.
Foreman knocked out both Frazier and Norton in 2 rounds. The public feared for Muhammad Ali's life going into this fight, ladies and gentlemen.
There is a whole background into this fight that I am not going to get into. The fight took place on October 30, 1974, in Kinshasa, Zaire, Africa. Ali used an unusual strategy, and as the fight wore on, George Foreman started weakening.
The rope a dope tactic was introduced and Ali frustrated George. Ali threw a combination in the 8th round dropping George for the count, and Ali once again was The Heavyweight Champion of the World.
#2 - Frankie Randall vs Julio Cesar Chavez 1
The next upset took place in Las Vegas, Nevada, on January 29, 1994. The Great Mexican Julio Cesar Chavez (89-0-1) was defending his WBC Jr. Welterweight title against Frankie Randall. Chavez was a heavy favorite to win his 90th fight.
Frankie Randall, in the 11th round, knocked Chavez down for the first time in his career. Randall won a close split decision and knocked Chavez from the ranks of the undefeated. I fell asleep watching this fight, as it was late in the night. I woke up after having a dream that Chavez lost and woke to find Chavez had in fact been defeated.
#1 - James Buster Douglas vs. Mike Tyson
The last and final upset is perhaps not only the greatest upset in Boxing History but the greatest upset in Sports History!!!!! "The Baddest Man on The Planet," Mike Tyson, (37-0) traveled to Tokyo, Japan, to defend The Undisputed Heavyweight Title against lightly regarded James Buster Douglas.
The fight took place on February 11, 1990. Going into this fight, ladies and gentlemen, Mike Tyson was a 42-1 favorite. Buster's mother died 23 days before the fight, inspiring Douglas to be more motivated than ever before. Douglas established his superior height and jab, keeping Tyson off balance throughout the contest.
Ladies and gentlemen, this fight was not without controversy. In the 8th round, Tyson knocked Douglas down with an uppercut, for what some say the full count. However, Douglas rose on the count of 9 at the end of the round. Douglas would go on to stop Tyson in the 10th round and Shock The World.
I am your host Frank Reading and I am a middle-aged former boxing mega-fan from the 1980s-1990s. I have no allegiance or affiliation with any Boxing Organization Alliance or Federation.
I have a background in research and public speaking as well as boxing training and coaching. I hope you will enjoy the factual information provided on this program. My goal is to educated and inform the listener on the History of "The Sweet Science"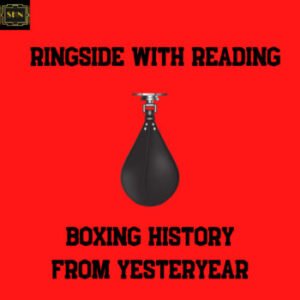 Please Note – As an Amazon Associate I earn from qualifying purchases
Boxing has been providing fantastic entertainment for fans throughout the years....
Read More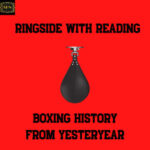 In this, I am going to discuss famous draws that...
Read More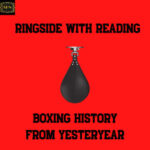 In this segment Ladies and Gentlemen, I am going to...
Read More