I am going to focus on 3 of the top men who ever laced up a pair of gloves in the History of The Art of Self-Defense, "The Sweet Science."

These are the ingredients I used:
Longevity/Consistency
Record
Championships
Competition
Impact
The Number One is Walker Smith Jr., better known as Sugar Ray Robinson.  He was born on May 3, 1921, in Detroit, Michigan.  His family relocated to New York City, New York.  Many Boxing Experts and historians consider this gentleman "The Best that ever lived," known to be a total package and "Sweet As Sugar."
He compiled an 85-0 record as an amateur.  However, some dispute this, saying he actually lost a few bouts.  He was a 1939 NY Golden Gloves Champ as a Featherweight and 1940 NY Golden Gloves champ as a Lightweight.  Walker turned pro in 1940 and won 40 fights in a row before losing to Jake LaMotta on February 5, 1943, in Detroit, Michigan.
This was Sugar Ray's second fight with LaMotta.  Jake holds the distinction of defeating Sugar Ray at his very best and it would be 8 and a half years until Robinson lost another fight.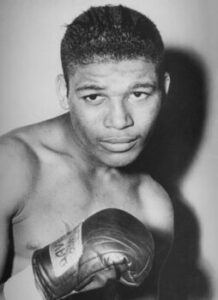 Sugar Ray Robinson's First Championship
On December 20, 1946, Ray Robinson won his first World Championship with a record of 74-1-1 W15 over Tommy Bell in NYC, NY.  These were the days ladies and gentlemen that Boxing had 8 weight classes, and it took The Great Sugar Ray 76 bouts before he fought for the title.
He defended the welterweight title 5 times. In his first defense, he stopped Jimmy Doyle in 8 rounds, in Cleveland, Ohio, on June 24, 1947.  Robinson had a bad feeling, a premonition, that Doyle would be seriously injured. He even tried to cancel, or pull out of the fight, but to no avail.  This proved to be true, because Doyle died of his injuries shortly thereafter.
Sugar Ray Moves Up Weight Classes
Sugar Ray moved up in weight to campaign as a Middleweight.  On February 14, 1951, it was the St. Valentines Day Massacre in Chicago, Illinois. This was his 6th and final fight against Jake LaMotta, likely his greatest rival.  Sugar Ray won KO13.
Then on July 10, 1951, he was defeated by Randy Turpin L15 in London, England. Later, on September 12, 1951, he avenged that loss in NYC W15.
Sugar Ray defended his title 2 more times, defeating Carl Bobo Olson, and Rocky Graziano.  In an attempt to win the Light Heavyweight Title from Joey Maxim in NYC, NY, on June 25, 1953, the heat was too much to bear and he did not come out for the 14th round.  After an observation, I noticed that Sugar Ray had very thin legs, and this could have hindered his success at higher weights.
After temporarily retiring, he would capture the Middleweight Title 3 more times, defeating Carl Bobo Olson, Gene Fullmer, and Carmen Basilio.
In the second fight with Fullmer, he stopped Gene in 5 rounds with one of the greatest left hooks ever thrown, a devastating single punch.  He lost to Paul Pender twice and never was able to regain the title again.  He would continue to fight until 1965, retiring at the end of the year.
At Welterweight he was close to unbeatable.  However, at Middleweight he was great, but beatable.  In total, Sugar Ray Robinson amassed a record of 175 wins (121 KOS), 19 losses, 6 Draws, and 2 no contests  for 202 total fights from 1940-1965.  He is the measuring stick for Greatness setting the bar and the standard for all greats to come.
#2 Hammerin Hank (Henry Armstrong)
Henry Armstrong, known as "Hammering Hank," was born Henry Jackson on December 12, 1912, in Mississippi.  He had a very brief amateur career, turning pro in 1931 (with a lackluster 1-4 that year).  This was not indicative of his entire career, resulting in a record of 74-12-7 93. 
Armstrong defeated Petey Sarron for the Featherweight Championship in NYC on October 29, 1937.  By 1938, he won both the Welterweight Title (Barney Ross W15 on May 31, 1938, in NYC, NY) and the Lightweight Title (Lou Ambers W15 Aug 17, 1938, NYC, NY).
He defended the Welterweight title an incredible 19 times and was the only boxer in history to hold 3 separate titles in different weight classes simultaneously.  Featherweight, Welterweight, and Lightweight).
On August 27, 1943, in  NYC, NY, he lost a 10 round decision to up-and-coming Sugar Ray Robinson.  During the year 1937, he was a non-stop-machine with a record of 27-0 (26 KOS) 27 fights in one year is unbelievable.
Hammering Hank retired with a record of 152 wins (100 KOS), 22 losses, and 9 draws for a total of 183 fights in a career that lasted from 1931-1945.  Later in life he became an ordained Baptist Minister.
#3 Roberto Duran (Hands of Stone)
Roberto Duran Manos de Piedra (Hands Of Stone) was born in Panama on June 16, 1951.  He had 16 amateur fights, and turned pro in 1967, at the age of 15.  Duran won the Lightweight Championship on June 26, 1972, in NYC (KO13) against Ken Buchanan of Scotland.
He defended Lightweight title 12 times.  In a non-title fight, on November 17, 1972, in NYC, NY he lost in 10 rounds to Esteban De Jesus. Duran avenged that loss twice defeating, Dejesus with two brutal KOS in 11 and 12 rounds in title defenses.
A possible super fight with Alexis Arguello never materialized.  Duran relinquished Lightweight title in 1979 to campaign as a Welterweight.  His best and most dominant years were as a Lightweight he was virtually indestructible.  At higher weight, he was still dangerous, but not as deadly or lethal.
The pinnacle of his career came on June 20, 1980, Montreal, Canada. (W15 Over Sugar Ray Leonard for the Welterweight Title).  The rematch was November 25, 1980, in New Orleans, Louisiana.  "NO MAS" stopped in 8 Rounds by Leonard.
He lost to Wilfred Benitez and unheralded Kirkland Laing in 1982.  Duran was the 1983 Comeback Fighter of the year. 
January 29: KO4 Pipino Cuevas
June 16: (32nd Birthday) KO8 Davey Moore and won Jr. Middleweight Title and L15 Marvelous Marvin Hagler for Middleweight title.
He suffered the most brutal loss of his career on June 15, 1984, in Las Vegas, Nevada.  This was KOBY2, Thomas Hitman Hearns.  Duran was knocked unconscious.
The next 5 years Duran was 7 wins/1 loss.  On February 24, 1989, in Atlantic City, NJ (at age 37) Duran challenged Iran Barkley for the WBC Middleweight title.  Just when you thought Duran was finished, he upset a very large Middleweight in Barkley, and won a 12 round decision.
He lost the rubber match to Leonard on December  7, 1989, in Las Vegas, Nevada. 
Leonard won an easy 12 round decision but suffered a terrible cut over his left eye in the 11th round.  Duran would fight on for another dozen years, retiring at the age of 50, in 2001.
He is a member of the five decade club, having fought in the 1960s, 70s, 80s, 90s, and 2000s, winning titles in 4 different weight classes.
Total fights: 119 for 103wins (70 KOS) 16 losses in a career spanning from  1967-2001.  At the age of 69, in June 2020, he survived a hospital stay with Covid 19.
You can grab your copy of Hands of Stone off Amazon with this link.  The movie stars Edgar Ramirez, Robert De Niro, and User Raymond IV.
#4 Willie Pep (Will O' The Wisp)
Born on September 19, 1922, in Middletown, Connecticut. Ladies and Gentlemen his record clearly indicates he was not a puncher but his forte and bread and butter was his slickness, his defense, and his tremendous speed. Why it is told that he once won a round without even throwing a punch!!!!
His career record was 241 fights, with 229 wins (65 KOS), 11 losses, and 1 draw and he fought from 1940-1966. Willie turned pro at 17 years of age. With a record of 54-0, he won his first World Title on November 20, 1942, for the Featherweight Championship of The World (W15 decision) over Chalky Wright in New York, NY.
Willie's first loss was in a non-title fight on March 19, 1943, against Sammy Angott in New York, NY. The War years limited his title defense activity, but he kept active fighting regularly for the next several years, with a total of 3 title defenses.
On January 8, 1947, he was severely injured in an airplane crash traveling from Miami to Hartford, Connecticut. The plane went down in New Jersey. Willie spent 5 months in a full-body cast with two broken vertebrae, a compound fracture in his leg, and chest injuries. He came back and fought Victor Flores (W10 decision) on June 17, 1947, in Hartford, Connecticut.
He fought his greatest rival and his "Frazier to Ali," Sandy Saddler, 4 times (KOBY 4). On October 29, 1948, in New York, NY, he regained the title. Then on February 11, 1949, a W15 decision in New York, NY. After two more defenses, Willie lost the title back to Saddler in 1950 and then lost to him again in 1951.
Willie would never regain the title again but he would continue boxing until 1966. Just for him to come back from a near-fatal plane crash is incredible, Ladies and Gentlemen. This is ONE FOR The AGES. He mastered the "hit and not be hit style," and for this, he deserves high honors and recognition.
#5 Harry Greb (The Pittsburgh Windmill)
This is another phenomenal story worth telling. Harry was born on June 6, 1894, in Pittsburgh, Pennsylvania. He was the antithesis of a pro athlete. His idea of training was to keep active fighting. Greb had a record of 108 wins (49KOS), 8 losses, and 3 draws, with an unbelievable 170 no decisions.
He fought from 1913 -1926.
His greatest most famous victory occurred on May 23, 1922, a W15 decision over future Heavyweight Champion Gene Tunney in New York, NY. On August 31, 1923, Greg won World Middleweight Championship in W15 decision over Johhny Wilson in New York, NY.
He had 4 Title defenses. The 3rd title defense was against legendary Mickey Walker (W15) July 2, 1925, in New York, NY. Ladies and Gentlemen this for the time was a Superfight. He then lost the Middleweight Title to Tiger Flowers (L15 decision) on February 26, 1926, and lost a decision to Flowers in a rematch later in 1926.
"The Pittsburgh Windmill" died October 22, 1926, with complications in surgery after an automobile accident at 32 years of age. His story is more intriguing because, in a fight against Kid Norfolk aka "William Ward" (W10 decision) in Pittsburgh, PA, on August 29, 1921, he suffered a detached retina. He did not receive any treatment and was Blind in his right eye for the rest of his life!!!
During the 1920s he tried to secure a shot at The Heavyweight Championship but Jack Dempsey would not fight him. Greb lived 2 or 3 lifetimes in his little over 3 decades on Planet Earth.
Benny was born "Benny Leiner" on April 7, 1896, in New York, NY. He was a master Boxer and a good puncher "pre-Sugar Ray Robinson," who is also one of the great pound-for-pound boxers of all time. His career lasted from 1911-1932, with 89 wins (70 KOS), 6 losses, and 1 draw with 115 no-decisions.
Benny won the Lightweight Championship of the World on May 28, 1917, in New York, NY, over Freddie Welsh (KO9). He had 5 title defenses, and retired in 1925 as Lightweight Champion, without losing the belt.
Leonard returned in 1931 and 1932 due to the stock market crash. Over his career, he was involved in several controversial fights. Had the legendary Ray Arcel in his corner. Benny headlined the first card at the new Madison Square Garden and the first Championship Fight at the new Yankee Stadium. He was a legend amongst the native NewYorkers and referred to as The Great Benny Leonard.
Joe Louis was born on May 13, 1914, in Lafayette, AL as Joe Louis Barrow. In 1934, he earned the National AAU Heavyweight Championship. Joe's career lasted from 1934-1951, with 66 wins (52 KOS), 3 losses, with a total of 69 fights. He turned pro on July 4, 1934, with (KO1) against Jack Kracken in Chicago, IL.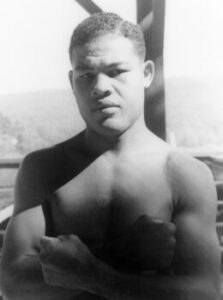 Louis combined pinpoint accuracy combinations and power in both hands, making him an absolute dynamo. After going 24-0, Joe was upset by Max Schmeling (stopped in 12 rounds) on June 19, 1936, in New York, NY. He won the Heavyweight Championship of the World on June 22, 1937, a KO8 over Jimmy J. Braddock in Chicago, IL.
The Joe Louis era was a time, Ladies and Gentlemen. The Heavyweight Champion was the most respected man in all athletics. On June 22, 1938, in New York, NY, he gained revenge in the rematch with Max Schmeling (KO1), hurting Max so bad that Max suffered two broken vertebrae in his back in a half a round!!!
This is one of the most important fights in the history of boxing much was at stake. Louis defended the title an amazing 25 times (21KOS) from 1937-1949. There has never been a heavyweight so dominant, devastating, or active. Joe Louis was not just a great champion and boxer but a man for all time, breaking the color barrier. He was one of the Greatest Heroes that ever lived.
I am your host Frank Reading and I am a middle-aged former boxing mega-fan from the 1980s-1990s. I have no allegiance or affiliation with any Boxing Organization Alliance or Federation.
I have a background in research and public speaking as well as boxing training and coaching. I hope you will enjoy the factual information provided on this program. My goal is to educated and inform the listener on the History of "The Sweet Science"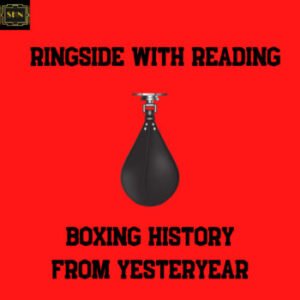 Please Note – As an Amazon Associate I earn from qualifying purchases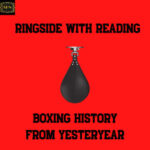 In this segment, I am going to focus on Boxer...
Read More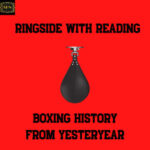 In this segment, I am going to discuss controversies that...
Read More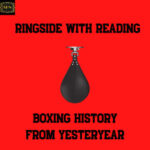 In this segment, I am going to cover the First...
Read More