If you were an NFL fan during the late 1970s and early 1980s, you may have heard of Mike Webster.  If you were a fan of the Pittsburgh Steelers, then you no doubt heard of "Iron Mike."  He is considered one of the top 100 players of all time (according to the NFL 100 Centennial Team) and widely viewed by many as the greatest center of all time.
His on-field accolades are impressive:
Started every game in 10 straight seasons (only missed 4 in the first 16 seasons)
Steelers' Captain for 9 seasons
9 Career Pro Bowls (8 straight from 78′ to 85′)
5 first-team All-Pro selections
Member of 75th Anniversary and 100th Centennial team (All-Decades team in the 1970s and 1980s)
Played in 6 AFC Championship Games and won 4 Super Bowls with the Steelers
Elected to the Pro Football Hall of Fame (Class of 1997)
He blocked for Terry Bradshaw, Franco Harris, and some of the other great Pittsburgh Steelers of the 1970s.  Although he spent all those years protecting these guys, it was what the guests from this week's episode of The Football  History Dude call "his last play" that protected players the most. 
They consider this his best play because it led to the discovery of the diagnosis, chronic traumatic encephalopathy (CTE).  This was discovered by Dr. Bennet Omalu (a Pathologist in Pittsburgh) after Mike Webster died on September 24, 2002.  The discovery and subsequent story were documented in the movie starting Will Smith – Concussion.
This movie did help some people understand how the discovery of CTE came to be, but it did not spend a large amount of time breaking down the story of "patient zero," Mike Webster.  This week's guests set out to do just that, ultimately in an unorthodox way for a football story, with a play.  Dr. Randall Benson and Playwright Ross Howard join me for "The Mike Webster Story."
12: 52: The Mike Webster Story
12: 52: The Mike Webster Story is a sprawling journey through the mind, body, and soul of the Hall of Fame Pittsburgh Steelers center, whose premature death and resulting autopsy first revealed the permanent and neurological risks involved from playing Pro Football. A play about friendship and courage, if ever there was a story that captures the grit, determination, and strength of the human character this is it. The play opens September 2nd at Iron Horse Theatre in Ambridge, Pennsylvania, and runs throughout the month. 
Ross Howard is a British playwright whose plays have been seen across the UK, Ireland, and the United States. He is a Samuel French Short Play Festival winner and a 2008 Edward F. Albee Foundation Fellow. In 2016, a festival of his work was produced at Off Broadway in New York City. His plays are published by Samuel French and can be found wherever you buy your books. www.rhplaywright.com
Dr. Randall Benson is a globally regarded behavioral neurologist and imaging neuroscientist who is recognized for pioneering effective treatments for incapacitating brain disorders with an unprecedented understanding of brain function and disease. Dr. Benson testified before the US Congress on a National Football League-sponsored study on concussions. www.neurologicstudies.com
Please note – As an Amazon Associate, I earn from qualifying purchases.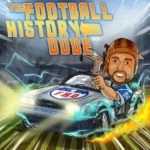 Frank Reading (host of Ringside With Reading: Boxing History From...
Read More