I'll never forget the night of March 8, 1971. It was one of the most publicized and talked about sporting events of all time. Boxing heavyweight champion, "Smokin" Joe Frazier, was defending his title against former champion, Muhammad Ali.  This would be the first time, but not the last that these two boxing legends would square off, in what was labeled the "Fight of the Century."
You can read the whole story and listen to the podcast episode below.
For an in-depth look at the fight, you can listen below to a conversation I had with my good friend, Dave DePaola.  Our discussion is dedicated to Frank Reading, host of Ringside With Reading: Boxing History From Yesteryear.  Frank had a great passion for boxing, but we unfortunately lost him too early, on February 8, 2022.
Many people still considered Ali to be the champ because he didn't lose his title in the ring. Ali won the title from Sonny Liston in 1964 under his former name, Cassius Clay. Then, in 1967, Ali received a draft notice from the United States Draft Board.
He refused induction on the grounds that war was against his religious beliefs. He was stripped of the title and banned from boxing in most States. Frazier won the vacated title in a tournament.  Both men had won gold medals in the Olympics–Ali in 1960 and Frazier in 1964. And both men were undefeated in their pro careers.
The Hype Leading Up to the Fight
The hype leading up to the fight was incredible. Everyone was talking about it, even those who weren't sports fans.  That night in New York City, Madison Square Garden was filled to the rafters. Many of the top celebrities of that time were in attendance, including Frank Sinatra, who worked the fight as a photographer for Time Magazine. Burt Lancaster worked the fight as an announcer.
The arena was buzzing with excitement and anticipation!  Billed as "The Fight of the Century," it wasn't just a fight, it was an event, between two of the greatest heavyweight boxers of all-time.
I was just three weeks shy of my 9th birthday, and my brother was 12. Both of us were rooting for Frazier. We liked his style of boxing and felt he was a humble man who didn't brag about his accomplishments. We didn't like the brashness and cockiness of Ali, who not only bragged about his achievements but also degraded his opponents.
He seemed to take particular delight in mocking Frazier, even going so far as to call him an "Uncle Tom."  Nothing was further from the truth. Frazier knew the sting of racism all too well. He grew up poor in South Carolina, the youngest of 12 children. Frazier was a key player in helping Ali get his boxing license back. He had even leant Ali money during his suspension. Although he didn't show it, Ali's words cut him deeply, and he silently vowed revenge.
Finally, all the talk was over, and the fight was about to begin.  My brother and I sat in our bedroom with the transistor radio, waiting to hear news on the fight. Our parents were good about letting us stay up late for sporting events–under one condition: we had to be up when the alarm rang to go to school in the morning.
The news station gave updates after each round. From what was being reported, it didn't sound good for Frazier in the early rounds.
Ali was using his reach advantage to keep Frazier from getting inside, and he was piling up points with his jab.  But Frazier's style was to keep moving forward. He was relentless. Sooner or later, he would wear down opponents with tremendous shots to the body, setting them up for his famed left hook.
In the middle rounds, Frazier began ducking punches and wearing down Ali with body shots. But Ali was a very skilled boxer. He'd dance, move, and flick that jab in your face. It was challenging to hit Ali with a solid punch to the head. That's because he was always moving backward.
According to the radio reports, it was a close fight going into the 11th round–with Ali holding a slight advantage.  But coming out for the 11th round, both fighters looked tired. Frazier knew he was behind, and that time was running out. He went on the attack. With about 30 seconds left in the round, Frazier caught Ali with a solid left hook that shook the former champ. He hammered Ali with two more left hooks. Ali's knees buckled, and he barely survived the round.
Ali recovered, though. Rounds 12–14 were even, but, according to the reports we were getting on the radio, it sounded like Frazier was ahead by a small margin.  There was only one round to go! My brother bit his nails as I paced the bedroom floor. The suspense was terrible!
Suddenly we heard a report over the radio that a vicious left hook had knocked Ali down. He got up quickly and finished the round, but we felt confident that the knockdown had clinched the decision for Frazier. We crossed our fingers and waited to hear the decision.
We waited and waited.
Finally, the reporter on the radio announced that Frazier had won a unanimous decision. We jumped for joy!
The victory was extra special for us because, just two months before, we had watched our favorite football team, the Dallas Cowboys, lose the Super Bowl on a last-second field goal.  We couldn't wait to read about the fight in the newspaper and talk with our friends at school about it.
March 8, 1971. It was a day in sports that I'll never forget!
I'll also never forget about The Thrilla in Manilla, either!
What to learn more about the history of the Heavyweight Title?
Mark Morthier is the host of Yesterday's Sports, a podcast dedicated to reliving memorable sports moments from his childhood days and beyond.  He grew up in New Jersey just across from New York City, so many of his episodes revolve around the great sport's teams of the 70s for the New York area.  He is also an author of No Nonsense, Old School Weight Training.
Please Note – As an Amazon Associate I earn from qualifying purchases
More From Yesterday's Sports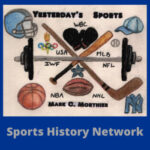 The Detroit Lions won the NFL Championship in 1935, defeating...
Read More