If you are like me (a fan of football), you are aware of the good and the bad of the NFL. You have probably watched many hours of football follies, outtakes, and the like. You have also watched many hours of great catches, great drives, and memorable moments. That's what football fans do- we watch everything we can about the NFL.
In experiencing the good, you also experience the bad. The new-look Cleveland Browns, and their fans, have experienced the bad. Ever since the Browns were reborn in 1999, they haven't had much to be happy about.
I believe that's changing now, but, for over 20 years, the Browns have been stuck in the mud so to speak.  When I say 20 years, I am not taking into account the longer history of the Browns (which I will cover soon).
The current Browns are an expansion team, an expansion team that has struggled ever since they came back. Since the 1999 season, the Browns have put together a 101-233-1 regular-season record, and a record of 0-1 in the playoffs. But, like I said earlier, they are looking a lot better at the recording of this program.
I guess if you could sum up the Cleveland Browns, it has to be the jersey with all the starting quarterbacks on the back. 28 names could be listed on that jersey. 28 starting quarterbacks- that tells you something.  The fans of the Cleveland Browns deserve a lot more than what they are getting now. They are some of the most dedicated fans on earth. You are amazing, and I applaud you for your dedication to your team.
Hopefully, this year will show something to you that the Browns are turning it around.
BTW- I enjoyed the movie Draft Day. There. I said it.
I hope you enjoy this interview with my friend, Chad. He is a lifelong Browns fan. Maybe you can relate to what he says.
This article is also a podcast over at the Football Is Family if you are interested in listening, you can do so below.  You can also read the full article if this is your preference.
FOOTBALL IS FAMILY

Every Thursday, host Jeremy McFarlin shares the history of one NFL team.  He also brings on a guest (or more) each week to share why their NFL team feels like a part of their family.
Please Note – As an Amazon Associate I earn from qualifying purchases
More From Football Is Family
There are times in life when you are humbled by...
Read More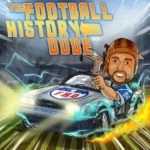 If you live in the United Kingdom, football means something...
Read More