Football and politics are not two words often thought of as "on the same level" when discussing one or the other.  However, this week's guest (Jesse Berrett) shares how this has been the case throughout the years in his book Pigskin Nation: How the NFL Remade American Politics.
In this episode we cover some of these topics:
Why Jesse wrote this book
How Richard Nixon was connected to football
Why New Orleans Saints fans can thank politicians
Some history of activism in the league, well before Colin Kaepernick
Much more
Listen to the full episode, learn more about Jesse, and purchase the book below.
JESSE BERRETT
Jesse Berrett earned a PhD in History at the University of California, Berkeley. He has worked as a rock critic, television columnist, and book reviewer. He teaches history at University High School in San Francisco.
Fifty years ago this week, Richard Nixon learned that pro football had not helped him build a new political coalition. Having narrowly won the presidency in 1968, Nixon spent the fall of 1970 trying to swing the Senate to the Republican party by tying it to football and Americanism.
At Kansas State, he celebrated the football team as a model for patriotic hard work that radicals could learn from; in Green Bay, he extolled Bart Starr as an American hero; he eulogized the recently deceased Vince Lombardi as "an apostle of teamwork"; he prayed with members of the Fellowship of Christian Athletes at the White House; he joined Ohio State coach Woody Hayes at a rally in Columbus and promised "we will win."
Just before the election, the Republican party aired its only nationally televised advertisements—during halftime of NFL telecasts on November 1. A  reporter traveling with the campaign compared Nixon's approach to a recruiting visit from "the head coach from Siwash U. . . .
It may be hard for some politicians to reduce a major political campaign to football terms, but not this one." Political columnist Tom Wicker, summarizing the candidate's play-calling, noted that two more Senate seats were "one point less than you get from a field goal. That's as good a way as any to measure Mr. Nixon's real gains."
Pigskin Nation explains why Nixon thought this strategy would work. Football players of the 1960s seemed to personify a crewcut traditional manhood that channeled the Puritan work ethic. Yet, despite a social upheaval against such virtues, the National Football League won over all of America—and became a cultural force that recast politics in its own smashmouth image.
Pro football occupied a new place in the zeitgeist of the 1960s and 1970s. The NFL's brilliant harnessing of the sports-media complex, combined with a nimble curation of its official line, brought different visions of the same game to Main Street and the ivory tower.
Politicians, meanwhile, spouted gridiron jargon as their handlers co-opted the NFL's gift for spectacle and mythmaking to shape a potent new politics that they repeatedly compared to pro football. Governing, entertainment, news, elections, celebrity–all put aside old loyalties to pursue the mass audience captured by the NFL's alchemy of presentation, television, and high-stepping style.
Pigskin Nation reveals how pro football created the template for future crossovers between politics and sports by figures as different as Nixon, George McGovern, Gerald Ford, and Donald Trump.
Please note – As an Amazon Associate, I earn from qualifying purchases.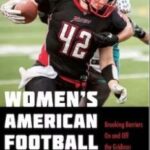 This week Russ Crawford, Professor of History at Ohio Northern...
Read More