My favorite time in pro football history was the 1970s. That was when I first discovered and fell in love with the sport. Everything about the game during the 1970s was new and exciting to me. I remember reading somewhere that the tight end position was the toughest position to play, next to the quarterback position.
A tight end must be able to run pass routes and catch the ball. But he also must be big and strong enough to stay in and block a charging defensive end or linebacker. Indeed, tight ends in the NFL earn their pay.
Below you can listen to the full episode or read the full blog post from Pigskin Past.
Please Note – As an Amazon Associate I earn from qualifying purchases
The Era of Great Tight Ends
The various tight ends during the era of the 1970s possessed a wealth of physical and intellectual talent. Most of the genuinely great ones had size, speed, moves, agility…and a great pair of hands. This is not a ranking of the best tight ends of the 1970s.
The first one that I point out is not necessarily better than the fifth one. Instead, this is just an overall listing of several great tight ends, in a decade where their abilities made their teams' offensive production a vital part of their team's success.
Charlie Sanders – Detroit Lions.
Sanders was a prototype tight end, giving the league a mixture of John Mackey and Mike Ditka in the form of his blocking ability, with the pass receiving skills of a Kellen Winslow.  Sanders played for a perennial losing team, and he was often their best player.  He finished his 10-year career with 336 catches, worth 4,817 yards, and 31 touchdowns.  A member of the Pro Football Hall of Fame.
Billy Joe DuPree – Dallas Cowboys.
DuPree was the first superstar tight end for the Cowboys, having been drafted by the team in 1973.  He had great size (6-4, 225) and great hands.  DuPree played 11 years in Dallas for a very balanced offensive attack.  He caught 267 passes for 3,565 yards and scored 42 total touchdowns.
Raymond Chester – Oakland Raiders and Baltimore Colts.
Chester had the physical attributes of a Kellen Winslow type of tight end before there was a Kellen Winslow.  He could catch passes with opposing defensive backs draped all over him.  He accumulated 364 receptions worth 5,013 yards and 48 touchdowns in his 12-year pro career.
Jim Mandich – Miami Dolphins and Pittsburgh Steelers.
Mandich came out of the University of Michigan with a pair of sticky hands that caught practically everything.  Known as a very dependable pass receiver, Mandich contributed a total of 121 receptions for 1,406 yards and 23 touchdowns during his nine-year pro career.
Dave Casper – Oakland Raiders.
Casper was converted from an offensive tackle at Notre Dame to an outstanding pro tight end for the Raiders.  He caught 378 passes worth 5,216 yards in his 11-year pro career.  He also caught 52 touchdown passes, and he also caught a touchdown pass in Oakland's 32-14 victory over Minnesota in Super Bowl XI.  A member of the Pro Football Hall of Fame.
Kellen Winslow – San Diego Chargers.
Winslow gave pro football fans a glimpse into the future.  His tall 6-5 physique, outstanding leaping ability, and superb hands teamed up with his innate ability to box out opposing defenders.  He finished his Hall of Fame career catching 541 passes for 6,741 yards and 45 touchdowns.
Rich Caster – New York Jets.
Caster was the benefactor of Jets quarterback Joe Namath's rifle throwing arm.  Caster would often run deep patterns, thanks to his wind-breaking speed.  Eventually, you knew that he was going to get open by wearing down opposing defensive backs and linebackers.  Caster finished his 13-year pro career with 322 receptions, worth 5,515 yards and 45 touchdowns. 
Bob Tucker – New York Giants and Minnesota Vikings.
Tucker was probably one of the most underrated tight ends of the decade.  He started out in the minor leagues with the Pottstown, Pennsylvania Firebirds.  Once he made the Giants roster, he started to catch practically everything that was thrown at him.  And he had an incredible knack for finding open spaces in the opposing zone defenses that he faced.  He finished his 11-year pro career with 422 receptions, worth 5,421 yards and 27 touchdowns.
Jerry Smith – Washington Redskins.
Smith was one of those exceptionally reliable team players who did everything that a coach asked him to do.  He also had a pair of the most reliable hands in the NFL.  Smith caught 421 passes during the course of his 13-year career, all with the Redskins.  His receptions netter 5,496 yards and an incredible 60 touchdowns.
Charley Young – Philadelphia Eagles, Los Angeles Rams, San Francisco 49ers, Seattle Seahawks.
Young did something previously unheard of in the NFL. He was named the league's All-Pro tight end as a rookie.  He had the size, speed, and hands to present a very imposing target for his quarterback, and an exceedingly difficult player to stop.  He ended his 13-year year pro career by catching a total of 418 passes for 5,106 yards and 27 touchdowns.
Ted Kwalick – San Francisco 49ers and Oakland Raiders.
Kwalick was a Penn State product who was highly touted practically all throughout his career. He personified that type of tight end who could make tough catches, run well with the ball, and get you extra yards every time after the catch.  He made 168 catches in his nine-year pro career, worth 2,570 total yards and 23 touchdowns.
Russ Francis – New England Patriots, San Francisco 49ers.
Francis was an epic tight end who made many annual All-Pro squads. Big and strong, he could make diving catches almost as well as Charlie Sanders of the Lions.  Unfortunately for Francis, he suffered a lot of injuries, but when he was healthy, he was a threat to every defense, and he was extremely exciting to watch.  He ended his 13-year pro career with 393 catches, worth 5,262 yards and 40 touchdowns.
Jim Mitchell – Atlanta Falcons.
Mitchell was built like a concrete building. Although he was used primarily as a blocker on the offensive line (he was practically as good as most offensive tackles), Mitchell nevertheless was a fairly good pass receiver.  And he was a clutch pass receiver as well.  During his 11-year pro career, he caught 305 passes, worth 4,358 yards and 28 touchdowns.
Riley Odoms – Denver Broncos.
Odoms was practically a clone of Jim Mitchell. He had the same physical attributes as Mitchell, and the same clutch catching capabilities.  Odoms caught 396 passes throughout his 12-year pro career, worth 5,755 yards and 41 touchdowns.
It is important to note that this is not a complete listing of outstanding tight ends in the NFL during the 1970s. There are undoubtedly several more not mentioned here. In conclusion, with the current trend of throwing the football taking over offensive game plans, it is highly likely that tight ends who can catch the ball will be especially important to pro offenses for many years to come.
More Posts From Pigskin Past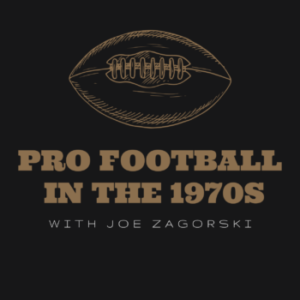 During the 1974 NFL season, pro football fans in New...
Read More