Jim Mcmahon was the 1985 Chicago Bears quarterback, leading them to victory in Super Bowl XX.  This team is considered one of the greatest teams in NFL history, and with the "Punky QB" at the helm, it seemed destined to take down the crown for one of the most storied teams in the league.  Jim stops by to share some stories about that 85′ Bears team, what the Super Bowl experience was like for him, his journey from High School to the NFL, what it was like to watch Walter Payton from his backfield point of view, and many more stories of 80's football.
In this episode, you also get to hear the incredible story of Mario "Motts" Tonelli via the first episode of When Football Was Football, another NFL history podcast on the network. 
Grab Some Jim McMahon Memorabilia
More Posts From the Past Players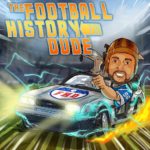 Gene Cronin was a member of the Detroit Lions 1957...
Read More