Do you have any players you feel should be in the Pro Football Hall of Fame, but for some reason, they keep getting passed over?  This week Joe debates why he feels Ken Riley and John Zook should both be in consideration.
Ken Riley played defensive back for the Cincinnati Bengals from 1969 to 1983, amassing a whopping 65 interceptions during this time.  This puts him 5th on the all-time interception leader list for the NFL.  Yet, he is not in the Pro Football Hall of Fame.
John Zook played on the defensive line for the Atlanta Falcons and St. Louis Cardinals from 1969 to 1979.  He was considered by many peers to be one of the top linemen in the game during his days.  Yet, he is not in the Pro Football Hall of Fame.
Learn more about both of these players in this week's edition of Pigskin Past, and jump down below for the written version of this episode.
Joe Zagorski is the host of this show, and he is an author of 3 books revolving around the NFL in the 1970s.  Here, you can learn more about Joe and Pigskin Past.
Please Note – As an Amazon Associate I earn from qualifying purchases
The Passing of Ken Riley and John Zook
On June 7, 2020, two very good pro football players passed away.  Neither Ken Riley nor John Zook ever received a lot of notoriety during their playing careers, but they were symbolic of the many great men who donned a pair of shoulder pads and a helmet during the 1970s in the NFL.
Riley played 15 years in the NFL, from 1969 to 1983, all with the Cincinnati Bengals.  He only missed 15 games during his career, and as a defensive back, he intercepted an incredible 65 passes, the measuring stick for all defensive backs. 
Yet Ken "The Rattler" Riley, known for his outstanding play all across the NFL landscape, is not in the Pro Football Hall of Fame, when lesser defensive backs such as Ty Law, Champ Bailey and Kenny Easley are.  This is what is known as a travesty of justice.
John Zook and Ken Riley Cards on Amazon
John Zook's stellar pro football career lasted for 11 years.  He played for several different teams, most notably the Atlanta Falcons from 1969 to 1975.  But Zook also played for the St. Louis Cardinals from 1976 to 1979.  He also is not a member of the Hall of Fame, even though his standout play throughout his career was pronounced by many. 
Up until his final year in the league, he only missed three games.  His ability to stop opposing running attacks was not just steady, but often spectacular.  And a big reason why Atlanta had such a formidable defense during the 1970s stemmed from Zook's penchant for Zooking his opponents on pass plays. 
Zook was a relentless pass rusher from his defensive end position, and he often received double-team blocks from offensive tackles and tight ends, not to mention offensive guards and fullbacks coming out of the backfield.
I mention both Riley and Zook on this show, not so much because they died on the same day, but because they were representative of two of many former players who never received the just notoriety or appreciation that they deserved from the league, while they were playing, and indeed afterwards. 
Just ask any offensive coordinator during the 1970s what they thought of these two men, and their answers would undeniably be that they were two guys that were a pain to deal with, because they were so good at their positions.  Riley could typically take any star wide receiver in the league, regardless of his abilities or his statistics, and practically shut that player down single handedly.  Zook, besides as I previously mentioned, regularly drew double teams, but nevertheless he was still also able to force his way into the opposing backfield to disrupt many running plays. 
He knew full well how to use his arms and his hands to obtain the leverage that he needed to move a blocker out of his way.  It was his form of art, and Zook was indeed an artist at this craft.  I saw beat blockers on numerous occasions, and the results from those plays are often almost as good as a quarterback sack. 
Of the two, Riley stands to have a better chance at making the HOF, primarily because of his interception statistics.  Zook has the misfortune of dealing with the league's short sidedness.  The NFL did not recognize quarterback sacks as an official statistic until after Zook retired, which is indeed unfortunate. 
There is no reason why the league cannot hire a group of people to go back through the play-by-play documents from the 1950s through the 1980s, to give players like Zook a sack statistic to hang on their mantles.
In the end, two great pro players died on June 7.  Both Ken Riley and John Zook deserve to be honored by the league, even though it would be posthumously. 
More Posts From Pigskin Past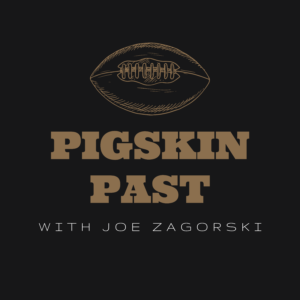 Ask any pro football historian what George Allen's greatest coaching...
Read More