In this episode, I talk to Mark Pattison, former NFL wide receiver. I first found out about Mark by realizing he was a former NFL player, but then I saw something called The Seven Summits, which he accomplished on May 21, 2021. This is a feat only around 500 people in the world have accomplished. It refers to ascending to the highest peak on every continent on the planet.
Mark shares this experience, but then we go back to his college and NFL days, experiences that helped build the person he became to be able to overcome the challenge of the Seven Summits. You can learn more about Mark below in the bio and head to his podcast – Finding Your Summit.
Some of the topics we get into:
The journey and reason why he chose to tackle the Seven Summits
Some stories from his college career at the University of Washington
What "Once a Raider, Always a Raider" means to him
The purpose behind his podcast – Finding Your Summit
The advice he would give himself if he were to go back in my DeLorean and talk to his younger self as a High School Senior
Much more…..
Mark Pattison (Please Note - This is Directly From Mark's Website)
In every facet of his life, Mark Pattison scales personal and professional summits. Mark is a former NFL Player, philanthropist, podcaster, and successful entrepreneur & currently an executive at Sports Illustrated and now has climbed all Seven Summits having completed this feat by scaling the death-defying Mt. Everest in the spring of 2021. Mark dedicated his climb to his daughter Emilia who is overcoming her own Everest by defeating epilepsy.
Mark has raised over $56,000 with generous donations from both the NFL and Las Vegas Raiders. All proceeds go to Higher Ground.
In the Fall of 2021, the NFL is debuting a documentary about Mark's journey he experienced on Mt Everest. This film will be shown on NFL 360.
Mark's podcast, Finding Your Summit has over 120,000 downloads after 200 episodes which provide powerful conversations with celebrities, sports legends, and others about overcoming their adversity and finding their way.
Mark is a father and caring human being who continually looks for opportunities to give back to others. He helps people get off the sidelines and back into the lane of life by unleashing their potential & realizing what they are capable of in their lives.
Please note – As an Amazon Associate, I earn from qualifying purchases.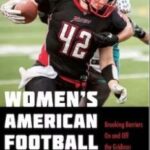 This week Russ Crawford, Professor of History at Ohio Northern...
Read More