I grew up as a fan of the New York Knicks. The Knicks were a Championship team in those days, and Willis Reed was one of the best players in the NBA. This story begins in 1972 and ends with how I got to meet Willis Reed.
The phone rang at my home on a November evening, right before dinner. The call was from my older cousin. He said he had just been handed two tickets to the Knicks game that night. He went on to say that a co-worker of his mother (my Aunt) had given her two tickets to that night's Knicks game. He'd go and wanted to know if my brother or I wanted that second ticket.
But there was a snag. We were both Knicks fans, and we both wanted to go to the game. During dinner, we tried to figure out a fair way to decide who would get the second ticket. Flipping a coin didn't seem right. Tension mounted. Finally, my brother said: "You're my younger brother. This might be your only chance ever to see your favorite player (Willis Reed) in action. You go!" Are you sure I said?
"Yes, now get ready before I change my mind." ~ my Brother

Mark Morthier is the host of Yesterday's Sports, a podcast dedicated to reliving memorable sports moments from his childhood days and beyond.  He grew up in New Jersey just across from New York City, so many of his episodes revolve around the great sport's teams of the 70s for the New York area.  He is also an author of No Nonsense, Old School Weight Training.
Please Note – As an Amazon Associate I earn from qualifying purchases
Even though I lived in northern New Jersey, right across the river from NYC, the game was starting in about two hours. There wasn't any time to waste. I finished my dinner and ran out of the door, waiting for my cousin to pick me up.
It was my first time in Madison Square Garden. I was ten years old and in awe of the place. We looked for our seats. As we got closer and closer to the court, I figured we must be lost. Then my cousin turned to me and said: "Can you believe this? These are our seats. We're in the tenth row!" I thought I had died and gone to heaven!
Knicks and the Bucks: What A Ballgame!!!
 The Knicks were playing the Milwaukee Bucks that night. The Bucks had won the NBA title just eighteen months earlier. Not only did they have Kareem Abdul Jabbar, but they had also acquired future Hall of Famer, Oscar Robertson, from the Cincinnati Royals. It was going to be a fierce battle. Robertson would be going up against Earl "The Pearl" Monroe, another future Hall of Famer. (The Knicks had acquired Monroe from the Baltimore Bullets.)
But the battle I was most interested in was Reed vs. Jabbar. Reed, slowed by injuries, was not quite the player he was before, but he got the better of Jabbar that night.
The Knicks reeled off 19 straight points at game's end to win. That night I drove back to Jersey with my cousin. I was on Cloud Nine!
The Day I Met My Willis Reed
But unbeknownst to me at the time, there would be yet another encounter with Willis Reed. I got a call from a friend during the summer of 1973. He told me that Willis Reed was going to be at a bookstore in New York City, signing autographs and handing out pamphlets to promote his summer basketball camp.
That's nice, I said, but we have no way of getting there. He told me his father was going and that he'd get us there. I thought he was pulling my leg but, a few days later, off we went. We walked into the bookstore, and there he was–even closer to me than when I saw him in The Garden seven months earlier.
He was behind a table, signing autographs. We stood in line, waiting for our turn. I was nervous. What should I say? Finally, it was my turn. "Hello, Mr. Reed. You're my favorite…."
Another Reason Willis Reed Was My Favorite
 Before I could finish that sentence, Reed stood up. (I'd never seen such a large man. I felt like an ant.) He smiled, extended his hand, and asked: "What is your name?" "Mark," I said. He shook my hand and said, "Nice to meet you, Mark."
I wanted to say more, but I was too much in awe. Mr. Reed sat back down, and our meeting was over. I still have that autograph. I wish that I had a camera that day. But it was 1973, after all, long before people carried cameras with them everywhere. The Knicks were a contender no more.
The 1973–1974 season would be Willis Reed's last year. The Knicks finished 49–33 but lost in the Playoffs. Injuries had taken a toll, and Reed retired before the start of the 1974–1975 season. Dave Debusschere retired, too. Without Reed and Debusschere, the Knicks finished the season 40–42.
After Reed retired, I lost my interest in basketball. But for six years of my youth–from 1969–1974–the Knicks and Willis Reed were a big part of my life.
Please Note – As an Amazon Associate I earn from qualifying purchases
More From Yesterday's Sports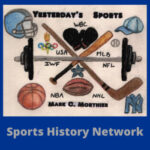 Fifty years after he retired, Joe Kapp is still the...
Read More