Every pro football fan knows that the Minnesota Vikings went to four Super Bowls during the 1970s. They lost them all. After each, the questions why flourished. You heard excuses such as Their front lines on offense and defense weren't strong enough.
Or their overall team speed wasn't fast enough or quick enough. Or their play-calling was abysmal. Or they were unable to make adjustments at halftime. Or they made far too many mistakes or committed far too many turnovers to win. Believe me, you heard it all, and Vikings fans from across the nation had good reasons to despair.
This podcast addresses that despair, and we determine the one Super Bowl that the Vikings could have and should have won…if only. That Super Bowl was Super Bowl IX versus the Pittsburgh Steelers in New Orleans' old Tulane Stadium on January 12, 1975.
Steelers - A New Team to the Super Bowl
Now the Steelers were brand new to the Super Bowl, making their first appearance ever in the big game. For the Vikings, this would be their third appearance in the Super Bowl.
Pittsburgh possessed a roster filled with young, aggressive players. Minnesota's players had many more years of experience, but they were older and just slightly slower in several key spots.
One most common denominator in all of the Vikings' Super Bowl losses were turnovers. Minnesota turned the ball over a total of 15 times in their four Super Bowl games. In Super Bowl IX, they committed five costly turnovers. Erase any two of them from the ledger, and the Vikings might have won Super Bowl IX.
The mistakes were also highly visible in all of Minnesota's Super Bowls. One of their biggest mistakes in Super Bowl IX gave the Steelers their first points of the game. Vikings quarterback Fran Tarkenton and his running back Dave Osborn botched a handoff at the Minnesota 10-yard line.
The ball bounced all the way back to the goal when after it was inadvertently kicked by Pittsburgh defensive end L.C. Greenwood. Tarkenton recovered the ball one yard deep in the Viking end zone and was tagged down by Steelers defensive end Dwight White for a safety and a 2-0 Pittsburgh lead.
This was just the beginning of Minnesota's mistakes, however.
Tarkenton drove the Vikings downfield late in the first half, then threw his first of three interceptions on a tipped pass. Then Minnesota's second fumble occurred on the opening kickoff of the second half when Pittsburgh's Roy Gerela slipped on the artificial surface as he kicked the ball, squibbing it downfield. Minnesota's Bill Brown could not get a handle on it, and the Steelers' Marv Kellum recovered it.
Four plays later, the Steelers scored on a 9-yard Franco Harris sweep and a 9-0 Steelers lead. At this time, the Vikings play-calling came into question.
Minnesota could accrue only 17 total ground yards all game long. They would have been better advised to ditch all of their running plays because they simply weren't working. They should have resorted to throwing the ball downfield on every down.
But no…Tarkenton kept calling for more running plays, which in the end, turned out to be a total waste of precious time.  Late in the third quarter, another tipped Tarkenton pass resulted in another interception.
Midway through the fourth quarter, Minnesota tailback Chuck Foreman fumbled the ball on the Pittsburgh 5-yard line. A touchdown there, or even a field goal, would have meant a lot to the Vikings cause.
One more Tarkenton interception late in the game sealed up the Steelers' first-ever Super Bowl victory, 16-6.
Minnesota's third of four Super Bowl losses on this fateful day in New Orleans could have and possibly should have had a different ending.
There's no telling what might have happened if the Vikings had not run the ball so much in the second half, or if their receivers had caught the ball more often, or if they didn't fumble in several key situations, which invariably led directly to Pittsburgh points.
In the end, there were plenty of excuses to go around in Super Bowl IX. It was the one Super Bowl during the 1970s that the Vikings had their best chance of actually winning.
Learn more from Pro Football in the 1970s about the Vikings in the 60s and 70s here.
Host and Author of Pro Football in the 1970s - Joe Zagorski
Please Note – As an Amazon Associate I earn from qualifying purchases
More Posts From Pigskin Past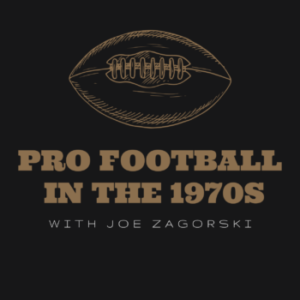 There have been some really great pro football Thanksgiving Day...
Read More