Today we have Super Bowl IX, which was held on January 12, 1975, at Tulane Stadium in New Orleans between the first-time AFC champion Pittsburgh Steelers and the three-time NFC champion Minnesota Vikings.
As always, we have a pop quiz, and then homework at the end of the episode. The pop quiz question for today is: what is the record for the least first downs in a Super Bowl? Hint hint: it happened in this game. The answer will come at the end of the podcast.
Table of Contents (Minimize to the Right --->)
Lombardi Memories is a show that takes you back in time, into January or February, to the greatest one-day spectacle in all of sports. This is the every-other-Tuesday podcast that looks back at each and every one of the 50-plus Super Bowls and tells the story of who won and why.  Tommy A. Phillips is your host on this Super Journey.  He's an author of multiple NFL books.  You can purchase below.
Please Note – As an Amazon Associate, I earn from qualifying purchases
The Pittsburgh Steelers got off to an inauspicious start in 1974, going 1-1-1 in their first three games, and getting shut out by the Oakland Raiders. They then went on a tear, winning seven of their next eight games, and going on to win the AFC Central at 10-3-1. In the playoffs, they crushed the Buffalo Bills 32-14, before winning the AFC Championship Game in Oakland over the Raiders, 24-13, to advance to Super Bowl IX.
This Steelers team wasn't quite yet Terry Bradshaw's team. He only threw for the second-most yards on his team this year, with Joe Gilliam leading the way with 1,274 yards. Gilliam had a 2-to-1 interception-to-touchdown ratio, though, and Bradshaw was much better in that regard. He threw for 785 yards and seven touchdowns.
The running game went through running back Franco Harris, who rushed for over 1,000 yards and five touchdowns. Rocky Bleier and Preston Pearson combined for nearly 700 more yards and six touchdowns. Bradshaw was a good runner, as he ran for 224 yards and two scores. When it came to receiving, receiver Frank Lewis led the way with 30 catches for 365 yards and four touchdowns.
As for Minnesota, they started out the season 5-0. They then lost four out of six games at midseason, before going on a three-game winning streak to end the regular season. They knocked off St. Louis 30-14 in the divisional round, then they beat Los Angeles 14-10 in the NFC Championship Game at home to advance to their second straight Super Bowl.
The offense ran through two players – quarterback Fran Tarkenton and running back Chuck Foreman. Tarkenton threw for 2,598 yards and 17 touchdowns, which in those days were astonishing numbers. Foreman led the team in both rushing and receiving, running for 777 yards and nine touchdowns, and catching 53 passes and six touchdowns. Wideout Jim Lash led in receiving yards with just 45 more than Foreman, as he had 631 and Foreman had 586. Lash, however, did not have a touchdown catch.
Of course, the main stars of these two teams were on the defense. The Vikings had their Purple People Eaters: Alan Page, Carl Eller, Jim Marshall, and Doug Sutherland. The Steelers had their Steel Curtain: Mean Joe Greene, Jack Lambert, Jack Ham, L.C. Greenwood, Donnie Shell, Mel Blount, and company. This Super Bowl was going to be a low-scoring, defensive battle.
The Vikings' opening kickoff was short, and Steelers running back Preston Pearson took it to the 36. The Steelers went three-and-out, as defensive tackle Bob Lurtsema sacked Bradshaw to force a punt. Tarkenton completed his first pass of the game to receiver John Gilliam for 16 yards. However, after that, the Vikings couldn't move it, with a third-down pass caught by Gilliam but out of bounds. The Vikes punted it, and receiver Lynn Swann returned it to the 41.
Rocky Bleier busted through a big hole for a first down in Minnesota territory at the 45. But from there, the Steelers got called for clipping, and Alan Page sacked Bradshaw. The Steelers punted again, but they forced a quick three-and-out. After a clipping call on the punt against Minnesota, the Steelers forced them to kick again, and this one defensive back Glen Edwards returned to the Minnesota 44. Bradshaw found tight end, Larry Brown, for a first down at the 26, before the Steeler drive got hung up at the 20. Kicker Roy Gerela tried a field goal, but it went wide to the left, no good.
The Steelers made the Vikings go three-and-out once again, and this time they got the ball back at their own 47. Franco Harris burst on a delay play down to the 28, then Bradshaw scrambled on a bootleg for a first down at the 18. That got Gerela a chance at a 33-yard field goal, but holder Bobby Walden couldn't handle a bad snap, and he was tackled for a loss. No points for Pittsburgh there, either, as the first quarter came to an end.
The Vikings punted once again, and the Steelers took over. This time, they were befallen by a pair of penalties, a tripping call, and an offensive pass interference flag on Lynn Swann. Bleier then fumbled, and defensive back Randy Poltl recovered for Minnesota. That got the Vikings a 39-yard field goal attempt by kicker Fred Cox, but he missed wide to the right.
Bradshaw threw complete to receiver John Stallworth for a first down at the 46. Bleier made it into Minnesota territory, but the Steelers were stopped on a third-down play. They punted, and Minnesota receiver Sam McCullum made the fatal error of picking up the ball instead of letting it go for a touchback. He ended up down at his own 7-yard line.
Foreman gained three yards on first down, but on the next play, Tarkenton and running back Dave Osborn failed to get a clean exchange. The ball bounced back into the end zone, where Tarkenton fell on top of it for a safety and a 2-0 Pittsburgh lead.
That would be all the points either team would get in the first half. The Steelers went three-and-out after receiving the free-kick. The Vikings got something going with a couple of first downs by Foreman and another one by Osborn. However, Tarkenton had a pass broken up, and it got tipped right to Mel Blount for an interception. The Steelers ended up running out the rest of the first half, and they'd go to the locker room with a 2-0 advantage.
On the opening kickoff of the second half, Vikings running back Bill Brown fumbled the return, and linebacker Marv Kellum recovered for the Steelers. Starting at the Minnesota 30, Harris ripped off a long run down to the 6-yard line. Two plays later, he ran off the left side for a touchdown, and the Steelers now were up 9-0.
The teams exchanged punts, and Minnesota got the ball back at their own 20. Tarkenton threw a pass that got deflected back into his own arms, and he tried throwing the ball a second time. He completed this second pass for a long gain, but it wouldn't count; it was an illegal forward pass. Tarkenton later threw to tight end Stu Voigt for a first down at the Pittsburgh 45. However, his next pass was tipped and intercepted by Steelers defensive tackle Joe Greene.
Bradshaw threw a pass that was intercepted by defensive back Jeff Siemon, but it got brought back because the Vikings were offside on the play. Harris ran a couple of times past midfield, but Bradshaw threw incomplete on third down, and the Steelers punted it down to the 23 as the fourth quarter began.
The Vikings had to punt themselves, but then they got the ball back after a bad exchange between Bradshaw and Harris. Defensive back Paul Krause fell on the ball for the Vikings. Tarkenton then went long for Gilliam, and he drew a pass interference call on Pittsburgh defensive back Mike Wagner. Foreman fumbled, however, and Greene recovered for the Steelers.
The defensive plays just kept coming. The Steelers were stopped short of a first down, and they were forced to punt. Vikings linebacker Matt Blair rushed through to block the punt, and defensive back Terry Brown recovered it for the Vikings in the end zone for a touchdown. But before the Vikes could celebrate, Cox put the extra point off the left upright, and Minnesota remained down 9-6.
The Steelers were now only up by three, but they put together a great drive to put the game away. Harris ran it to the 42, then Bradshaw found Larry Brown for a first down at the Minnesota 28. Bleier burst through a hole for a first down to the 15, then he caught a pass for another first down at the 5. Bradshaw then threw a third-down touchdown pass to Larry Brown, and the Steelers went up 16-6.
The Vikings had one last chance, but Tarkenton threw a deep pass that was picked off by Wagner. All that was left was to find out if Harris could set the Super Bowl record for the most rushing yards in a game. He did just that, getting to 158 yards, and winning the MVP award. The Steelers finally had owner Art Rooney his first Vince Lombardi Trophy.
Super Bowl IX Awards and Aftermath
Franco Harris was named MVP, and rightfully so, but the MVP could have gone to someone on defense. Why? Because the Steelers held the Vikings to just nine first downs all day long, which is the answer to today's pop quiz question. That was the least first downs in Super Bowl history. The Vikings also only had 119 yards of offense and 17 rushing yards. If I were to give the MVP to someone on defense, I'd have to hand it to Joe Greene. He was in on two turnovers, and he really had a great argument to be made as MVP.
Was there even a most valuable player on the losing team? Defensive back Jeff Siemon has the best case. He was in on a bunch of plays in this one, and he even had an interception that was called back on a penalty. He probably played the best out of anyone on the losing Vikings.
The Least Valuable Player had to have been Tarkenton, sadly. Tarkenton threw three interceptions, giving himself four for his Super Bowl career. Tarkenton didn't give his team a chance to win, on a day when 17 points may have been enough to come out on top. He simply didn't come through.
Best player you've never heard of from this game? How about linebacker Marv Kellum of the Pittsburgh Steelers. He recovered the most important fumble of the game, the fumble on the opening kickoff of the second half. That play completely turned the game in Pittsburgh's favor. Kellum intercepted two passes in his NFL career, which lasted only four years.
Biggest play of the game? The one I just said, actually. The fumble recovery at the beginning of the second half was YUGE, as Al Michaels would say. Who knows if Minnesota may have made a game of it, but that play gave the ball to Pittsburgh in Viking territory, and they scored the first touchdown only a few plays later.
Biggest play no one remembers? How about Cox's first field goal miss. If he makes that one, then the Vikings have the lead at the half. It could have been an entirely different ballgame had he made that. Sometimes even those little field goal misses can be big moments in low-scoring games like this.
Finally, I'm giving you some homework to study on the 1970s Steelers. This may help you with some of the future games that we're going to get to in the upcoming months. Their Life's Work: The Brotherhood of the 1970s Pittsburgh Steelers by Gary M. Pomerantz takes a deep dive into the dynasty, and it's one you'll need to spend a long time on. I haven't had the time to really dive into this book yet, but it's definitely a book worth getting.

Next time, we have the Pittsburgh Steelers trying to repeat, going up against the first true Wild Card team to make the Super Bowl, the Dallas Cowboys. This one took a bunch of crazy twists and turns, and it all ends up with one last Hail Mary. Can Roger Staubach complete that pass and bring home the Cowboys' second title? Or will the Steelers repeat as champions and make their case for being the team of the decade? Find out with Super Bowl X in two weeks.
As for me, you can find my work at tommyaphillips.com; until next time, so long!
More From Lombardi Memories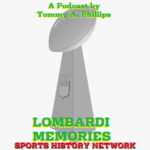 Today we have Super Bowl XVI, which was held on...
Read More