Although it is difficult to get much information on when the first issue was released and when the last one was released, it seems that the magazine began in 1969 and lasted until around 1982. From what I can gather, it seems to have started out as Quarterback magazine and, after about one year, changed to Pro Quarterback magazine.
Football magazines were essential if you were an avid NFL fan during the 1970s. We didn't have internet, ESPN, NFL Network, or 24-hour sports talk shows. So, magazines were where we got a lot of our information, and in my opinion, Pro Quarterback magazine (Arden publications) may have been the best pro football magazine on the newsstands. The magazine was loaded with color-action photos of the league's top players and great in-depth articles and interviews.
Please Share This Post If You Enjoyed
Please Note – As an Amazon Associate I earn from qualifying purchases
More From Yesterday's Sports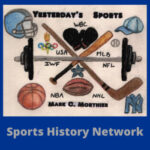 The Detroit Lions franchise began in 1930, but they were...
Read More