Today we have Super Bowl XLII, which was held on February 3, 2008, at University of Phoenix Stadium in Glendale, Arizona, between the undefeated, six-time AFC champion New England Patriots and the four-time NFC champion New York Giants.
As always, we have a pop quiz, and then homework at the end of the episode. The pop quiz question for today is: after the third quarter of this game, there were only ten points. What was the only Super Bowl prior to this game to have fewer points after three quarters? The answer will come at the end of the podcast.
If you enjoy the podcast and articles I put out, please check out my merchandise and books on Shop Sports History – Lombardi Memories.
Below are a couple of the top merchandise products over there.
Prelude to Super Bowl XLII
The 2007 New England Patriots are famous for many reasons. They were the first team to go 16-0 in a regular season. They scored a mind-blowing 589 points, on the strength of quarterback Tom Brady's record 50 touchdown passes and receiver Randy Moss's record 23 touchdown catches. Many of their victories came in blowout fashion, and they cruised right through their two AFC playoff games against Jacksonville and San Diego to become the first team to start a season 18-0.
But there was also controversy surrounding them. Head coach Bill Belichick was accused of filming other teams' sidelines to steal their signals, in an ordeal that became known as "Spygate." Eventually, the Patriots would be docked a first-round draft pick, but this situation made the Patriots be accused by other teams of cheating. Whether that was true or not is up to you to decide; regardless of that, there was no denying the team's excellence on the field in 2007.
Brady threw for over 4,800 yards and the new NFL record of 50 touchdown passes, which would stand for six years. His passer rating was a sparkling 117.2, as he had thrown just eight interceptions. Moss had a great season, averaging 15.2 yards per catch on 98 receptions, going for just shy of 1,500 yards. Also, receiver Wes Welker went over 1,100 yards and caught 112 balls for eight touchdowns.
Their leading running back, Laurence Maroney, rushed for 835 yards and six scores. This Patriots machine also had defensive back Rodney Harrison and linebackers Tedy Bruschi and Junior Seau. To put it bluntly, they were stacked, from top to bottom.
Their opponents? Not so much. The New York Giants started out the season 0-2; only one team in NFL history, the 1993 Dallas Cowboys, had started 0-2 and gone on to win the Super Bowl. They turned things around with a six-game winning streak, but after that they went just 4-4 down the stretch of the regular season.
They got in as a wild card, clinching their spot a week before their season finale against New England. Giants head coach Tom Coughlin decided to play that final game as if it was a playoff game, even though his team had already clinched. The result was New England's 16th win, 38-35, but the fact that the 10-6 Giants played them so close might have been a harbinger of what was to come.
The Giants defeated Tampa Bay, Dallas, and Green Bay all on the road, coming from the #5 spot all the way to the Super Bowl. That included a super-cold NFC Championship Game at Lambeau Field where the Giants ended Brett Favre's Green Bay career by picking him off to set up the game-winning field goal. New York was led by quarterback Eli Manning, who had an up-and-down year with 23 touchdown passes and 20 interceptions.
He threw for over 3,300 yards, and a thousand of those went to receiver Plaxico Burress, who caught 12 touchdowns. With Tiki Barber having retired the year before, running back Brandon Jacobs took his place and rushed for a thousand yards and four touchdowns.
The Patriots were 12-point favorites going into the Super Bowl. In reality, though, the Pats were much bigger favorites. The Giants had gotten into the Super Bowl on a fluke. They didn't deserve to be there; #1-seeded Dallas or #2-seeded Green Bay did. The Patriots were a juggernaut about to make this championship season a formality. Everyone had New England finishing 19-0.
Well, almost everyone. Paul Zimmerman from Sports Illustrated, known as Dr. Z, predicted that the New York pass rush was going to get to Brady, and that the Giants would pull the upset. Dr. Z was a joy to read; Sports Illustrated hasn't been the same since he passed. His prediction sounded off-the-wall, though. Was he just making that prediction to be different? There was no chance the Giants had of beating the Patriots. None.
But as Chris Berman would say… that's why they play the games.
Super Bowl XLII: First Quarter
The Giants started off this game with the longest opening drive by number of plays in Super Bowl history. Jacobs took two carries, then Manning threw to Burress for a first down. He hit fullback Madison Hedgecock for a short gain, then found receiver Steve Smith for a first down across the 50. Jacobs pounded for seven more yards, and running back Ahmad Bradshaw picked up the first down on third down. Manning then threw another third-down pass to Smith to convert.
On the next third down, Smith made a third catch, but he was shy of the marker. Kicker Lawrence Tynes made a 32-yard field goal, and the Giants took an early 3-0 lead. No one had any idea how important that drive was at the time. It went 16 plays and lasted one second shy of ten minutes.
The Patriots answered with a long drive of their own. Maroney returned the kickoff to the 44, then ran twice for about 13 yards. Brady hit receiver Donte' Stallworth for seven yards, then he floated one to Welker for a first down at the 27. Running back Kevin Faulk caught a pass out of the backfield for another first down.
Tight end Ben Watson drew a pass interference call on linebacker Antonio Pierce in the end zone. As the second quarter began, Maroney pounded in from a yard out to give New England a 7-3 lead. There were only two possessions in the first quarter, the fewest in a quarter in Super Bowl history.
Super Bowl XLII: Second Quarter
The ensuing kickoff went out of bounds, and the Giants started at the 40. On third down, Manning went long for receiver Amani Toomer for a big gain out to the 19. Jacobs ran for four more, and Manning hit receiver David Tyree for five yards. But Manning's next pass went off the hands of Smith and was intercepted by defensive back Ellis Hobbs, who returned it to the 33.
The Patriots gave the ball to Maroney on three straight plays, and he couldn't get a first down after starting with an eight-yard run. The result was a punt which defensive back R.W. McQuarters returned to the 36. Manning was sacked on first down by defensive end Jarvis Green and defensive tackle Le Kevin Smith. Bradshaw then fumbled a handoff, but somehow got back on it. He couldn't catch a third-down screen pass, and the Giants had to punt. Punter Jeff Feagles became the oldest player to participate in a Super Bowl when he kicked the ball down to the 29.
(This record would be broken in the very near future.)
The Giants pass rush got to Brady twice on the next possession. First came a sack shared by linebacker Kawika Mitchell and defensive end Michael Strahan. Then it was defensive end Justin Tuck getting a sack, and the Patriots were forced to punt. On New York's next drive, Bradshaw ran for one first down, and Jacobs ran for another. On the next third down, though, Manning was sacked and fumbled. The ball was illegally batted forward to a Giants player, essentially giving New York another play. But Manning was nearly picked off on that play, and the Giants had to punt.
Brady threw a third-down pass to Stallworth for a first down, before hitting running back Kevin Faulk for another third-down conversion. Moss then caught his first pass of the game to reach the Giants 44 with less than half a minute to go in the half.
On the next play, Tuck got his second sack of the game, stripping Brady of the ball as he was about to throw. Defensive end Osi Umenyiora fell on the ball. The Giants had time for a Hail Mary, but Eli's pass fell incomplete. The score at the half was Patriots 7, Giants 3, as Tom Petty & the Heartbreakers put on a fantastic show as one of the last great halftime shows for us old people. (The next one wouldn't be too bad, either.)
Super Bowl XLII: Third Quarter
The Patriots started their first drive of the second half with a 15-yard pass to Welker. Maroney ran for seven yards, then Faulk caught a pass for a first down. Brady found Welker for seven more, then he hit Faulk short of the marker.
The Pats punted, but on the punt, the Giants failed to get a player off the field, and Belichick challenged. He was right, and the Patriots got five free yards and a first down. As much as it looked like this would haunt New York, instead it haunted New England! The Patriots got a first down on a 14-yard pass to Faulk, but after that, Strahan came up with a third-down sack to push the Pats back to the Giants 31.
Now it was 4th-and-13, and anyone knows that the chances of picking up 13 yards on a single play is rather remote. The Patriots were in field goal range; it wasn't even a 50-yard field goal. And even if Adam Vinatieri had moved on to Indianapolis, Stephen Gostkowski could make that kick. Instead, though, Belichick sent out the offense. Brady's pass to the end zone for receiver Jabar Gaffney fell incomplete, and the Giants took over on downs.
Manning threw to Toomer for two first downs, before the Giants had to punt. Then the Patriots got first downs on two passes to Welker and a run by Maroney. However, they too had to punt, and the third quarter finished with the second-fewest points in a game thus far in Super Bowl history.
Super Bowl XLII: Fourth Quarter
Manning went over the middle to tight end Kevin Boss for 45 yards all the way down to the New England 35. Manning then converted a third-down pass to Smith for another first down at the 12. Bradshaw ran for about seven yards up the middle, then Manning went play action over the middle to Tyree for a touchdown. "Tyree just made the biggest catch of his life," said Fox announcer Joe Buck. Oh, Joe, if you only knew…
Now trailing 10-7, the Patriots got a first down on a 17-yard pass to Moss. But they soon had to punt. The Giants now could have put this game away, but on a second-down play, Manning missed a wide-open Burress, overthrowing him by just a bit. "I'm not so sure that he doesn't even score," said Fox announcer Troy Aikman, a master of the double negative. The Giants punted, and the Pats took over inside their own 20.
Brady now put together what looked to be the game-winning drive. He started with a five-yard pass to Welker, and a pass to Moss for a first down at the 34. Maroney ripped off a nine-yard run, then Welker hauled one in at the Giants 43 for a first down. Next, Faulk ran for four, and Welker caught one for ten more yards. Brady fired to Moss down inside the 20, before going to Faulk over the middle for 12 more. Facing third down, Brady found a wide-open Moss, whose defender had fallen down. The Patriots took a 14-10 lead with three or so minutes to go.
Now came the greatest drive of the 21st century. It started with Manning firing to Toomer for 11 yards. After a pair of incompletions, Manning found Toomer for nine yards. After a measurement, Coughlin kept his offense out there to go for it on fourth-and-one. With his last effort, Jacobs got the ball across the yard marker to move the sticks. Manning was forced to run on the next play, and he picked up five yards. On his next pass, defensive back Asante Samuel nearly picked it off on the sideline. It was now third-and-five.
The next play was one of the most famous in NFL history. It certainly was one of the most consequential. Say what you want about the Immaculate Reception, but the Steelers lost the playoff game after that one. This one turned the result of the most important Super Bowl of all time, as there was the possibility of a team finishing 19-0. That's right, it was the Helmet Catch.
First, Eli Manning escaped a potential sack, with referee Mike Carey keeping a very watchful eye to see that Eli had escaped and was not in the grasp. Then Manning fired it downfield, and David Tyree went up to catch it. Rodney Harrison jumped up to try to knock it out, but Tyree pinned the ball against his helmet as he went to the ground. The ball never hit the turf. It was a completed pass for 32 yards. Timeout, New York, with :59 to go.
Some may forget that New York hadn't scored yet. Manning was sacked on the next play by linebacker Adalius Thomas. Manning then threw incomplete for Tyree. On third-and-11, Manning got his team out of a bad situation by throwing to Smith, who managed to get the first down and get out of bounds with 39 seconds left. On the next play, Manning went to the sideline and lobbed it up to a wide-open Burress. Touchdown! The Giants now led, 17-14, with 35 seconds left.
The Patriots had four shots to try to get into field goal range. On the first one, Brady's pass for Gaffney was nearly picked off by defensive back Aaron Ross. On the second, rookie linebacker Jay Alford out of Penn State sacked Brady for a nine-yard loss. Brady's third-down pass deep downfield was broken up by defensive back Corey Webster.
Finally, his fourth throw fell incomplete as well, with one second left on the clock. Belichick was so angry about his team's loss that he congratulated Coughlin and went into the tunnel. Eli still had to take a knee. He did, and the Giants had pulled off the most improbable upset in the 21st century in the NFL, 17-14!
Super Bowl XLII: Aftermath and Awards
After three quarters, there were just ten points, and then this game turned into one of the greatest Super Bowl finishes ever. The answer to the pop quiz question for today is that there were only nine points at the end of the third quarter of Super Bowl IX, a 9-0 Steelers lead over the Vikings. This game had ten. Later, in Super Bowl LIII, there would be only six points, a 3-3 tie, which is the new record.
The most valuable player award went to Eli Manning, who… well… um… yeah, I don't get it myself. Manning may have led the game-winning drive, but even the biggest play on that drive was made more by the receiver than him. The real MVP was Justin Tuck. Two sacks and a forced fumble that led to a turnover. There is no doubt in my mind that Tuck should have been named MVP of this Super Bowl after putting all this pressure on Brady. He turned the 589-point Patriots into just 14 points.
The Least Valuable Player had to be Patriots kicker Stephen Gostkowski. If he was healthy, as sideline reporter Chris Myers said, why didn't he force his way on to the field to try a 49-yard field goal in the third quarter? There had to be a reason why Belichick chose to go for it on 4th-and-13 instead of going for a field goal there.
If Belichick isn't calling your name and number when there's a very important field goal, then there's got to be a reason for that, and that reason might be that he just doesn't trust you.
The best player on the losing team was Wes Welker. He caught 11 passes for 103 yards. And while he wouldn't have won MVP had the Patriots won – Tom Brady would have – Welker was the biggest reason the Patriots were able to keep the lead for as long as they did.
As for the best player you don't remember, that would be defensive tackle Jay Alford for the Giants. Alford came up with a huge sack on the final possession of the game. I had the honor of watching him play during his senior season at Penn State. He took back a fumble for a touchdown, only to have it called back on a replay review. Alford saved his biggest sack for the biggest moment.
The biggest play of the game was obviously the Helmet Catch, but what was the biggest play you don't remember? How about the 3rd-and-19 pass with just seconds to go. If Corey Webster doesn't break that one up, then Moss might catch it and put the Pats in field goal range. Then the game goes to overtime, and who knows what happens then.
This is my favorite non-Packers Super Bowl. In my opinion, it is the greatest Super Bowl of all time. If New England wins, we have to hear for the rest of our lifetimes that they were the greatest team of all time. Instead, they're not even in the top 50.
Eli Manning became a star, the Giants became Super Bowl champions despite not even winning their own division, and New York became only the second six-loss team to win the Super Bowl.
Tom Coughlin is one of the greatest NFL coaches of all time, and he deserves to be in the Pro Football Hall of Fame. His mastermind performance in this Super Bowl, where he came out with that ten-minute drive to start the game, definitely should earn him that honor. It's just too bad that he didn't do it ag- wait a minute, he did do it again! That'll come up on this podcast in a couple months.
In the meantime, we celebrate the Giants' upset victory as we move on to another crazy Super Bowl. The powerhouse Pittsburgh Steelers go up against the unproven Arizona Cardinals. It is going to be one crazy finish in Tampa, host of Super Bowl XLIII. In the meantime, I'm Tommy A. Phillips, and you can find all my books at niftynineties.com. Until next time, so long!
Lombardi Memories is a show that takes you back in time, into January or February, to the greatest one-day spectacle in all of sports. This is the every-other-Tuesday podcast that looks back at each and every one of the 50-plus Super Bowls and tells the story of who won and why.  Tommy A. Phillips is your host on this Super Journey.  He's an author of multiple NFL books.  You can purchase below.
Books From The Host Of Lombardi Memories
Please Note – As an Amazon Associate, I earn from qualifying purchases
More From Lombardi Memories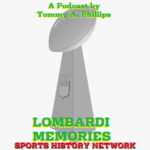 Today we have Super Bowl XLIV, which was held on...
Read More