Today we have Super Bowl XLVII, held on February 3, 2013 at Mercedes-Benz Superdome between the six-time NFC champion San Francisco 49ers and the two-time AFC champion Baltimore Ravens.
As always, we have a pop quiz, and then homework at the end of the episode. The pop quiz question for today is: the Ravens' kicker for this game was Justin Tucker, a rookie. Who was the last rookie kicker before Tucker in a Super Bowl? The answer will come near the end of the podcast.
Prelude to Super Bowl XLVII
The Baltimore Ravens of 2012 got off to a fast start, winning four of their first five games. They got to 9-2 and seemed like a lock for the playoffs, but then they lost four of their final five games. They ended up winning the AFC North and making it into the playoffs as just a #4 seed. However, in the playoffs, their fortunes changed.
First, they didn't allow a touchdown in a 24-9 victory over the Colts in the wild card round. Then they played one of the greatest games in NFL history, a 38-35 double overtime victory in Denver, in which quarterback Joe Flacco threw a 70-yard touchdown pass to Jacoby Jones with 31 seconds left to tie the game. The play became known as the "Mile High Miracle."
The Ravens then dominated the Patriots in the second half of the AFC Championship Game, winning 28-13, and punching their ticket to Super Bowl XLVII.
Flacco had one of his best seasons of his career, throwing for over 3,800 yards and 22 touchdowns with just 10 interceptions. Running back Ray Rice ran for over 1,100 yards and nine touchdowns, while also catching 61 passes for just shy of 500 yards and one touchdown.
Receiver Anquan Boldin led the team in receiving with 65 catches for over 900 yards and four touchdowns.
Tight end Dennis Pitta provided a target for Flacco, catching 61 balls for over 650 yards and seven touchdowns. And Jones was one of the top returners in the league, taking back one punt return and two kickoff returns for touchdowns.
As for the San Francisco 49ers, they too got off to a good start, going into their bye at 6-2. Then they had some problems with the Rams, who tied them once and almost tied them a second time. The 49ers ended up losing that game. They did win three of their last four games to finish at 11-4-1.
They earned a first-round bye thanks to a Packers loss in Week 17. The 49ers ran all over Green Bay in the divisional round in a 45-31 blowout that was not nearly as close as the score indicated. They then recovered from a 17-point deficit in Atlanta, beating the Falcons 28-24 to advance to their sixth Super Bowl.
Alex Smith started the season as the 49ers' starting quarterback; head coach Jim Harbaugh replaced him at midseason with Colin Kaepernick. Each quarterback threw for just over 1,700 yards, but Kap provided a new dimension on the ground. He ran for 415 yards and five touchdowns. The 49ers' top running back was Frank Gore, who rushed for over 1,200 yards and eight touchdowns.
Their top receiver was Michael Crabtree, who caught 85 balls for just over 1,100 yards and nine scores. Mario Manningham, hero of the previous Super Bowl, was second on the team with 42 receptions. The 49ers also had tight end Vernon Davis and veteran receiver Randy Moss to fill out their catching corps. Defensively, linebacker Aldon Smith led the team with 19 and a half sacks.
This Super Bowl matchup was unique because it featured two brothers as the two head coaches – John Harbaugh of the Baltimore Ravens, and Jim Harbaugh of the San Francisco 49ers. They brought their teams into New Orleans with both offenses ready to light up the Superdome. That would become literally necessary in the second half of this unique Super Bowl.
Super Bowl XLVII: First Quarter
The Ravens kicked off to begin the game, and San Francisco started at their own 20. Kap threw to Davis for 20 yards on the game's first play, but a flag for an illegal formation brought it back. The 49ers ended up going three-and-out and punting. The Ravens offense began their first drive at their own 48.
Flacco threw to fullback Vonta Leach for eight yards, then Rice picked up a first down on a four-yard carry. Flacco then threw to receiver Torrey Smith for a first down at the 19. Facing third down a bit later, Flacco threw incomplete to the end zone, but the 49ers jumped offside on the play. Given a reprieve, Flacco fired to the end zone to Boldin for a 13-yard touchdown to put Baltimore up 7-0.
The 49ers responded with a good drive. Kap threw to Crabtree for 19 yards, Gore took a draw for nine yards, and Kap scrambled for gains of nine and seven. Gore picked up another first down, then Kap fired to Davis for 24 yards to the 8. Baltimore linebacker Paul Kruger sacked Kap on third down, though, forcing kicker David Akers on to try a field goal. He converted the 36-yard attempt, and the 49ers pulled within 7-3.
Super Bowl XLVII: Second Quarter
Flacco completed a 31-yard pass to Boldin on the next drive, but ultimately the Ravens were forced to punt. Kap started things off with a 29-yard pass to Davis. Davis caught another one for 11 yards, and running back LaMichael James got eight more. Gore ran for a first down on a seven-yard carry, but then James fumbled on the next carry. Linebacker Courtney Upshaw knocked the ball out, and defensive end Arthur Jones recovered for the Ravens.
Running back Bernard Pierce ran the ball three times to pick up a first down for Baltimore. Flacco then found tight end Ed Dickson for a 23-yard gain. Rice hurdled a defender for a yard, then Flacco went back to Dickson for a first down, and the 49ers got called for a facemask on top of it. Two plays later, Flacco hit Pitta in the middle of the end zone for a one-yard touchdown, and Baltimore went up 14-3.
Kap threw an interception to defensive back Ed Reed on the next possession. It was the first time a San Francisco quarterback had ever been intercepted in the Super Bowl. Rice took a carry for five yards, and Flacco hit Leach for a first down to the 28. Rice caught another pass for a first down, before the Baltimore drive stalled inside the 20. John Harbaugh then pulled out something from his bag of tricks, a fake field goal.
Kicker Justin Tucker tried running with it, but 49ers linebacker Patrick Willis helped string him out, and defensive back Darcel McBath tackled him short of the first down. It was the first fake field goal in Super Bowl history, and it failed.
The Ravens forced a quick three-and-out, though, and they got the ball back at their own 44. Three plays later, after a pair of incompletions, Flacco put one up, and Jacoby Jones got under it to collect it for a big gain. He then avoided a couple of tacklers on his way to a 56-yard touchdown. The Ravens were now up 21-3 with two minutes to go in the half.
Kap led a quick drive back down the field, starting with a pass to tight end Delanie Walker for a first down. The Ravens got called for roughing the passer on the play, giving San Francisco 15 more yards. Kap then went back to Walker for a first down at the 17. Davis caught one for eight yards, but the 49ers could not get another first down. They settled for a 27-yard Akers field goal, and the Ravens led 21-6 at halftime.
Super Bowl XLVII: Third Quarter
To start the second half, Jacoby Jones took the kickoff very deep in his own end zone and returned it 108 yards for a touchdown. At the time, it was tied for the longest such return in NFL history. It still remains a Super Bowl record, as the Ravens now took a 22-point lead.
On the ensuing drive, it was the other Jones making a big play – in this case, Arthur Jones, who sacked Kap. But right after the sack, all of a sudden, the lights went out for half the Superdome. Jim Nantz and Phil Simms went silent, and no one knew what was going on. Play was halted for over half an hour – 34 minutes to be exact – as everyone tried to figure out how to get power back to the Superdome. In the end, they did get power back to the stadium, but the damage had been done. The Ravens' momentum was completely shot. The rest of this game would belong to the 49ers, with one key exception.
The teams exchanged punts, then San Francisco's onslaught began. Kap scrambled for 20 yards on two plays, then converted a third down on a pass to Moss. Kap went to Davis for 18 yards, then he found Crabtree for a 31-yard touchdown. The Niners pulled within 28-13.
The Ravens went three-and-out quickly, and the 49ers got the ball back with great field position after receiver Ted Ginn Jr. returned the punt to the Baltimore 20. Kap threw to Davis to get down to the 6, then Gore ran for a touchdown off the right side, and the 49ers were within a touchdown and a two-point conversion of tying it up.
Rice fumbled on Baltimore's next possession, and defensive back Tarell Brown recovered it for the 49ers. The 49ers could have tied it here, but the Baltimore defense made a stand. They forced San Francisco into a field goal attempt. Akers missed a 39-yard attempt wide left, but it wouldn't count! The Ravens got called for running into the kicker. Given a second chance, Akers made a 34-yard try, and the 49ers pulled within five to end the third quarter.
Super Bowl XLVII: Fourth Quarter
The Ravens finally broke the streak of bleeding points to the Niners. Flacco found Boldin down the right sideline for a first down at the San Francisco 35. He then hit Pitta for eight yards, and Pierce ran for the first down with an eight-yard carry. Flacco then fired to Boldin for a first down at the 5. The Ravens proved unable to punch it in, but they did get a 19-yard Tucker field goal to improve their lead back to eight points.
Kap moved the 49ers down quickly. He hit Moss for 32 yards, and Gore added a run of around 20 yards. Two plays later, Kap scrambled in for a 15-yard touchdown. The 49ers could now tie the game with a two-point conversion, but when Baltimore blitzed everyone, the Niners weren't ready. Kap just heaved the ball up, and it sailed incomplete, keeping the Ravens up 31-29.
Baltimore put together a crucial drive to improve their lead. The 49ers got called for pass interference to get the drive going, and the Ravens got nine yards on their next two plays. Flacco then threw one up on third-and-one for Boldin, and he completed it for a first down. Rice ran for another first down to the 28. The Ravens ended up settling for a field goal, but it was a very important three points. Tucker made a 38-yarder to put Baltimore up by five with four minutes to play. A field goal couldn't beat them now.
Kap led a late drive, starting with a Gore seven-yard run, and a Kap scramble for a first down. Kap then went down the middle to Crabtree for 24 yards inside the Baltimore 40. Gore ran for a big gain off left tackle down to the 7. The 49ers had four shots to put the ball into the end zone and take the lead.
On their first, James ran for two yards, and the Niners took the clock down to the two-minute warning. This was precious time they wasted, time that could be used if they didn't score a touchdown. Next, Kap threw two incompletions for Crabtree, but in between Jim Harbaugh called timeout.
That would really hurt should San Francisco not score. On fourth-and-goal from the 5, Kap put one up on the right side of the end zone, and the pass fell incomplete. Replays showed a Baltimore defender with his hands on Crabtree beyond five yards, but no flag was thrown. The 49ers turned the ball over on downs.
The Ravens ran it three times, and the 49ers used up their one remaining timeout. By the time it got to fourth down, the Niners were down to just 12 seconds. To eat some clock, John Harbaugh had punter Sam Koch take the snap and step out of bounds for a safety. He did so with four seconds left. That was all San Francisco would get.
On the free kick, Ginn returned it to midfield, but he couldn't get any further, and time ran out. The Ravens had won Super Bowl XLVII, 34-31!
Super Bowl XLVII: Aftermath and Awards
Joe Flacco was named Super Bowl MVP for his 287-yard, three-touchdown performance. If I were to give an MVP award to someone else, I'd give it to Jacoby Jones. He caught a 56-yard touchdown pass and returned a kickoff 108 yards for a touchdown.
Without him, the Ravens don't win. Maybe he only made an impact on those two plays, but those two plays were worth 14 points. Boldin deserves a lot of credit, too; he caught six passes for 104 yards.
For an MVP for the losing team, I gotta go with Kap. He threw for 302 yards and a touchdown, and he ran for 62 more yards and a touchdown. He played his heart out in this game, but it just ultimately wasn't enough. Other standouts for the 49ers included Davis with six catches for 104 yards and Crabtree with five grabs for 109.
As for a Least Valuable Player, I sadly have to go with James. He ran for only ten yards, and he fumbled the ball away in a key situation.
The best player you don't remember is Pitta, who caught four passes for 26 yards and a touchdown. Pitta was a good outlet for Flacco to throw to when his other receivers were covered. He came up with that big one-yard touchdown catch midway through the first half.
The most important play of this game was the fourth-down incompletion to Crabtree. If the Ravens get called for illegal contact, holding, or pass interference on that play, then the 49ers likely score a touchdown to take the lead.
Instead, the Ravens got the ball on downs and were able to eat up most of the remaining clock. Was it a terrible no-call? No, because both players were fighting for the ball, so I can see why it didn't get a flag. But it probably should have been flagged, and it cost San Francisco the game.
The most important play you don't remember was one that I forgot about: the fake field goal. I totally forgot that Justin Tucker ran that fake field goal in this game and got stopped short. The reason why it was so important is that it actually worked out in Baltimore's favor. They had San Francisco pinned deep, whereas they wouldn't have if they would have kicked off.
The result? They forced a quick punt and got the ball back in great field position, and then scored a touchdown. Sometimes failed plays can actually lead you to victory, even if it was the rookie Tucker getting stopped short of a first down. The last rookie kicker in a Super Bowl was Ryan Longwell of the Green Bay Packers in Super Bowl XXXII, and that is the answer to today's pop quiz question.
This week's homework is Purple Majesty – Baltimore Ravens Super Bowl Champions by The Baltimore Sun. When it comes to these more recent Super Bowls, it's hard to find books on them, so I'm going with the ones put out by the local newspapers who covered the game and put together a commemorative book. This one is like last week's book, a commemorative book on the Ravens' 2012 season.
The Ravens won their second Super Bowl (recount the Ravens first Super Bowl here), making them one of only two teams as of 2023 to go to multiple Super Bowls and win all of them. The other one will come up in a few months on this podcast, the Tampa Bay Buccaneers. The 49ers failed to get that sixth Super Bowl win that would have tied them with the Steelers for the most Super Bowls ever; they'd get another chance seven years later.
Next time, we will have one of the weirdest routs in Super Bowl history, a game that brought the NFL back to the eighties, with the NFC dominating the AFC in brutal fashion. We'll be headed to my birthplace, New Jersey, for Super Bowl XLVIII between the Seattle Seahawks and the Denver Broncos.
A reminder that my website is tommyaphillips.com, where you can find all my books, including my latest, The Orange Bowl: A Complete History. Until next time, this is Tommy A. Phillips, signing off. So long!
Lombardi Memories is a show that takes you back in time, into January or February, to the greatest one-day spectacle in all of sports. This is the every-other-Tuesday podcast that looks back at each and every one of the 50-plus Super Bowls and tells the story of who won and why.  Tommy A. Phillips is your host on this Super Journey.  He's an author of multiple NFL books.  You can purchase below.
Books From The Host Of Lombardi Memories
Please Note – As an Amazon Associate, I earn from qualifying purchases
More From Lombardi Memories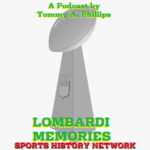 Today we have Super Bowl XLIX, held on February 1,...
Read More