In 1993, team owner Carl Haas both surprised and shocked the Indy Car world by importing the reigning Formula One champion, Nigel Mansell, to join the Newman-Haas organization. It was a bold and unprecedented move, but how would the existing crew react to working for a world-famous driver who literally had no experience on oval tracks?
And, would the addition of Mansell cause any friction or difficulties for his crew which previously worked with the talented and successful Michael Andretti?
In this episode of "Tim Coffeen Talks Indy Car and Racing History," Tim shares the experience of welcoming a celebrity driver who possessed entirely different skills and tactics than his predecessor in the Newman-Haas garage.
Along the way, Tim will discuss how difficult it is for Formula One or even NASCAR drivers, such as Jimmy Johnson, to make the jump to Indy Car competition. In his familiar honest fashion, Tim also reveals some of the tension that accompanied the arrival of Mansell and the inevitable competition between the crews of Mario Andretti and Nigel Mansell.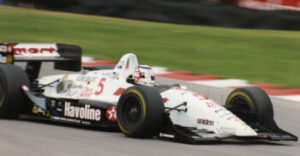 Tim explains how Mansell managed to conquer his inexperience in driving ovals to become the Indy Car champion in his first year of competition. Since the Indy Car season concluded before that of Formula One, for a brief time, Mansell was the champion in both circuits—the only driver to ever hold that distinctive honor which will likely never be duplicated again!
Other discussion topics include:
The biggest difference in the driving styles between Michael Andretti and Nigel Mansell
The apparent friction between teammates Mansell and Mario Andretti and how that affected their respective crews..
The difficulties encountered in Mansell's second year with Newman-Haas and why the team was suddenly not as competitive.
How the team members remember Mansell and his unique personality.
Finally, why did Mansell leave Newman-Haas and how was he replaced?
Please Note – As an Amazon Associate I earn from qualifying purchases