Dan Carlin is the host of Hardcore History, one of the most popular podcasts out there. His show was one of the inspirations for me to start my podcast in the history space, and I must admit, I emulated his show format in the beginning. When I reached out for an interview with Dan Carlin, I never in a million years thought I'd get a "yes, sounds fun."  
My theory was to bring Dan on for some historical perspective about the state of America during World War II and try to find a way to tie it into the NFL. I had heard him talk reference football during some of his episodes as a way to describe how the battle unfolded, strategies devised by Generals, and for many other reasons. So, I figured he had at least some knowledge of the game.
What came next was delightfully surprising. I had a "pre-interview" phone call with Dan during Christmas break to figure out how I was going to bring up football with a mostly military history podcaster. Dan blew me away in that short conversation regarding his knowledge of the game's history and his affinity for the sport.  
We scheduled a time for the interview and then I was sent into a tizzy trying to figure out how I was going to have this interview with one of my "podcasting heroes." Ultimately we landed on some great topics, and if you know Dan at all, you know he is a masterful storyteller that doesn't need much prompting to go off into a tangent about a topic. These are not those "how long is this going to take" types of tangents.  
Oh no. These are one of those "holy crap, I just listened to this dude for an hour and I thought it was only a couple of minutes" type of things. He's my "driveway moment" podcast. I can remember listening to the first episode of "King of Kings" on the Hardcore History podcast and literally waiting in my car for at least 15 minutes, maybe 30, after I got home. And this was all because I just had to know what was coming next.
But let me not take any time away from you getting into this interview. Instead, do yourself a favor and listen to both of these episodes. Then, you have to go binge Hardcore History. YOu'll come out of it blown away, I guarantee it (yeah, that's like a Joe Namath guarantee situation).
Here are some of the topics we get into:
We get into me telling Dan about that driveway moment I referred to

Dan shares his origin story of falling in love with football

Dan relives some moments in NFL history

What causes fans to be so loyal to NFL or a team

A little about the terminology used in football compared to wartime

His time working with Jim Brown

The never-ending conversation of players across generations and could they compete

Much more…
LISTEN BELOW TO BOTH PARTS OF THE DAN CARLIN INTERVIEW
Please note – As an Amazon Associate, I earn from qualifying purchases.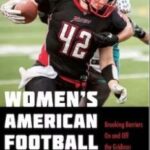 This week Russ Crawford, Professor of History at Ohio Northern...
Read More