In 1972, the NFL got a chance to see a quarterback duel of a different nature, one the likes of which the league, at least after 1950, had not previously seen. The teams involved were the Chicago Bears and the Detroit Lions, two long-time division rivals from the old Black and Blue Division, otherwise known back then as the NFC Central Division.
The quarterbacks in this duel were none other than Bobby Douglass of the Bears and Greg Landry of the Lions. Both Douglass and Landry were runners, not scramblers, and there's a difference.
For the previous decade – the 1960s to be exact — Fran Tarkenton gained notoriety across the pro football world as the game's most prominent scrambling quarterback. He would scramble, as it were, all around his pass pocket, trying to avoid the pass rush, with his primary idea being to throw the ball.
Scrambling was really just an avenue for Tarkenton to travel to open up sightlines for him to see his receivers.
The extra time that he bought by scrambling behind the line of scrimmage also gave his receivers more time to find open spots in the opposing zone defenses downfield. Now Tarkenton did run with the ball downfield on occasion, but he gained his fame – and a Hall of Fame bust – as a scrambler.
 Fast forward if you will to the early 1970s. Greg Landry of the Lions sets a new league record for rushing yardage for quarterbacks in 1971 with 530 yards. That record lasted for barely half a year. That is because Chicago's Bobby Douglass decided that "If Landry can run with the ball, then so can I." Now Douglass was thought of by many as a misplaced fullback or tight end.
He was big at 6-3, 225, which was as big as practically all linebackers in the early 1970s. In fact, you could make a case of comparing Douglass with another player in this day and age, the tight end for Jacksonville, Tim Tebow. Chicago head coach Abe Gibron will never be described as a great strategist, but one thing that he was smart enough about involved his decision to let his quarterback run with the ball.
Both Landry and Douglass were running quarterbacks, not scrambling quarterbacks. That is because both of those guys were determined first and foremost to gain yardage, not just to avoid a charging lineman or linebackers. 
They both had the size to run the ball. 
Landry was similar to Douglass in size, standing 6-4, and weighing 210. Both of these quarterbacks were also similar to bulldozing fullbacks. Neither really had any complicated juke moves in their repertoire. Their first move, once back in the pocket, was to avoid the first rushing lineman or blitzing linebacker, while looking downfield for an open receiver.
As was typical with both Landry and Douglass, however, was the fact that both men seldom looked into their second read or the receivers who were not their primary receivers. Once the first guy was covered, both Landry and Douglass usually tucked the ball under their arms and ran.
In the epic 1972 season, both quarterbacks did a lot of running. Landry almost equaled and surpassed his rushing record from the previous year.
He gained a total of 524 yards on 81 carries, for a 6.5-yard average per run. That was great by anyone's standards. But what Bobby Douglass accomplished was even greater. He set a new NFL single-season record of 968 yards rushing on 141 carries, for an average of 6.9 yards per carry. He also scored eight touchdowns in 1972. In short, Douglass WAS the Chicago offense that year.
This was several years before Walter Payton showed up on the scene. It would be many years, 34 in fact, before anyone would break Douglass' league record.
It was Michael Vick who did it in 2006 when he rushed for 1,039 yards. Vick, however, was playing in a 16-game season, as opposed to Douglass' 14-game season of 1972.
The great quarterback rushing duel of 1972 has been long forgotten in this day and age of throwing the ball. Few are the coaches who prefer their quarterbacks to risk injuries by running with the ball these days. But the excitement that Greg Landry and Bobby Douglass offered to fans in 1972 helped both the Lions and the Bears, respectively. Those two guys running with the ball gave the sport an exciting element that added to the lure of the game, and to the basic nature of the game…for a ball carrier to run with the ball.
Host and Author of Pigskin Past - Joe Zagorski
Please Note – As an Amazon Associate I earn from qualifying purchases
More Posts From Pigskin Past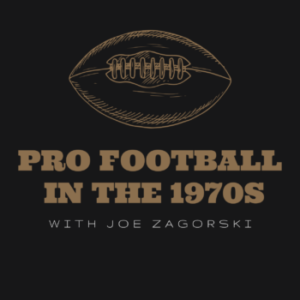 If you are in your 50s like me, you probably...
Read More