There are many incredible stories from the history of the NFL. Many individuals could be considered the "Forrest Gump" of the NFL. Bill Curry is one of them. He happened to be present at some of the most pivotal moments in league history, in the huddle with some of the "giants of the game," and he played for some legendary coaches. He was the head football coach at Alabama, UK, and some other schools. He was a College Football Analyst for ESPN for about a decade, and the list could go on and on.
Bill stops by to share some of these stories, but he also shares incredible insight into what it really means for us all to be a member of the "human race" team. It was an honor to interview someone with such character as Mr. Bill Curry, and I appreciate everything he has given to everyone around him.
Below you can read a little bit about Bill's career and see some clips of his "great traits," but I suggest you take some of the links and do some research about Bill's career on your own.  You can also pick up Bill's book – The Ten Men You Meet in the Huddle: Lessons From a Football Life.
High School and College Days
Bill was born on October 21, 1942, to Eleanor and Bill Curry.  This was less than a year after Pearl Harbor.  We learn in the interview that Bill's father was a member of the Army, where he helped create training manuals.  His father was also a Junior Olympic Weight Lifting Champion, and Bill said he was a true visionary of the "iron game."  This is something we take for granted today, but sometimes athletes refused to hit the gym and pump iron.  I guess this may have been out of fear of injury?
Bill almost followed in his father's footsteps, initially in the ROTC program at his school.  In High School (College Park High School) he played for Coach Bill Badgett, a man that assigned him to the Center position, something that would change the path he took for the rest of his life.
He was whisked away to play college ball at Georgia Tech for Coach Bobby Dodd, a man he credits with helping players do the right thing, on and off the field.  His quarterback was Billy Lothridge.  Billy finished 2nd in voting for the Heisman Trophy in 1963, behind Roger Staubach.
On the next stop of Bill's incredible journey, he found himself smack dab in the middle of the training camp for the greatest football team in the NFL – Vince Lombardi's Green Bay Packers.  He played 2 seasons with the Packers, his second as a member of the victors of the first-ever Super Bowl.  While on the team, he played with many Hall of Famers, including the quarterback he snapped the ball to – Bart Starr.
After being placed on the expansion list, he was claimed by the New Orleans Saints, who then traded him to the Baltimore Colts to play under legendary Don Shula.  This is where Bill blossomed into a two-time Pro Bowler, played in the famous Super Bowl III game, and was a member of the winning Colt's team in Super Bowl V.  He played with many more Hall of Famers, including the quarterback he snapped the ball to – Johnny Unitas.
Coaching and Broadcasting Career
Bill's leadership and experience made him a natural fit for a coaching career.  After a stint as an assistant coach with the Green Bay Packers, Bill jumped into the head coaching world as the main ball coach for Georgia Institute of Technology in 1980, a position he held until 1986.  Then he coached Alabama 1987 to 1989, followed by a tenure as the head coach for University of Kentucky from 1990 to 1996, and then took some years off from coaching to pursue other interests.
He worked as a College Football Analyst for ESPN for about 10 years, and then he was the Executive Director at Baylor School in Chattanooga, TN to help with the leadership program.  His calling to coaching came again in 2008, as Georgia State University called him to be the first-ever head coach and develop the football program for the school.
This is just a snapshot overview of Bill's career.  You can head to his website here to learn more about the "Forrest Gump-like" career Bill has has in the world of football.
Some of Bill's "Great Traits" Clipsa
Please note – As an Amazon Associate, I earn from qualifying purchases.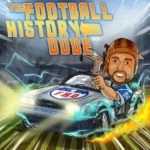 This time I take the DeLorean to many timelines in...
Read More