When you think of an NFL official, what first comes to mind?  Was it that call (or non-call) during the 2018 NFC Championship game between the New Orleans Saints and the Los Angeles Rams?  Or was it that time when the official and Jerome Bettis were not on the same page for the overtime coin toss?
It's funny how we often remember what we perceive as "game-changing" calls when we think of NFL officials.  The thing is, this is only a microscopic fraction of everything they do for the league.  This is one reason this week's guest, Ben Austro, started a website called Football Zebras.
Here is the message from Ben's website:
"Football Zebras celebrates the 33rd team in the NFL: the officiating crews.  They are the most vilified when calls go against our team.  But, those who put on the striped shirts are the most studied at their game – and they have full-time jobs to boot."
You can learn more about Ben and his book below, but I highly suggest you check out Football Zebras and all of the great information on the website.
Ben Austro

Ben has been an "armchair official" ever since he wrote to the league office in 1998 and got a copy of the NFL Official Rule Book.  Then when a Google search of a particular call returned unproductive results of complaints, Ben decided to start working on a site that could provide thoughtful analysis of the officiating. After a pilot run for Super Bowl XLIII, the site was ready to go in earnest for the 2009 season.
He then to take his game to the next level by authoring a book about So You Think You Know Football? The Armchair Ref's Guide to the Official Rules.
Note – As an Amazon associate I earn from qualifying purchases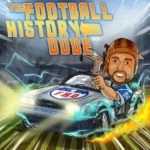 This week I spoke with Michael Mertes about a project...
Read More