John Vairin was diagnosed with a rare occurrence of oral squamous cell cancer. He had surgery on May 17, 2019, and then he decided he wanted to celebrate the NFL's 100th season. The result was a project he named "NFL Gratitude to Greats," honoring and thanking NFL legends.
NFL Gratitude to Greats Project
Note – this is an excerpt from the NFL Gratitude to Great website.
So, in late-May, I created the Gratitude to Greats project. I would mail letters and emails to NFL Hall of Famers and greats not yet in the Hall thanking them for their contributions to the great game, sharing the story of my ongoing cancer recovery, and asking for not an autograph, but their prayers, and, if they had a moment, a quick note of encouragement. I would also donate a few dollars to a few of these greats' charities whenever possible.
While I did have to relocate back to Bossier temporarily, the Gratitude to Greats project went wonderfully, and I ended up being deemed cancer-free toward the end of August by a Shreveport cancer doctor whose tests had shown that a potential cancer in my lymph nodes which was believed to require radiation was found to be merely inflammation.
The project received some very touching responses. Early on in the project, I received arguably the most emotional response from legendary Raiders big game receiver Cliff Branch encouraging me to continue to have faith just two days prior to his passing. Another iconic Raider, and arguably the greatest cornerback of all time, Mike Haynes, shared with me that he was someone that, due to the fact that he is also a cancer survivor, could relate in a way not many other players could.
Another response that stood out was a handwritten letter from eventual Hall of Famer Joe Jacoby, one of "The Hogs", the great Joe Gibbs Redskins offensive line whose blocking paved the way for the offense to score three rings in the 80s and 90s for the franchise. Jacoby said he had never received a letter not asking for an autograph, but simply for prayers.
Those are just a few that come to mind…I also invite your comments on my blog entries whenever possible. These blog entries will be dedicated to the responses to these letters received in 2019 and 2020 from those greats with us who built the game, from a longtime fan who wanted to show a bit of gratitude in a year of a milestone…
John Vairin, NFL fan of 26 years who is sharing his story with retired NFL players and extending his goodwill by donating to NFL-related charities. John was inspired to do this when he beat an unusual occurrence of squamous cell cancer in 2019, just shortly before the NFL began to celebrate its 100th anniversary, despite never smoking, drinking, or dipping. 
He started the Gratitude to Greats projects in 2019, with a new one being started every year, where he shares his story with Pro Football Hall of Famers and legends, as well as extends his generosity by donating to NFL player-related charities. You can find him on Twitter at @nflgrattogreats, Instagram at nflgratitudetogreats, and you can find the blog where he posted all of his responses in the inaugural Gratitude to Greats project from 2019 at https://gratitudetogreats.home.blog/
Some of the Letters John Received
Please note – As an Amazon Associate, I earn from qualifying purchases.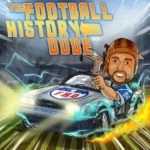 Frank Reading (host of Ringside With Reading: Boxing History From...
Read More