The term "journeyman quarterback" is an unmistakable term. It means simply a quarterback who goes from team to team, trying to help each team, as he tries his best to stay in the league. Some journeyman quarterbacks have played for a half dozen different teams, while others only play for two or three. I feel that a journeyman quarterback is one who can still play the game well enough, even if some teams don't feel that he can, to the point of trading him to another team.
This edition of the Pigskin Past is a look back at some of the most noteworthy Journeyman Quarterbacks of the 1970s. I will try to break them down and briefly discuss them here. There was probably no better – or none who traveled more – than Earl Morrall.
Journeyman Quarterbacks of the 1970s
Before the decade of the 1970s, where Morrall helped both the Baltimore Colts and the Miami Dolphins to win Super Bowls, he had also previously played for the San Francisco 49ers, the Pittsburgh Steelers, the Detroit Lions, and the New York Giants from 1956 to 1967.  Six teams! Now that's a journeyman.
Sometimes, an injury can determine where a journeyman quarterback plies his trade. Take Lynn Dickey, for example. He was drafted by the Houston Oilers in 1971, and even though he spent time competing for the position with another 1971 draftee, Dan Pastorini, Dickey sustained a detrimental hip dislocation early in his career. By the middle of the decade, however, Dickey was suspected to still be ailing from his injuries, and he was sent to Green Bay. His career up in Packerland produced very good results, as he eventually led his new team back to the playoffs.
John Hadl is another journeyman quarterback who made a name for himself during the 1970s. He played for the San Diego Chargers for 11 years, then he took to traveling. He played for the Los Angeles Rams, the Green Bay Packers, and the Houston Oilers. His 18-year pro career is a testament to having enough skills to stick around the league and help one team or another.
Now, this all begs to question, why does a team get rid of a quarterback. Usually, it is not due to injuries as much as it is to the quarterback's poor performance.
Sometimes, all it takes is one bad year, and some teams are apt to make roster changes. Even a quarterback with a Super Bowl championship under his belt, a guy like Kenny Stabler, can be traded. After Oakland, he was sent to Houston, and then to New Orleans.
Speaking of New Orleans, their blessed savior, Archie Manning, another product of that 1971 draft, would eventually wear the uniforms of the Houston Oilers and the Minnesota Vikings. Most knowledgeable pro football historians will agree that if Manning had enjoyed the help of a better offensive line and better receivers and running backs in New Orleans, he would probably either have won a Super Bowl, or be in the Pro Football Hall of Fame, or both.
So timing and overall team personnel has a lot to say about how successful a journeyman quarterback is. As long as football is a team game, there will only be just so much that a quarterback can do all by himself if he does not have ample teammates helping him out. Perhaps the most common denominator for all journeyman quarterbacks was that for at least one of the teams where they played, they did not receive the requisite support to produce enough victories for that team to be considered successful.
The last journeyman quarterback that we'll talk about in this episode of the Pigskin Past will be Fran Tarkenton.   Fran Tarkenton? The Hall of Famer? Yes, that Fran Tarkenton. You see, he was traded by his first team, the Minnesota Vikings, to the New York Giants, where he played for several years. But then in 1972, Tarkenton is sent back to Minnesota to play for a new head coach, Bud Grant. During his second stint in Minnesota, he enjoyed his greatest successes.
The moral of that story? Sometimes, all it takes is a little more patience from the coaches and the decision-makers to stick with a quarterback, in the hopes that he will be a journeyman no more.
Please Note – As an Amazon Associate I earn from qualifying purchases
More Posts From Pigskin Past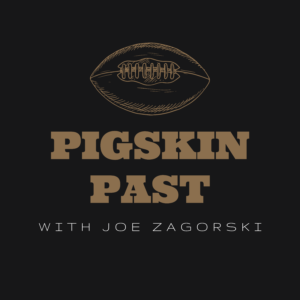 Ask any pro football historian what George Allen's greatest coaching...
Read More