Paul Zimmerman was a renaissance man of sports, so to speak–eloquent, prolific, and with a range of interests. He's probably best known for his writing in Sports Illustrated.  No longer with us, Zimmerman passed away two years ago. He began working on a book in 2006, but a series of strokes in 2008 left him unable to finish it. Thankfully his friend and fellow sportswriter, Peter King, completed the task.
For me, Paul Zimmerman wasn't just somebody I read. About twenty years ago, I reached out to him. I told him how much I enjoyed reading his work, and I also mentioned that I was an old-school football fan. I didn't stop there. Audaciously, I shared the names of players on my all-time NFL team.
I didn't expect a response, but I got one and more.  You can listen or read the interaction I had with Paul Zimmerman below.  (Please note : this a 3-part series )

Paull Zimmerman Writes Back
Zimmerman wrote back to me in a two-page typewritten letter. Included was a list of his favorite local restaurants. I didn't know until then that Zimmerman and his wife lived but 15 minutes away from me. What I also didn't know at the time was that my letter would lead to a back-and-forth that I'll always appreciate and I'll never forget.
While Zimmerman and I agreed on many of our all-time selections, Zimmerman had other strong opinions. For example, he believed that you should only choose players you saw play the game. He also didn't put much stock in how many times a player made the Pro Bowl, which he saw as a popularity contest.
I learned that Zimmerman began charting games and evaluating players in 1947. His approach was very much like an avid baseball fan who keeps a scorecard of every game he or she watches. But Zimmerman was more than a fan; he was a student of the game, having played the game at Stanford and Columbia universities and later in a semi-pro league.
Zimmerman put making an all-time list this way: "Picking an all-time team is fun — for some. I take it very seriously." So, where did Zimmerman and I settle?
Paul Zimmerman's All-Time Team (QB and RB)
At quarterback, he chose Johnny Unitas as the best player under the old rules and Joe Montana as the best under the new rules. I agreed there. Zimmerman then chose Otto Graham as #3, while I chose Sammy Baugh as my #3. I have Graham as #6. In truth, both players were before my time, so I made my choices based on what I've read, researched, and seen in films.
At running back, Zimmerman picked Jim Brown as #1. I did not argue there, but I also gave him a list of the greats I'd seen in action, including Walter Payton, Eric Dickerson, Emmitt Smith, Barry Sanders, and Tony Dorsett. "They were all top-notch backs," he said, "But anyone can make a list of great backs. You need to break it down and be more specific."
He had Marion Motley as his #1 fullback, a player who was not only a punishing runner but a great blocker, too, perhaps the best of all-time at picking up the blitz. Hall of Fame coach Weeb Ewbank put it this way: "Motley took the romance out of the blitz."
Earl Campbell was his choice as the best short-yardage back, while Hugh McElhenny ranked #1 as his best third-down back.
At wide receiver, we both agreed that Jerry Rice is the best receiver in the last fifty years. But what made him the best? Well, there's his work ethic in training and during practice, and Rice excelled at YAC (yards after catch). Zimmerman added more based on an interview he had conducted with Rice.
Rice gave credit to quarterbacks Joe Montana and Steve Young. He told Zimmerman: "I gained so many yards after the catch because I never had to break stride when catching the ball. Steve wasn't far behind Joe, but I can't ever remember a time when Joe didn't put the ball exactly where it was supposed to be. I never had to reach for the ball, which allowed me to catch the ball on the run. I knew the ball was going to be there. I had so much confidence in both Joe and Steve."
Paul Zimmerman's All-Time Team (WR and TE)
Zimmerman concluded that Jerry Rice was the best receiver ever at running a shallow crossing route.
From my perspective–even though I never saw him play in his prime–I believe Lance Alworth is one of the greatest receivers to play the game. What did Zimmerman think? "Alworth was the best deep threat I have ever seen play." Alworth's coach, Sid Gilliam, said: "Alworth was so confident in his ability to get open that he wanted the ball thrown to him on every play."
Raymond Berry retired before I started watching football, but I always ranked him very high on my best wide receivers list. Zimmerman agreed: "Berry was the best possession receiver I ever saw play. He seldom dropped a pass, and that's before receivers started wearing gloves."
Although he was well before my time, another guy I had high on my list was Don Hutson. And Hutson is the only player on Paul Zimmerman's best-ever list that he didn't see play the game.
"I'd seen plenty of highlight films of him (Hutson)," said Zimmerman, "but that wasn't good enough for me. So I flew out to the Green Bay Packers facility to see actual game footage of Hutson. I couldn't believe what I was seeing. The guy was making circus catches and putting up numbers that no one else at that time was even close to matching. Like most players of that era, he also played defense. He was an excellent defensive back, and he sometimes lined up at defensive end."
One position where we disagreed was at tight end. My top four were John Mackey, Mike Ditka, Kellen Winslow, and Jackie Smith. Zimmerman wouldn't have it, though. "Dave Casper was better than all of them," he said. "He never dropped the ball and was an outstanding blocker. His career average was 13.8 yards per catch, higher than almost any TE playing today." He ranked John Mackey a close second, though.
If you're interested in great tight ends, Joe Zagorski's episode of Pigskin Past covered the greatest tight ends of the 1970s.
Paul Zimmerman's All-Time Team (O-Line)
Zimmerman made these picks in 2008, so you're not going to see any active players on this list.
I'll start with the offensive lineman. At center, I had Jim Otto, Mike Webster, Mel Hein, and Jim Langer as my top four. Zimmerman disagreed. "Dwight Stephenson was the best center ever to play the game," he said. "Some will argue that he only played eight seasons, but it's not his fault that an opposing player took him out at the ankle and ended his career."
Howie Long shares Zimmerman's enthusiasm for Stephenson's abilities. He recalled, "We once designed a game plan built around stopping Dwight Stephenson. In all my years of playing football, that's the only time I ever heard of a game plan designed to stop a center."
Dr. Z had Dermonti Dawson as his #2 center. "He was the only one who came close to Dwight's quickness, but Dwight was stronger," he concluded.
At offensive tackle, we had slightly different opinions but agreed for the most part. Dr. Z had Forrest Gregg, Art Shell, and Ron Mix as his top three, and I had Anthony Munoz right up there with Forrest Gregg. But Zimmerman disagreed with my pick. "Munoz was nearly perfect technically, but he lacked inner fire." I'm not sure why he thought that about Munoz. I guess he meant he didn't have the killer instinct that many tackles have, but we did agree on Gregg. Vince Lombardi once said, "Forrest Gregg was the best player I ever coached."
Dr. Z felt it was pretty much a tie between John Hannah and Jim Parker at the guard position. "Parker was the best pass blocking guard I've ever seen, while Hannah was the best-run blocking guard I've ever seen," said Zimmerman.
While I didn't get to see Parker play, I've done enough research on him to agree with Dr. Z. I saw Hannah play, and I do not argue about calling him the best run-blocking guard ever to play.
But Mr. Zimmerman did not mention Larry Little, which kind of surprised me. He may have been the best pulling guard I'd ever seen play. I also had Gene Upshaw ranked high, but Paul felt he was somewhat overrated and called him "a long-armed holder supreme."
Paul Zimmerman's All-Time Team (D-Line)
On the defensive side of the ball, Dr.Z had a lot to say. I had my top three defensive ends as Deacon Jones, Reggie White, and Gino Marchetti. Zimmerman agreed with me on Reggie White, saying he was the most powerful DE he had ever seen play. Deacon Jones was the best pass-rushing DE he had seen. Dr. Z had Marchetti as his #4 DE. "Gino brought in the technique of grabbing and throwing blockers. He was the first to do that," said Zimmerman.
But his #3 pick was a surprise–Rich "Tombstone" Jackson. "Offenses changed their game plans to try and stop Jackson," he said. Zimmerman went on to say that he was on the Hall of Fame voting committee and lobbied for Jackson to get enshrined. Year after year, the counter-argument was always the same: Jackson's career was cut short (after seven seasons) with a knee injury.
Although he didn't say where he would rank them, Dr.Z spoke highly of Howie Long and Mark Gastineau. "Long didn't have many sacks, but he was great at flushing QBs into others' arms. He could also jam up the run. Gastineau had incredible athletic talent. He ran a 4.5 forty weighing 290 lbs. He was a relentless pass rusher, too, but unfortunately, he had no interest in stopping the run."
At defensive tackle, we were in complete agreement on our top three. Dr.Z had Bob Lilly as his #1. Said Zimmerman, "Lilly had a near-perfect technique. Much like Marchetti, he was proficient in the art of grabbing and throwing blockers out of the way. Some say he didn't have a mean streak, but he did when provoked." Said former Miami Dolphins guard Bob Kuechenberg about Lilly: "He was so fast off the ball, you could never beat him to the punch."
Dr. Z had Joe Greene and Merlin Olsen in a tie for second. "Olsen could bull rush better than anyone I ever saw," said Zimmerman. "Merlin would break down the inside of the line play after play." He played clean, too, not one to take cheap shots.
"Joe Greene may have been the quickest of the three," said Zimmerman. "The Steelers would have him line up at an angle to attack the center-guard gap. The three of them were skilled in all phases of the game, and they never came off the field to take a breather."
I had Alan Page as my #4 DT, and Dr. Z said he was "the best pass-rushing DT I'd ever seen, but that he was a liability against the run." He had a similar opinion about John Randle. "A great pass rusher, but you could run the trap play on him all day long."
In case you think Zimmerman hated the Vikings, here's what he had to say about another former Vikings DT, Pat Williams. "In 2005, Pat Williams had one of the best seasons I've ever seen a DT have. He didn't make the Pro Bowl team, and he didn't get much overall recognition. Why? Because he had only one sack the entire season. Sackers get all the glory, but it's players like Pat Williams that cause all those sacks."
Paul Zimmerman's All-Time Team (Linebackers)
Almost every all-time team I've seen lumps together linebackers as if there is no difference between the linebacking positions. But Dr.Z and I agreed that there are significant differences between the outside linebacker and middle linebacker positions–differences in assignments, skills, and talent required. For instance, it would have been a mistake to line up Dick Butkus as an outside linebacker, just as it wouldn't make sense to have Lawrence Taylor play MLB. Their natural skills/abilities would have gone to waste.
At outside linebacker, Zimmerman chose Lawrence Taylor, Ted Hendricks, Jack Ham, and Dave Wilcox, with honorable mention going to Chuck Howley and Bobby Bell. I had Bell as #3, right behind Taylor and Ham. I was surprised Zimmerman didn't have him ranked higher.
Said Zimmerman on Taylor: "He wasn't a linebacker in the real sense of the word. He was more of a rush-wingman, the best pass-rushing linebacker the game has ever seen. And while he was solid against the run, his coverage responsibility was almost zero."
While that last sentence may be interpreted as a criticism, that's not the way I looked at it. Taylor was fortunate to have had two coaches–Bill Parcells and Bill Belichek–who recognized they had something special in Taylor. Taylor's specialty was rushing the quarterback, so why waste those natural talents by giving him a lot of pass coverage responsibility? So, they let him loose to go after the QB, and nobody did it better!
About Hendricks, Dr. Z said: "Ted was a Rhodes Scholar finalist, highly intelligent. He was technically sound and was seldom out of position. He played all aspects of his position extremely well." On Ham, Zimmerman thought he was "very effective against the power sweep and the best pass coverage linebacker the game has ever seen." And he thought Wilcox "had an almost unnoticed skill of nullifying tight ends."
Of Wilcox, former 49ers defensive coach Mike Giddings said: "Many strongside linebackers get hooked to the inside on running plays. Wilkie never got hooked. It was a point of honor with him. And he could rush the passer when needed. There was one game when we (the coaching staff) decided to turn him loose on the quarterback. He had three sacks and two forced fumbles. It was just that he was too valuable in his regular job."
My picks as the top middle linebackers were Dick Butkus, Willie Lanier, Ray Nitschke, and Ray Lewis. Dr. Z was in complete agreement. He gave Lanier a slight edge over Nitschke on range but said, "both were very effective against the run and in pass coverage." He had a lot to say about Butkus, but his commentary wasn't about Butkus being a hard hitter (what you often hear and read). And while some say Butkus would be out of the game on passing plays if he were playing today, the fact is that he's not playing today. Nor did Ray Lewis play in the 1960s. They played when they played.
Zimmerman summed up Butkus this way. "Butkus didn't have great range for the downfield passes, but he was very good at covering the short stuff. He couldn't close on a shallow receiver as quickly as Ray Lewis, though. Ray was the best I've ever seen at that. But Dick didn't get tied up in traffic, and he had great instincts. You have to remember that middle linebackers weren't expected or needed to cover the downfield stuff when Butkus played. Football was more of a running game at that time."
Teammate Ed O'Branovich evaluated Butkus this way: "Dick wasn't fast when it came to running the 40-yard dash, but when it came to lateral movement, no one was faster." Vince Lombardi called it "competitive speed."
Another misconception about Butkus, Zimmerman concluded, is that he beat offensive lineman 'senseless.' "Not true," said Hall of Fame guard Jerry Kramer: "The last thing Dick wanted to do was take you on. Instead, he wanted to get rid of you as quickly as possible so that he could get to the ball carrier."
Paul Zimmerman's All-Time Team (Defensive Backs)
As we move on to defensive backs, once again, we agreed there's a big difference between the strong safety and free safety positions. Paul had Ken Houston as his #1 strong safety, as did I. I had Larry Wilson and Ronnie Lott as my top two free safeties, but Dr.Z disagreed. "Willie Wood was better than both of them." He had Wilson as a close second, but he thought Lott was a bit overrated. "He had his best years at cornerback, and he was better at strong safety than free safety," said Dr. Z. He also had Brian Dawkins and Cliff Harris high on his list.
As for hardest-hitting defensive backs, he picked Hardy Brown (1948–1960), Brown also played linebacker. He had Jack Tatum as #2 and Cliff Harris as #3. At cornerback, I picked Herb Adderly, Mel Blount, Deion Sanders, and Willie Brown. Zimmerman only chose two–Sanders was his #2 pick. His #1 cornerback was Jimmy Johnson.
"Sanders had the best closing speed ever," said Zimmerman. "He would bait you by letting you catch a couple of short passes. It was almost impossible to beat him man-to-man, but he would get bored covering zone and the short stuff. But there was no such weakness in Johnson, who got very little recognition for the first eight years of his career because the 49ers were a lousy team and hardly ever on TV.
Another reason is that he didn't have a lot of interceptions in his career. That's because quarterbacks were afraid to throw in his area. He played most of the 1971 season with a cast on his broken wrist, and they still wouldn't throw in his area."
Paul Zimmerman's All-Time Team (D/ST)
We turned attention again, this time to Special Teams. Dr. Z picked Deion Sanders as his punt returner and Gale Sayers for kickoff returns. At kicker, he chose Adam Vinatieri. And while almost everyone picks Ray Guy as the #1 punter, I chose Sammy Baugh.
But Zimmerman disagreed on both Guy and Baugh as the top punters. "Baugh's high average was built on quick kicks, and Ray Guy's career gross average is lower than anyone in the game today. "Tommy Davis (49ers 1959–1969) was the best punter I ever saw," said Zimmerman. "He was getting a 4.8 hang time while punting into a strong San Francisco wind."
You may have noticed that it seems Mr. Zimmerman was a bit partial to players who played for the 49ers. I never had a chance to ask him about that, but he did live in San Francisco for some time and saw many games at Kezar stadium. So I'm guessing that made quite an impression on him.
As for the best defense ever? At #1, Dr. Z picked the Steelers 1972–1978. The others were (in no particular order) Cowboys 1966–1978, Rams and Vikings– the late 60s and 70s, respectively, Bears 1984–1988, and Ravens early 2000's. What was the most overlooked defense? He thought they were the Lions 1952–1967, Packers 1960s, and Bills 1960–1966.
As they often say about very notable people: "They don't make them like that anymore!" Well, that assessment probably applies to Paul Zimmerman. But what I know for sure is that I always enjoyed reading his material, and I'm delighted that our paths crossed–unexpectedly and oh, so, wonderfully.
Mark Morthier is the host of Yesterday's Sports, a podcast dedicated to reliving memorable sports moments from his childhood days and beyond.  He grew up in New Jersey just across from New York City, so many of his episodes revolve around the great sport's teams of the 70s for the New York area.  He is also an author of No Nonsense, Old School Weight Training.
Please Note – As an Amazon Associate I earn from qualifying purchases
More From Yesterday's Sports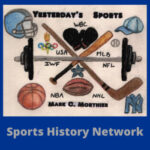 Fifty years after he retired, Joe Kapp is still the...
Read More