The 1960s were a tumultuous period in U.S. history and Pro Football was not immune to the decade's upturn of tradition.
As war in Southeast Asia, civil unrest at home and political assassinations rocked the nation, professional football struggled to attract fans. While some players fought for civil rights and others fought overseas, the ideological divides behind the protests and riots in the streets spilled into the locker rooms, and athletes increasingly brought their political beliefs into the sports world.
This history describes how a decade of social upheaval affected life on the gridiron and the personalities and events that shaped the game. The debut of the Super Bowl, soon to become a fixture of American culture, marked a professional sport on the rise. Increasingly lucrative television contracts and innovations in the filming and broadcasting of game expended pro football's audiences.
And authoritarian old guard, best represented by the revered Vince Lombardi, began to give way as star players like Joe Namath commanded new levels of pay and power. And, at last, all teams fielded African American players, belatedly beginning the correction of the sport's greatest wrong.
Note – this excerpt was provided by Patrick Gallivan (on the back cover of his book).
Patrick Gallivan Interview (Part 1)
Patrick Gallivan Interview (Part 2)
PATRICK GALLIVAN

Patrick Gallivan is a longtime member of the Professional Football Researchers Association (this week's sponsor) and has written numerous articles for their publication The Coffin Corner.  He lives in San Antonio, Texas.
He decided to take his game to the next level by authoring a book about Pro Football in the 1960s: The NFL, the AFL, and the Sport's Coming of Age.
Note – As an Amazon associate I earn from qualifying purchases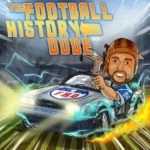 This time I take the DeLorean to many timelines in...
Read More