Early NFL historians believed a 16-year old quarterback named John Brollier, from Indiana College in Pennsylvania was the first professional football player because he accepted $10 and some expenses to play a football game on September 3, 1895.
They were wrong, and this travesty wasn't discovered until about 80 years later the true first professional football player was discovered, William "Pudge" Heffelfinger.  You can listen to the Joe Horrigan interview for the story on how his predecessor discovered this discrepancy.
In this 2nd episode of The Football History Dude podcast, I cover the history of Pudge Heffelfinger and what has become known as Pro Football's Birth Certificate.
You can listen to the episode below, and if you prefer to read the full article, you can click here to jump straight down.
William "Pudge" Heffelfinger's Early Life
When we step off our time-traveling Delorean in this episode, we end up in Minneapolis, MN. The date is December 20, 1867, which is the date our hero was born.
Our hero's name is William "Pudge" Heffelfinger, and he would end up going down as the first documented professional football player. His mother was Mary Ellen Totten, and his father was Christopher B. Heffelfinger.
Throughout the episode, I refer to William Heffelfinger as "Heff" more than I do "Pudge." Growing up as a boy, his father owned a successful shoe manufacturing company, and his family rose to prominence in the area. Heff attended Central High School in Minneapolis, where he was a star athlete.
It was even said he played baseball and football at the nearby University of Minnesota during his junior and senior years in high school.
Heff had originally intended to go to the University of Minnesota, which he already had a previous relationship with. However, a Yale alumnus was in attendance at one of his high school games and realized how much of a beast this dude was, so he recruited him to play football at the prestigious Yale University.
It was discussed in the previous episode how Yale was a powerhouse of a football team in the nation, so being recruited to this school was a big deal. Rumor had it the Yale alumnus even volunteered Heff to ensure he would pass the entrance exam.
During his first freshman practice, his undoubtedly enormous size was recognized by William Herbert "Pa" Corbin.
He was 6'3" and 210 pounds of pure destruction to his opponents. However, even though he was physically capable of overpowering his opponents, it was said the team didn't feel Heff quite met the nastiness standards of the time for a Yale football player. A quote from William Herbert himself described how Howard Knapp was able to turn the beast mode on the inside of Heff. The quote went as such:
"The freshman Heffelfinger was 6 feet 3 inches in height, weighed 210 pounds and looked like the most demure, gentle, self-effacing individual that could be imagined. His usual posture was head bowed, shoulders stopped, eyes to the ground, with no idea whatever of his marvelous power and nature-given ability to strike terror in his opponents. Knapp did everything possible by word and deed to arouse Heff so that he would give all he had in him for the good of the Yale team. Finally, at his wit's end, Howard decided he would try the sight of blood to stir up Heff's dormant bellicose spirit. He wrote Heff, with pen dipped in blood which he had obtained from a slaughterhouse, one of the sharpest, strongest of letters, using every reasonable form of expression to get Heff out of his lethargy. Heff, not knowing the nature of the gore, certainly must have been stirred, for the week after receiving the letter he played the best game of the season against Princeton. Heff found himself that day and from then on was a terror to his opponents."
All-in-all, Heff would proceed to play varsity football for Yale between the years of 1888 and 1891 for Walter Camp, and the team would only lose 2 games the entire time he was at Yale. The most dominating season came in 1888 when the team went undefeated and won the championship. Even more impressive was the total point spread, which was 698-0. Yes, the Yale team scored 698 points in 1888, and the entire efforts of all Yale's opponents scored nothing.
This was possibly the single greatest seasonal performance of all time. Heff and his teammates would win another championship in Heff's last year (1891.)
As previously discussed in the first episode, Walter Camp started selecting his All-American team in 1889. William "Pudge" Heffelfinger was his first All-American, and he would be selected each year thereafter. While at Yale, Heff also lettered in baseball, rowing, and track.
He even won the Yale boxing title and sparred with Gentleman Jim Corbett, who was referred to as the Father of Modern Boxing. Thus, Heff worked directly with the innovators of two of the biggest sports in America. Although much later, Heff's mark on the college football world was stamped in 1951 when he was inducted into the inaugural College Football Hall of Fame class.
As we use our time-traveling Delorean again, we shift forward to 1892. We are modern fans traveling back in time and we are at what we think is a football game, but we're not really sure.
We see a bunch of normal-sized dudes running around with ripped pullovers, stuffed sports rags for shoulder pads, and only some of them were wearing leather helmets. However, we spot this guy that seems out of place. This dude's name is William "Pudge" Heffelfinger, but he just goes by the name Pudge. Soon we will find out there is a hyper significant reason why seeing this particular guy on this field will be important down the road.
Before we talk about this game, though, we need to catch up on some background information. The teams on the field are Allegheny Athletic Association and Pittsburgh Athletic Club. Neither team has been in existence that long, having been only formed within the past couple of years.
This didn't stop the teams from already developing a heated rivalry. Rumors had been swirling for quite some time that players for the teams were being paid to play, but there wasn't any proof.
The first time these 2 teams played each other was on October 8, 1892. Allegheny won this game 20-6. A rematch would occur in Pittsburgh that resulted in a 6-6 tie, but there was a little more significance in this game. It was found out Penn State captain A.C. Read (known as "Stayer") was recruited to play in this game. So, naturally, a rematch would be requested, and the date of this rematch would go down forever in pro football history (November 12, 1892.)
It was said Pittsburgh Athletic Association had agreed to the rematch because it had an ace up its sleeve. A quote to describe the devised plan went as such:
"Its team manager had his eye on an even more promising ringer: Pudge Heffelfinger, who'd been a football star at Yale and was currently on leave from his job in an Omaha railroad office to play (in exchange for "expenses," no doubt) for the fabled Chicago Athletic Association team. The PAC offered Heffelfinger and his teammate Knowlton "Snake" Ames $250 apiece to play for their team."
The offering was even printed in the Pittsburgh Press, which I gather as the team basically didn't care who knew about this offering. Legend has it Heff scoffed at the mere $250 because he didn't want to ruin his amateur status. Thus, we essentially had our very first holdout before we had our very first documented contract. Due to the Pittsburgh Press release, Allegheny would catch wind of the offering.
Team managers were quick to react and like a ninja, they went behind Pittsburgh's back to offer Heff $500 to play for them instead. Heff agreed, and it was basically a "let's get it on" kind of moment. Heff's grandson was interviewed and gave an interesting perspective on the amount of money Heff earned for that game. The quote went as such:
"You don't think of $500 being a big deal," Tom Heffelfinger said. "But I looked it up. The average annual income of a Pennsylvania family in 1892 was $834. Pudge made two-thirds of that in one afternoon playing football. In today's dollars, that's $12,950."
Pittsburgh Athletic Club fans were in an uproar when they realized Heff was on the field and was being paid, by the Allegheny Athletic Association. They questioned the legitimacy of the bets if one team had a ringer on the field. I only found this in one place, but it was said to appease the fans while the two teams were sorting out the mess, Allegheny had played 11 players from Western University.
It took a while to sort out the mess, but ultimately the teams agreed to play the game as an exhibition, and they determined the bets were not legit.
Heffelfinger scored the only points of the snoozefest of a game. He took a fumble recovery to the house to score a touchdown, and as we found out last episode, the touchdown at the time was only worth 4 points. The game ended in a boring 4-0 score. However boring the game was, there was still an extreme amount of significance for the game.
We were able to get our first documented professional football player from the game, and Allegheny had realized a net profit of $621. This would provide fuel to continue paying players as an investment in playing football for profit.
If you look at the expense sheet, you can see why I keep referring to this game as the time we had the first documented professional football player. This document has been called Pro Football's Birth Certificate because it is the first time a player was publicly paid to play football for a team.
Heff's Other Contributions to the Game
Heff would not be recognized as being the first documented professional player until after his death, but he was still known during his lifetime as basically Mr. Football. His coaching career was short-lived.
He coached at the University of California, Berkeley in 1893 with a record of 5-1-1. In 1894, he coached at Lehigh University in Bethlehem, PA, with a record of 5-9. He also coached at the University of Minnesota in 1895, with a record of 7-3.
Heffelfinger would be a founding member of the Touchdown Club of New York, which awards the Heisman trophy each year. He was known for his durability and would play football into his mid-60's, culminating in an all-star reunion game amongst alumni. Another contribution to the game itself is he was considered to be the first "pulling guard" and perfected the art of stutter-stepping around blockers to get to the ball carrier.
He published a yearly booklet called Heffelfinger's Football Facts that would have a history about the game, rule changes as they occurred, stats, and other interesting things to keep football at the top of mind for the nation. It was known he and President Teddy Roosevelt were friends after Teddy saw him play a football game at Yale against Harvard.
It was said Heff and Teddy started a ranching venture together in Montana, and it was also said in some articles that Heffelfinger was one of the representatives called to the White House by Teddy Roosevelt himself to figure out a way to prevent the game of football from being banned, due to the rising safety concerns of the game.
Rumor has it Heff was at least partially responsible for convincing Teddy to give football another chance. Legend has it former President Dwight D. Eisenhower once said Heffelfinger was his idol. He was quoted in his first Presidential campaign saying the following to a sportswriter:
"While at West Point, my idol was Pudge Heffelfinger, and my ambition was to be partly as good as he was. My knee injury put a stop to that."
Heff produced the first sports quiz show on the radio, and he was also responsible for the first radio spy show, called "Secret Agent K-7." He was also active in politics. In 1904 and 1908, he was a delegate to the Republican National Convention.
Heffelfinger would win his first elected position in 1924 on the Hennepin County Board of Commission, where he would serve for 24 years, and 4 of these years were as the board chairman. During Prohibition, he ran as a "wet" twice in the Republican primary for Minnesota's 5th congressional district against prohibitionist and former Lieutenant Governor William I.
Nolan. He would end up writing a memoir, William "Pudge" Heffelfinger would pass away on April 2, 1954, in Blessing, TX.

At the end of the episode, I end up describing to you how a book on the field at the Battle of Gettysburg can be linked to Kirk Cousins and the NFL. William "Pudge" Heffelfinger's father was Christopher B. Heffelfinger, and he was a soldier in the Union Army.
Some Civil War historians claim the father is the more famous of the two Heffelfingers because he was one of the first to enlist on day 1. He would end up being shot in the chest, but he would survive. The thing that saved his life was a book in his shirt pocket. His survival would lead to him being able to father Pudge. Pudge would become a famous football player. Heff would use this fame to allegedly help Teddy Roosevelt save the game of football.
Thus, that book on the field at the Battle of Gettysburg could have possibly saved the NFL as you and I know it today.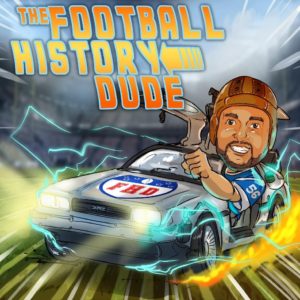 This time I take the DeLorean to many timelines in...
Read More