Vinny Lospinuso rides shotgun in the DeLorean with me this week to talk all things "Pro Football Hall of Fame." He's a graduate from Hofstra University (2021) with a B.A. in broadcast journalism.
When you listen to him you will be floored at how well-versed and passionate this young man is regarding the history of the game. Below are a few things we get into:
Vinny's background, including how he became so passionate about sports history and Hall of Fames
His favorite team growing up
Why he has a particular vigor for speaking for the contributors as possible Hall of Fame candidates
Rule changes he would make for the voting process if he were granted access to the HOF Roundtable
Contributors he feels strongly about that should be in the HOF
He gives some love to historians and other outlets that have helped him along the way
Much more….
Vinny Lospinuso is a recent graduate of Hofstra University in New York. He is currently a freelance sports journalist, historian, vlogger, and podcaster.
Please note – As an Amazon Associate, I earn from qualifying purchases.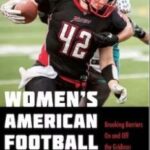 This week Russ Crawford, Professor of History at Ohio Northern...
Read More