Jackie Wallace was an NFL star during the 1970s, playing for the Minnesota Vikings, Los Angeles Rams, and Baltimore Colts.  During this time he played in 2 Super Bowls (and was on the inactive roster for another).  After exiting the NFL, he struggled with substance abuse, finding himself homeless on the streets of New Orleans.  Ted Jackson, a photojournalist from the Times-Picayune, took a photo of him under the Interstate 10 overpass near Carrollton Ave. in New Orleans.
When Ted woke him up, Jackie uttered "you ought to do a story on me……because I've been in 3 Super Bowls."  Needless to say, this intrigued Ted.  He ended up writing a story about Jackie, the two became great friends over many years, and ultimately it led to the book with the same name.
You Ought To Do A Story On Me.
This is a super cliff-notes version of the story, and it can't do it justice.  Read a little more about Ted Jackson and Jackie Wallace below, but I really do encourage you to listen to the interview I did with Ted, as well as purchase the book with the link above to get the full story.
You Ought To Do A Story On Me - Jackie Wallace
This book is more than 30 years in the making.  It chronicles the amazing story of the day Ted Jackson took a photo of Jackie Wallace in an abandoned homeless camp, the search for Jackie, and the incredible friendship between them.  In this book, you'll read about all the ups and downs…..the happy and sad…the fear and joy….and everything in between. 
Please note – As an Amazon Associate, I earn from qualifying purchases.
Ted and Jackie On The Today Show
I first learned about this story from the Today Show a couple of months ago.  It was first aired in September, 2020, but then they showed it again because it was voted as one of the best stories of the year.  I only caught a glimpse of it, and at first, I was hesitant to reach out to Ted to bring him on the "football history" show to talk about this story.  But then I realized this is football history, even if it's from a different perspective, because a football game is just a story.  However, the story of the bond between Ted Jackson and Jackie Wallace is a little different.  Watch for yourself.
The Search For Jackie Wallace
This photo is the reason I brought Ted on the show.  It was taken in June of 1990 and the result was the above-mentioned book.  Ted caught a tip to go to a homeless camp, looking for a story, but what he found was Jackie Wallace sleeping.  He and Jackie would end up creating a bond and story you would expect was a movie, because it almost seems fictional.
Below are a couple of photos from Jackie's playing days in the NFL.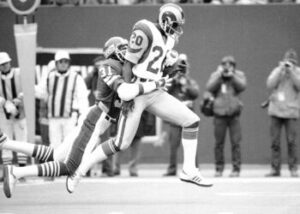 Ted lost and found Jackie Wallace on multiple occasions.  This photo was after a long hiatus where Ted looked up and down homeless shelters and camps trying to find his old friend.  Again, you can hear more about this story on the podcast episode and in the book – You Ought To Do A Story On Me.
Ted Jackson is a photojournalist and writer based in New Orleans. He was born in McComb, Mississippi in 1956 and is a graduate of the University of Southern Mississippi. He joined the staff of The Times-Picayune in 1984.
While covering general news, sports, and features, he photographed his first in-depth series, "Desire, Death of a Dream," an essay on life in the Desire housing development, one of the country's worst.
In 1996, he was part of a four-member team that produced Oceans of Trouble, a comprehensive look at the impending collapse of the world's fisheries. The series won a Pulitzer Prize for public service in 1997. 
In 2003, he photographed "LEAP Year," a series about Louisiana's high-stakes school testing, which received recognition from the Robert Kennedy Journalism Awards and won the 2003 American Society of Newspaper Editors award for Community Service Photojournalism. 
Through the years, much of his work has centered around social and environmental issues including the 2008 series, "Last Chance: The Fight to Save a Disappearing Coast," which earned The National Academies Communication Award. He has also focused on the physical destruction and emotional trauma of earthquakes and hurricanes, most notably, Hurricane Katrina in 2005. 
In 2014, he was awarded the New Orleans Press Club's Lifetime Achievement Award and in 2017 was awarded The Times-Picayune's Amoss Award, "For timeless journalism that has earned the trust of the community and the respect of your colleagues." 
His work has appeared in newspapers, magazines, and books around the world including The New York Times, The Washington Post, Newsweek, Time, and National Geographic. He has appeared on the CBS Morning Show, ABC, CNN, Fox News, and NBC, and NPR, and was one of three subjects featured in a documentary on Hurricane Katrina on The Weather Channel. 
He lives with his wife, Nancy, in Covington, Louisiana. They have two sons, Chris and Jeremy, two daughters-in-law, Ashley and Tami, and two grandchildren, Austin and Ava.
Other Stories Covered In This Episode
I thought Ted might have worked a few games in the NFL, because I saw this photo on his website.  Then, when we got the interview started, we jumped into way more than "a few" games.  He's been on the sidelines for so many New Orleans' Saints games, including the Super Bowl when they beat the Peyton Manning-led Indianapolis Colts.  He tells some great stories from the sidelines of how it's different than watching on the TV.
Learn about all of the Super Bowl's in-depth from Lombardi Memories.  Start with the first Super Bowl here.
Speaking of cool stories from the sidelines, it doesn't get much better than this.  You may have seen this photo in magazines, on TV, and etched in the glory of Saints' fans memories for years to come.  The cool thing is Ted tells a story of the game in the middle that I never even realized had happened.  He remembered when the Saints were down he just thought to himself they needed to "show up," and then at that time he heard a "Who Dat?" chant starting to gain steam.  Well, we know the rest is history.
This is a photo of the late Saints' owner, Tom Benson.  Ted said Tom would dance around the stadium and get the crowd going, from what I gathered, mostly when they were about to win the game.  This photo resulted in the dance being called the "Benson Boogie."
Next we have a couple of photos showing some of the work Ted covered during pivotal moments in his career.  The Berlin Wall may have been a "bigger story" in the grand scheme of the world, but Hurrican Katrina hit Ted at his heart, because this was his home.
Last, but not least.  If you listen to the episode, you'll hear me reference this photo of a child holding a rope with a goat on the other end of it.  It caught my eye when I was thinking about how easy things can slip from our grasp (metaphor) just like how easily this child could have just let go of that rope.  Instead, this child decided to fight and pull to hold onto the hope of keeping this animal where it was supposed to be.
If you enjoyed this story, and you would like to learn another one from the New Orleans area, check out the story of the Dome Patrol defense from the Football Attic podcast.
Enjoy this story?  Please consider sharing on social media or via e-mail with someone you think may get some benefit from it.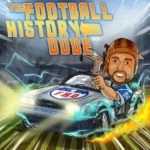 This time I take the DeLorean to many timelines in...
Read More