AFC Championship Game History : The First Rodeo

Pro football experienced a merger in 1970, when the old American Football League joined the old National Football League to form the new NFL.  The very first AFC Title Game featured an old NFL team, the Baltimore Colts, going up against an old AFL team, the Oakland Raiders.  It was also a game that featured a unique couple of head coaches, the young John Madden of the Raiders versus a rookie head coach, Don McCafferty of the Colts.  Relive the drama of the first AFC Championship Game on this week's edition of The Pigskin Past with Joe Zagorski.
Joe Zagorski is the host of this show, and he is an author of 3 books revolving around the NFL in the 1970s.  Here, you can learn more about Joe and Pigskin Past.
Please Note – As an Amazon Associate I earn from qualifying purchases
More Posts From Pigskin Past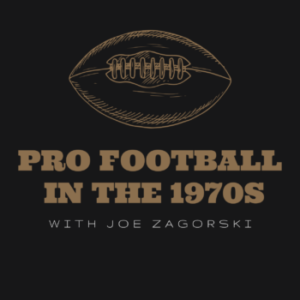 During the 1974 NFL season, pro football fans in New...
Read More