In 1973, the Minnesota Vikings advanced to the NFC Championship Game, where they played the Dallas Cowboys at Texas Stadium.
In big games, regardless of the era, the winning team usually does not make as many mistakes as their opponent.
But what happens when they make a bunch of mistakes, and still manage to win. The 1973 NFC Title Game serves as a good case in point. The Vikings committed four turnovers, and the Cowboys committed six. At one specific point during the third quarter of this game, both teams were giving the ball away on consecutive plays. It was almost as if neither side wanted to win this game!
Below you can listen to the full episode or read the full blog post from Pigskin Past.
Doomsday Defense vs. Purple Gang
Now naturally, that was not either team's intent.
But it was a game with everything riding on it…a berth in Super Bowl VIII. Certainly, these two teams could have played better than this one might think.
Now both the Doomsday Defense and Minnesota's Purple Gang were playing well all throughout the game. But the turnovers appeared to be a matter more of nervousness than of running into a stellar defense.
But the most important element that this game established involved a few key offensive drives. Minnesota's offense managed to control the ball throughout the first quarter, and by game's end, had accounted for a total of 306 yards. The Cowboys could earn only 153 yards all game long.
Minnesota took a 10-0 lead into halftime, thanks to another long drive which resulted in a 5-yard touchdown run on a sweep by rookie tailback Chuck Foremen, who incidentally won the NFC Rookie of the Year award.
Early in the third quarter, however, the turnovers began to have their say in the results. Dallas quarterback Roger Staubach threw a pass deep downfield that Minnesota cornerback Bobby Bryant intercepted at his own 2-yard line.
This miscue turned out to be no worse than a great punt for the Cowboys. And speaking of punts, the ensuing Vikings punt by Mike Eischeid resulted in Dallas' first score of the game.
Eischeid outkicked his coverage, and that gave Dallas returned man Golden Richards enough time to make the catch, size up his blocks, and weave his way downfield. In a few seconds and 63 yards later, Richards crossed the goal line, and the Cowboys drew closer to the Vikings, 10-7.  Minnesota answered back in very quick fashion.
From his own 46-yard line, Tarkenton rolled out to his right and threw the ball deep down the middle. It looked like one of the longest passes that Tarkenton threw all year. Maybe it was one of the longest that Tarkenton threw all throughout his career, as he was not really known for having a strong arm.
But his 54-yard pass was perfect, as it was snared by Minnesota wide receiver John Gilliam in the end zone. The Vikings had recaptured their 10-point lead.
Unfortunately for the Cowboys, they would never get any closer. This was due to the fact that they continued to commit key turnovers.
Probably the biggest one occurred early in the fourth quarter when Staubach dropped back to pass and threw a short out bullet to "Bullet" Bob Hayes. Once again, Minnesota's Bobby Bryant made another interception along the sideline. 
He managed to regain his balance after leaping and catching the ball. Bryant also managed to stay inbounds as he sprinted down the field. A convoy of Viking defenders escorted Bryant into the Dallas end zone to complete his 63-yard interception return for a score. 
Another field goal by Minnesota placekicker Fred Cox made the final score 27-10.  This was a game for Minnesota to dominate. 
Starting Dallas halfback Calvin Hill earned over 1,000 yards rushing during the season. But he did not play in this title game, as he was injured in the previous week's divisional playoff game versus the Rams. The Cowboys would certainly miss Hill's productive rushing stats. 
Without Hill, Dallas seldom had any decent offensive drives throughout the game. On offense, all of Minnesota's weapons were functioning as well as they did all year long. The Vikings earned a 12-2 record in 1973, and they were never seriously challenged in their division. The only factor that made this game at least somewhat competitive was the turnovers. 
If you took away one or two of those, and Minnesota may have won this game with an even greater margin.  An element of irony involved the final statistics. 
Both quarterbacks – Fran Tarkenton and Roger Staubach – ended this contest equally by completing 10 passes in 21 attempts. Tarkenton threw for 133 yards, however, and Staubach threw for 89 yards. For certain, Tarkenton's 63-yard touchdown bomb to John Gilliam provided the difference in that particular statistic.
 Minnesota's 27-10 win over Dallas in the 1973 NFC Title Game offered one last irony. Their opponents in Super Bowl VIII would be the Miami Dolphins, who defeated the Oakland Raiders in the 1973 AFC Title Game, by an identical 27-10 final score.
Learn more about 3 crucial 1973 NFL Playoff games here.
Author and Host of Pigskin Past - Joe Zagorski
Please Note – As an Amazon Associate I earn from qualifying purchases
More Posts From Pigskin Past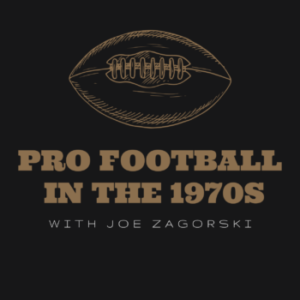 During the 1974 NFL season, pro football fans in New...
Read More